11.1.11 Carhartt debuts Rhymesayers European Tour Radio show with Mixtape winner Chrisfader!
Shortly after we announced the Carhartt Presents Rhymesayers European Tour, we offered our fans worldwide the chance to make a Mixtape to be played on Carhartt's Radio Show. After a handful of great submissions from around the world, we announced Chrisfader of Vienna, Austria as the winner!
Along with premiering the jaw-dropping mix of turntablism, personal production, and classic and contemporary Rhymesayers material, Carhartt just dropped a lengthy interview with this multi-talented producer and dj. Check out the snippet below, and click here to read more after you listen to the winning mix!
Listen to Chrisfader's Rhymesayers European Tour Mix: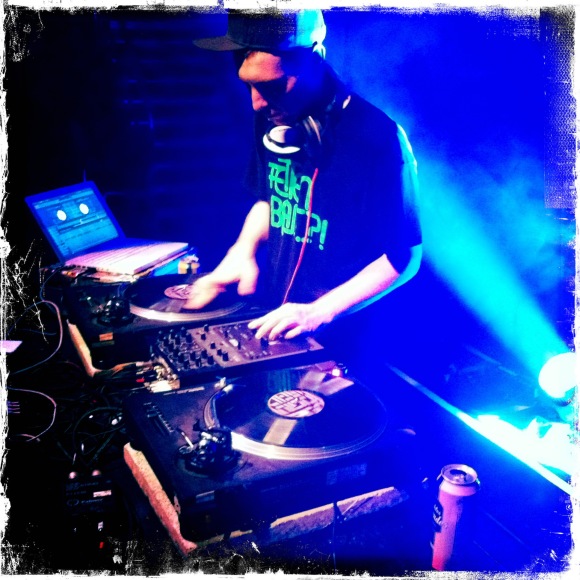 Since when you are a Rhymesayers fan and how did you run into the label?
Chrisfader: I am a huge fan of the whole label since the early days. I guess Atmosphere's God loves ugly was a life changing album for me. A good friend of mine who worked in a record store in Innsbruck told me to check it out and when I first heard it I was blown away because it was so different compared to other Hip Hop releases. I checked out the rest of the label and really got into Eyedea & Abilities (the best DJ-Mc-Duo and two of the most influential artists for me) and Brother Ali & Blueprint. They made HipHop music with a punkrock attitude and that was something I had never seen before.
What makes Rhymesayers special in your eyes and who are your favorite Rhymesayers artists?
Chrisfader: I think that everybody on the label has his own, unique style which is very important for me as a listener. It takes a long time to develop your very own style. People like Slug & Ant, Brother Ali, and Blueprint are in the game since the nineties and I think they are at a point where it's only about making the music they want to. It doesn't get any better than that in my opinion.
What you think is special on the Rhymesayers xx Carhartt European tour?
Chrisfader: It's the first of it's kind, which is great!!!
How did you select the tracks for your Carhartt Radio show?
Chrisfader: There have been a couple of tracks that Rhymesayers liked to see in the tracklist and I digged some more material to make the mix work. They didn't tell me what to do, they just made suggestions which was great and really helped.
How long did you work on the mix and what you had in mind while doing it?
Chrisfader: It took two days from creating the tracklist to the final mix. It was quite relaxed, I just did it my way. I wanted to put the focus on the music of the touring artists not on myself as a DJ. I thought it's about introducing the label to people that probably don't know about it yet, so I didn't wanna' put too much action in the mix.
Buy your tickets for the Carhartt Presents Rhymesayers European Tour today:
07.11 - London, UK @ The Electric Ballroom: SOLD OUT! | RSVP
08.11 - Amsterdam, NL @ Melkweg: Buy Tickets: SOLD OUT! | RSVP
09.11 - Paris, FR @ La Machine du Moulin Rouge: SOLD OUT! | RSVP
11.11 - Brussels, BE @ Ancienne Belgique: SOLD OUT! | RSVP
12.11 - Zurich, CH @ Rote Fabrik: SOLD OUT! | RSVP
13.11 - Fribourg, CH @ Fri-Son: Buy Tickets | RSVP
15.11 - Berlin, DE @ C-Club: SOLD OUT! | RSVP
16.11 - Hamburg, DE @ C-Club: SOLD OUT! | RSVP
18.11 - Stockholm , SE @ Nalen: SOLD OUT! | RSVP
19.11 - Oslo, NO @ Spikerboks: SOLD OUT! | RSVP
20.11 - Copenhagen, DK @ Vega Musikkenshus: Buy Tickets | RSVP


Atmosphere: Facebook | Twitter | Myspace | Ping
Brother Ali: BrotherAli.com | Facebook | Twitter | Myspace | Ping
Evidence: Twitter | Facebook | Myspace | Ping
Blueprint: Printmatic.net | Twitter | Facebook | Myspace | Ping
Grieves: Twitter | Facebook | Myspace | Ping
Budo: BudoBeats.com | Twitter | Facebook | Myspace | Ping
Rhymesayers: Facebook | Twitter | YouTube | Flickr | Myspace | Soundcloud
Share This
11.2.11 European Tour Stories - Berlin
Atmosphere, Brother Ali, Evidence, Blueprint, and Grieves & Budo are holding it down in Berlin…
← Newer Post
11.1.11 European Tour Stories - Fribourg
Atmosphere, Brother Ali, Evidence, Blueprint, and Grieves & Budo will be in Fribourg,…
Older Post →
---