2.12.13 The Uncluded - Hokey Fright, coming May 7th, 2013!
After appearing on each other's latest full-length records, revered rapper/producer Aesop Rock and celebrated folk songstress Kimya Dawson have officially joined forces as The Uncluded. Their album Hokey Fright will be released May 7th on Rhymesayers Entertainment.
Pitchfork just made the exclusive announcement and released the brand new video for "Earthquake", watch it HERE. Buy the single on iTunes now!
Starting today, you can pre-order Hokey Fright from Fifth Element, the official store of Rhymesayers. Bundle your CD or Vinyl LP pre-order with an FE-only t-shirt to get the most bang for your buck. As an exclusive to the Fifth Element pre-order only, Rhymesayers is offering a limited special edition fold-out poster containing imagery from the Album artwork and Full Handwritten lyrics, while supplies last. Pre-order today! Purchasers automatically get an mp3 download of "Earthquake" instantly!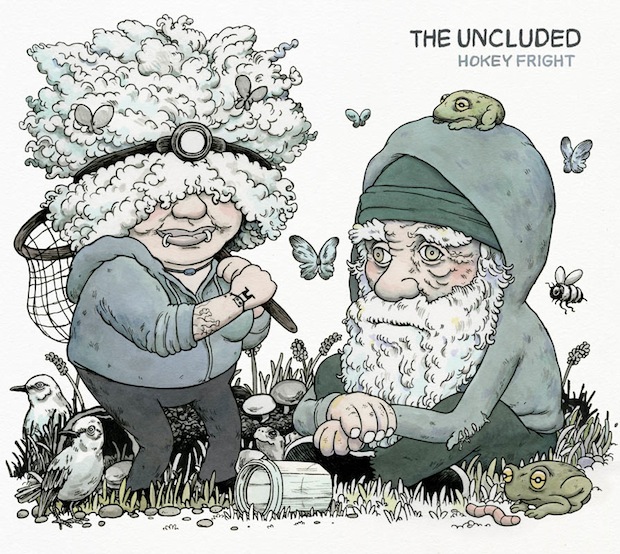 TRACKLISTING:
01 Kryptonite
02 Delicate Cycle
03 TV on 10
04 Earthquake
05 Organs
06 Superheroes
07 Jambi Cafe
08 Bats
09 Scissorhands
10 Eyeball Soup
11 The Aquarium
12 Teleprompters
13 Alligator
14 WYHUOM
15 Boomerang
16 Tits Up
Head to Rhymesayers.com/Events for info on Aesop Rock's current tour!
The Uncluded: Facebook | #TheUncluded
Aesop Rock: AesopRock.com | 900bats.com | Facebook | Twitter | Google+
Kimya Dawson: KimyaDawson.com | Facebook | Twitter | Instagram
Rhymesayers: Facebook | Twitter | YouTube | Google+ | Instagram | Flickr | Soundcloud | Myspace
Share This
2.13.13 Watch The Uncluded's new video f…
If you missed the announcement yesterday, Rhymesayers will be officially releasing the debut a…
← Newer Post
2.12.13 The Micranots: 10 Years after Re…
The folks at City Pages just dropped a new interview with The Micranots that focuses on their…
Older Post →
---