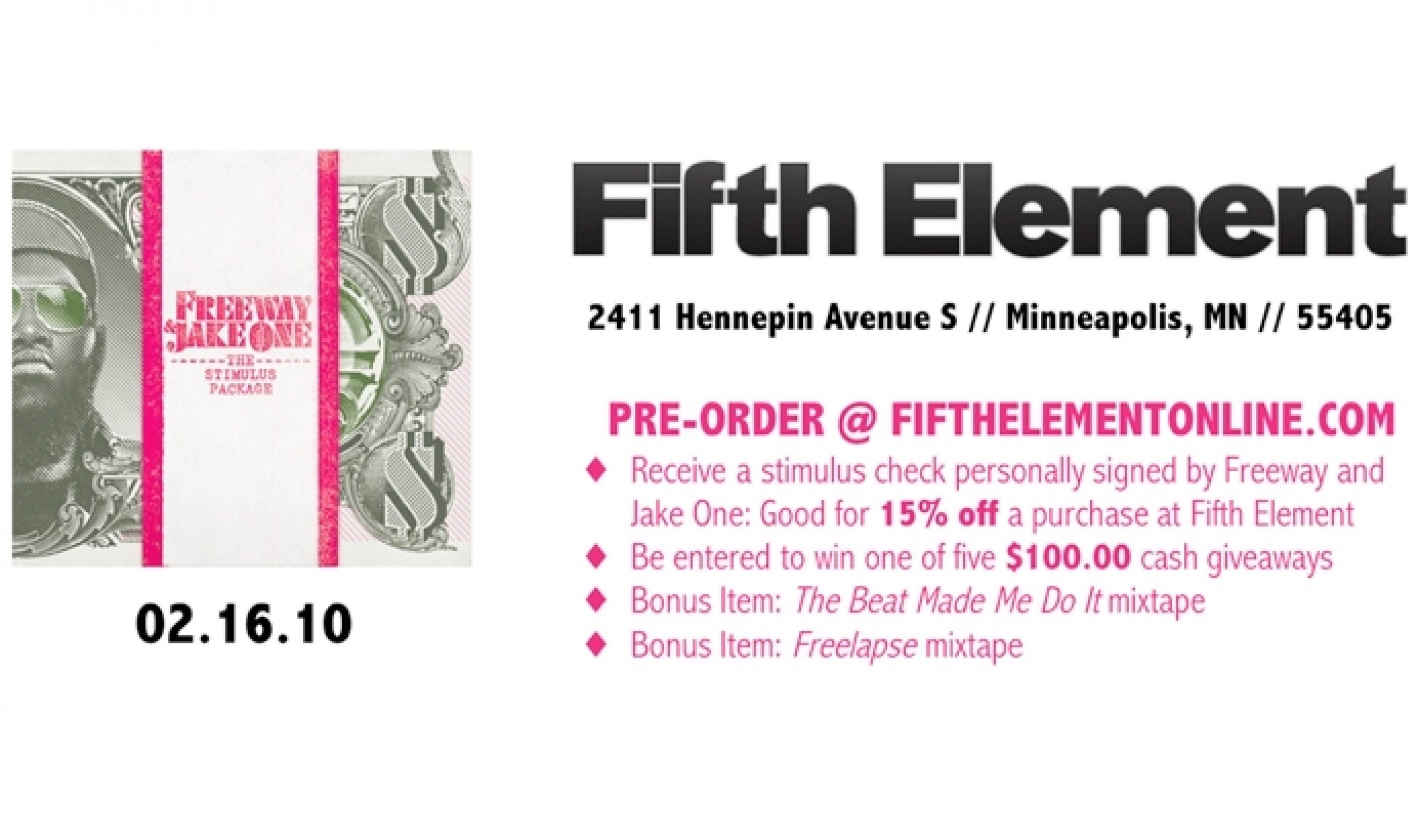 Freeway talks about the exclusive "Stimulus Package" Pre-Order from Fifth Element!


In anticipation of the February 16, 2010 release of FREEWAY & JAKE ONE â??The Stimulus Packageâ?,
 
Rhymesayersâ?? flagship store, Fifth Element is following suit in Freewayâ??s efforts to stimulate the Hip-Hop industry. Everyone who pre-orders â??The Stimulus Packageâ? at www.fifthelementonline.com will receive a stimulus check courtesy of the Fifth Element. Each will ship to recipients separate from the album and bonus mixtapes. The Fifth Element stimulus checks will be good for 15% off any purchase at Fifth Element. Upping the value, Freeway and Jake One will personally sign each check which will be individually printed with the name of the recipient directly on the â??pay to the order ofâ?? line. Checks will be mailed separate from the album and bonus mixtapes. Envelopes will be adorned with limited edition Freeway & Jake One Stimulus Package postage stamps.
All who pre-order will automatically be entered to win $100.00. This is a straight cash prize, a crisp Benjamin gifted as part of Freewayâ??s Stimulus Package. Fifth Element would like to increase the chances of those who pre-order by drawing not one, but five winners! Giving away a total of $500.00 in the Hip-Hop Recovery and Reinvestment Act initiative. Winners may use prize money as they wish, towards Fifth Element, Rhymesayers, or to support Hip-Hop in any way they see fit. The theme of this release is to appreciate and pay it forward. Freeway and Fifth Element would like to thank their fans and customers for their continued support, and what better way than giving away cold hard cash.
Fifth Element has decided to do their part in The Stimulus Package by adding two more bonus items for those who pre-order. In addition to receiving the Freeway & Jake One â??The Stimulus Packageâ?, personalized FE stimulus check, and entry into a cash prize drawing, each pre-order will get Freewayâ??s most recent mixtapes (while supplies last). The first, The Beat Made Me Do It [Freeway over Jake One beats]. The second, Freelapse [Freeway over Eminem beats]. Freeway, Jake One, album featured artists: Birdman, Raekwon, Beanie Sigel, Young Chris, Bun B, Latoiya Williams, Mr. Porter, Omilio Sparks and mixtapes with production from Jake One and Eminem. Freeway has brought a posse along for the ride. This Fifth Element pre-order package is a donâ??t miss opportunity. Visit www.fifthelementonline.com to pre-order Freeway & Jake One â??The Stimulus Packageâ?.
Freeway: Twitter | Facebook | Myspace
Jake One: Twitter | Facebook | Myspace
Rhymesayers: Facebook | Twitter | Youtube | Myspace