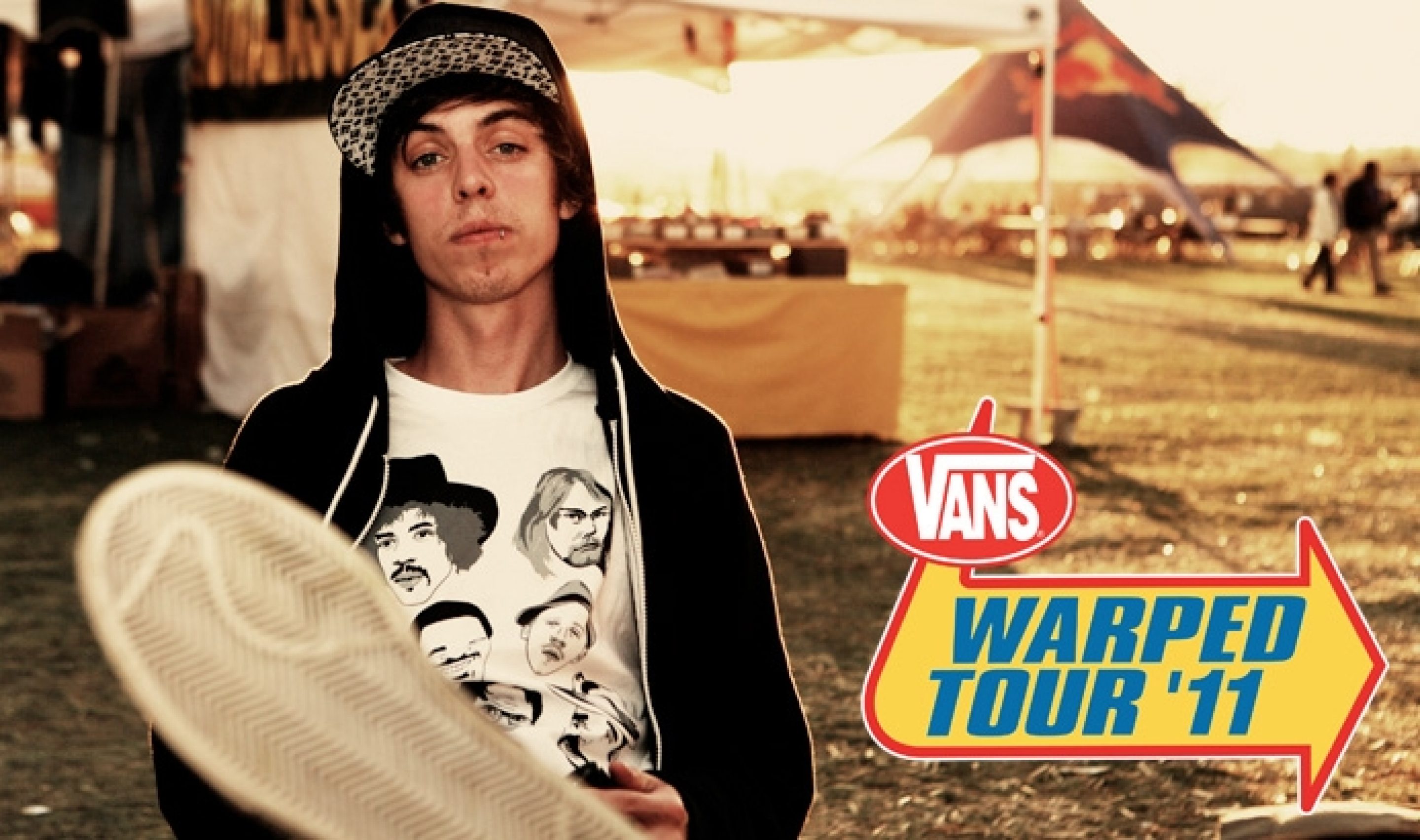 Grieves & Budo join 2011 Vans Warped Tour
Fresh off a highly successful headlining tour and a nation-wide tour with Atmosphere and Blueprint, Grieves & Budo will be joining tons of other acts on the road on the 2011 Vans Warped Tour!
Check out the video message from Grieves and then peep the dates below. Stay tuned for more information and ticket links. Warped Tour Pre-sale begins April 1st, 2011.
Grab the FREE Warped Tour Compliation featuring Grieves on iTunes now!
06.24.11 â?? Superpages.com Center â?? Dallas, TX
06.25.11 â?? The Showgrounds At Sam Houston Race Park â?? Houston, TX
06.26.11 â?? AT&T Center â?? San Antonio, TX
06.29.11 â?? NMSU Practice Field â?? Las Cruces, NM
06.30.11 â?? TBA â?? Las Vegas, NV
07.01.11 â?? Pomona Fairplex, Pomona, CA
07.06.11 â?? Sandstone Amphitheatre â?? Bonner Springs, KS
07.07.11 â?? Verizon Wireless Amphitheater â?? Noblesville, IN
07.08.11 â?? TBA â?? Detroit, MI
07.09.11 â?? First Midwest Bank Amphitheatre â?? Tinley Park, IL
07.10.11 â?? Canterbury Park â?? Shakopee, MN
07.12.11 â?? Darien Lakes Fields â?? Darien Center, NY
07.13.11 â?? Comcast Center â?? Mansfield, MA
07.14.11 â?? Toyota Pavilion At Montage Mountain â?? Scranton, PA
07.15.11 â?? The Flats At Arrow Hall â?? Mississauga, ON, CA
07.16.11 â?? Parc Jean Drapeau â?? Montreal, QC, CA
07.17.11 â?? Comcast Theatre â?? Hartford, CT
07.19.11 â?? Marcus Amphitheatre â?? Milwaukee, WI
07.20.11 â?? TBA â?? Cleveland, OH
07.21.11 â?? Susquehanna Bank Center â?? Camden, NJ
07.22.11 â?? First Niagara Pavilion â?? Burgettstown, PA
07.23.11 â?? Nassau Veterans Memorial Coliseum â?? Uniondale, NY
07.24.11 â?? Monmouth Park Raceway â?? Oceanport, NJ
07.26.11 â?? Merriweather Post Pavilion â?? Columbia, MD
07.27.11 â?? Verizon Wireless Amphitheater â?? Virginia Beach, VA
07.28.11 â?? Verizon Wireless Amphitheater â?? Charlotte, NC
07.29.11 â?? Firestone Amphitheatre â?? Orlando, FL
07.30.11 â?? Cruzan Amphitheatre â?? West Palm Beach, FL
07.31.11 â?? Vinoy Park â?? St. Petersburg, FL
08.01.11 â?? Aaronâ??s Amphitheater at Lakewood â?? Atlanta, GA
08.02.11 â?? Riverbend Music Center â?? Cincinnati, OH
08.03.11 â?? Verizon Wireless Amphitheater â?? St. Louis, MO
08.05.11 â?? Invesco Field at Mile High â?? Denver, CO
08.06.11 â?? Utah State Fair Park â?? Salt Lake City, UT
08.07.11 â?? Cricket Pavilion â?? Phoenix, AZ
08.09.11 â?? Cricket Amphitheatre â?? San Diego, CA
08.10.11 â?? TBA â?? Los Angeles, CA
08.11.11 â?? Sleep Train Amphitheater â?? Marysville, CA
08.12.11 â?? Idaho Center Amphitheatre â?? Nampa, ID
08.13.11 â?? The Gorge Amphitheatre â?? George, WA
08.14.11 â?? Washington County Fairgrounds â?? Hillsboro, OR
 
Grieves: Twitter | Facebook | Myspace
Budo: BudoBeats.com | Twitter | Facebook | Myspace
Rhymesayers: Facebook | Twitter | Youtube | Flickr | Myspace | Soundcloud
Warped Tour: Facebook | Twitter | Youtube | Flickr | Myspace | Store | Vans.com