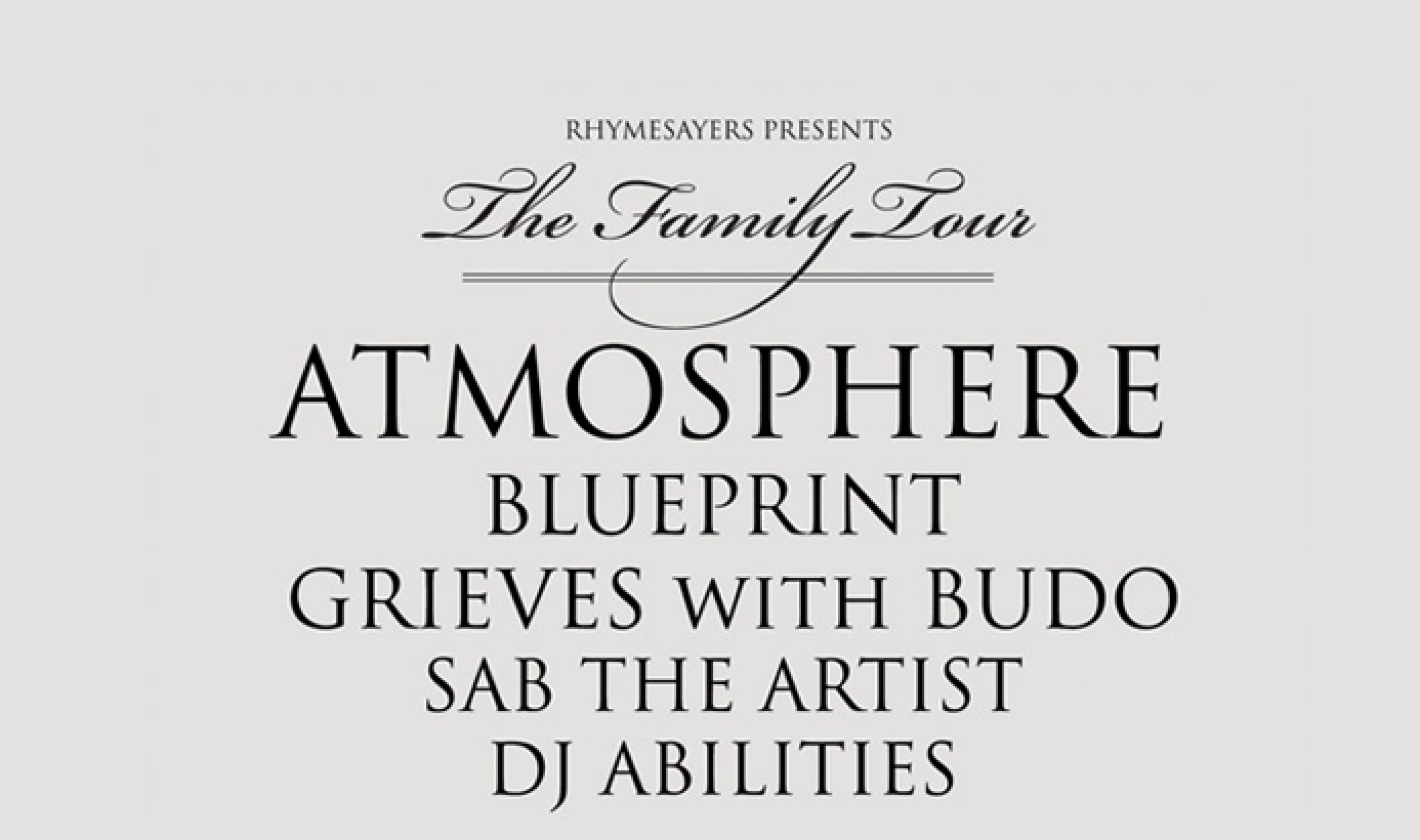 The Family Tour tickets available nationwide today!
After three days of fan pre-sales, all tickets are now on sale today for The Family Tour! Atmosphere will be joined by Rhymesayers family members Blueprint, Grieves with Budo, Sab The Artist & DJ Abilities. The largest show on the tour will be held at the Greek Theatre in Berkeley, CA and will see the addition of Aesop Rock with Rob Sonic & DJ Big Wiz.
Click Buy Tickets below for each show's ticket link. Please note the times (your local time) that tickets go on sale!
04.20.11 - Columbus, OH @ Newport Music Hall - Buy Tickets | RSVP
04.21.11 - Munhall, PA @ Carnegie Music Hall of Homestead - Buy Tickets | RSVP
04.22.11 - S. Burlington, VT @ Higher Ground - SOLD OUT! | RSVP
04.23.11 - Boston, MA @ House of Blues - Buy Tickets | RSVP
04.24.11 - Philadelphia, PA @ Electric Factory - Buy Tickets | RSVP
04.26.11 - New York, NY @ Terminal 5 - Buy Tickets | RSVP
04.27.11 - Washington, D.C. @ 9:30 Club - Buy Tickets | RSVP
04.28.11 - Richmond, VA @ The National - Buy Tickets | RSVP
04.29.11 - Asheville, NC @ The Orange Peel - Buy Tickets | RSVP
04.30.11 - Birmingham, AL @ Zydeco - Buy Tickets | RSVP
05.02.11 - Austin, TX @ Stubb's BBQ - Buy Tickets | RSVP
05.04.11 - Tucson, AZ @ Rialto Theatre - Buy Tickets | RSVP
05.05.11 - Pomona, CA @ Fox Theater - SOLD OUT! | RSVP
05.06.11 - San Diego, CA @ House of Blues - SOLD OUT! | RSVP
05.07.11 - Berkeley, CA @ Greek Theatre ^ - Buy Tickets | RSVP
05.09.11 - Portland, OR @ Roseland Theater - Buy Tickets | RSVP
05.10.11 - Vancouver, BC @ Vogue Theatre - Buy Tickets | RSVP
05.12.11 - Calgary, AB @ MacEwan Hall - Buy Tickets | RSVP
05.13.11 - Edmonton, AB @ The Starlite Room - Buy Tickets | RSVP
05.14.11 - Saskatoon, SK @ The Odeon - Buy Tickets | RSVP
05.17.11 - Boulder, Co @ Fox Theatre - SOLD OUT! | RSVP
^ with Aesop Rock, Rob Sonic & DJ Big Wiz




Atmosphere: Facebook | Twitter | Myspace | Ping
Blueprint: Printmatic.net | Facebook | Twitter | Myspace | Ping
Grieves: Facebook | Twitter | Myspace | Ping
Budo: BudoBeats.com | Facebook | Twitter | Ping
Sab The Artist: SabTheArtist.com | Facebook | Twitter | YouTube
DJ Abilities: Facebook | Twitter
Rhymesayers: Facebook | Twitter | YouTube | Flickr | Myspace | Soundcloud