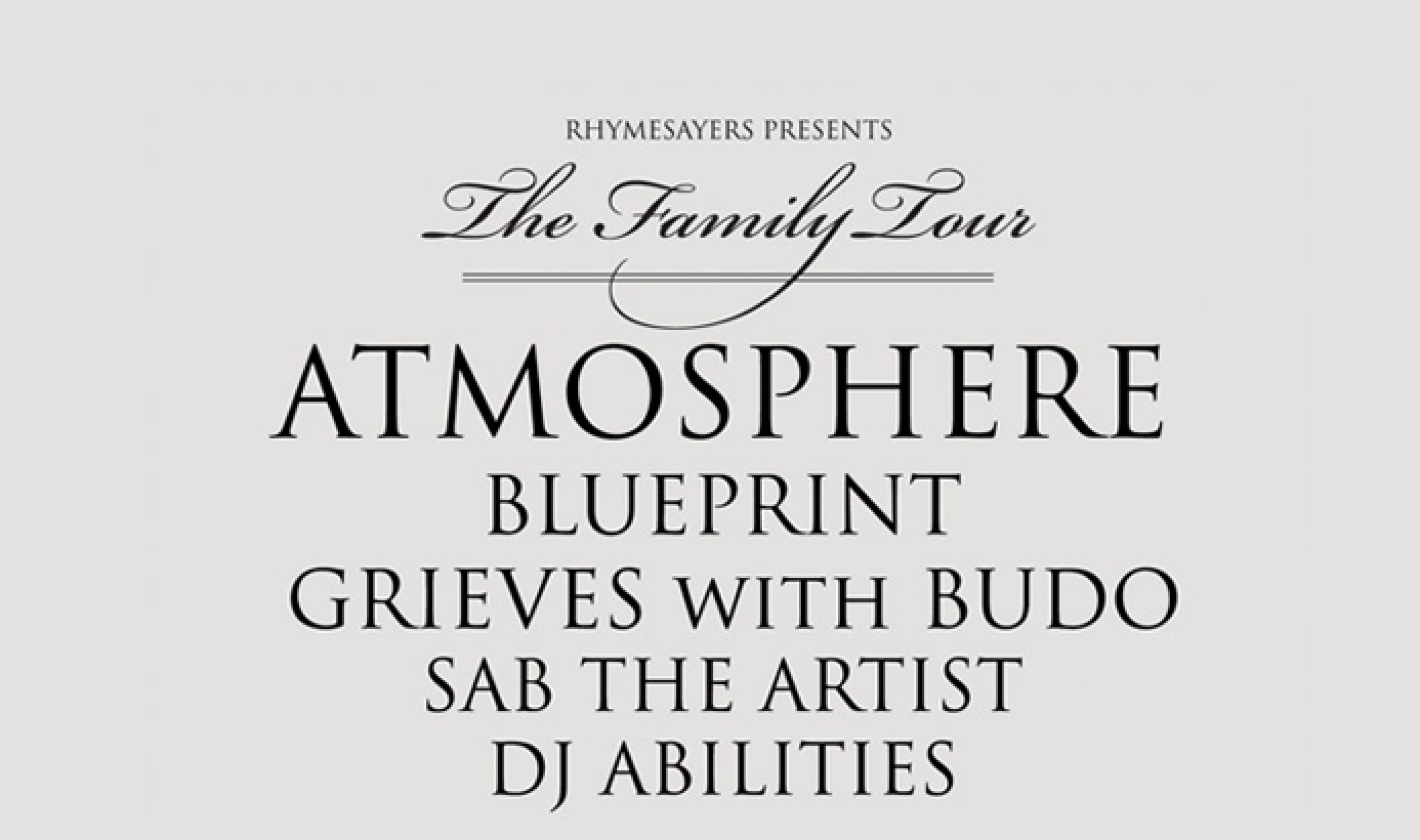 Get your tickets for The Family Tour now before it's too late!
With three sold out shows already, there's no better time than now to get your tickets for The Family Tour. You don't want to miss these shows!
Atmosphere will be joined by Rhymesayers family members Blueprint, Grieves with Budo, Sab The Artist & DJ Abilities. The largest show on the tour will be held at the Greek Theatre in Berkeley, CA and will see the addition of Aesop Rock with Rob Sonic & DJ Big Wiz.
Full details on The Family Tour events page!
04.20.11 - Columbus, OH @ Newport Music Hall - Buy Tickets | RSVP
04.21.11 - Munhall, PA @ Carnegie Music Hall of Homestead - Buy Tickets | RSVP
04.22.11 - S. Burlington, VT @ Higher Ground - SOLD OUT! | RSVP
04.23.11 - Boston, MA @ House of Blues - SOLD OUT! | RSVP
04.24.11 - Philadelphia, PA @ Electric Factory - Buy Tickets | RSVP
04.26.11 - New York, NY @ Terminal 5 - Buy Tickets | RSVP
04.27.11 - Washington, D.C. @ 9:30 Club - Buy Tickets | RSVP
04.28.11 - Richmond, VA @ The National - Buy Tickets | RSVP
04.29.11 - Asheville, NC @ The Orange Peel - Buy Tickets | RSVP
04.30.11 - Birmingham, AL @ Zydeco - Buy Tickets | RSVP
05.02.11 - Austin, TX @ Stubb's BBQ - Buy Tickets | RSVP
05.04.11 - Tucson, AZ @ Rialto Theatre - Buy Tickets | RSVP
05.05.11 - Pomona, CA @ Fox Theater - SOLD OUT! | RSVP
05.06.11 - San Diego, CA @ House of Blues - SOLD OUT! | RSVP
05.07.11 - Berkeley, CA @ Greek Theatre ^ - Buy Tickets | RSVP
05.09.11 - Portland, OR @ Roseland Theater - Buy Tickets | RSVP
05.10.11 - Vancouver, BC @ Vogue Theatre - Buy Tickets | RSVP
05.12.11 - Calgary, AB @ MacEwan Hall - Buy Tickets | RSVP
05.13.11 - Edmonton, AB @ The Starlite Room - Buy Tickets | RSVP
05.14.11 - Saskatoon, SK @ The Odeon - Buy Tickets | RSVP
05.17.11 - Boulder, Co @ Fox Theatre - SOLD OUT! | RSVP
^ with Aesop Rock, Rob Sonic & DJ Big Wiz


Atmosphere: Facebook | Twitter | Myspace | Ping
Blueprint: Printmatic.net | Facebook | Twitter | Myspace | Ping
Grieves: Facebook | Twitter | Myspace | Ping
Budo: BudoBeats.com | Facebook | Twitter | Ping
Sab The Artist: SabTheArtist.com | Facebook | Twitter | YouTube
DJ Abilities: Facebook | Twitter
Rhymesayers: Facebook | Twitter | YouTube | Flickr | Myspace | Soundcloud