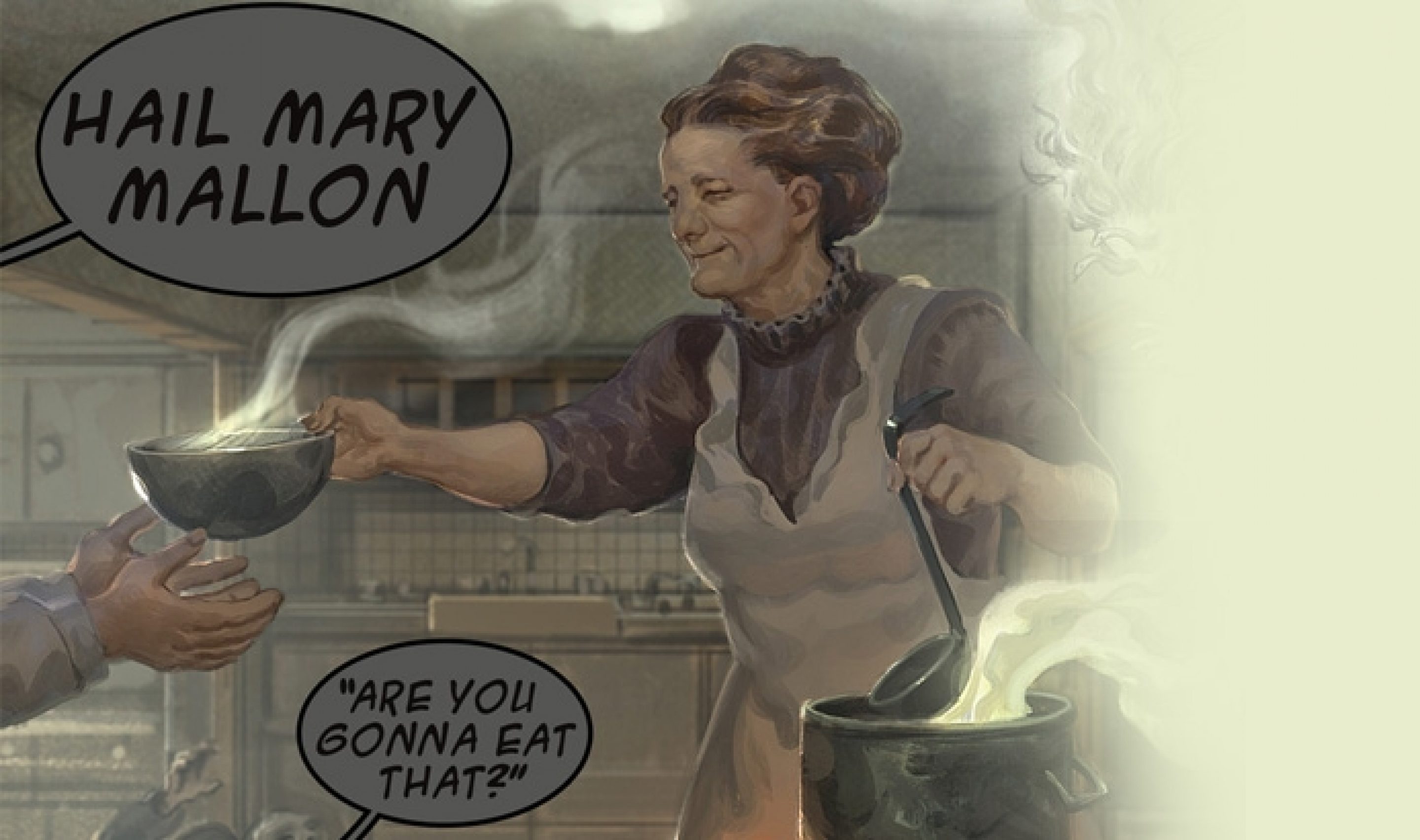 Rhymesayers to release Hail Mary Mallon's upcoming album Are You Gonna Eat That?, and drops first single "Smock"!
Our friends at Rolling Stone just announced that Rhymesayers will be releasing Hail Mary Mallonâ??s debut record, Are You Gonna Eat That? - dropping June 7th, 2011 physically and May 3rd, 2011 digitally. The trio comprised of Aesop Rock, Rob Sonic, and DJ Big Wiz will premiere tracks from the upcoming record this April and May while on tour with Kimya Dawson.
Aesop Rock and Rob Sonic have been constant collaborators over the years, both live and in the studio. It took the legendary turntable styling of DJ Big Wiz to birth the unstoppable Hail Mary Mallon. Named after Mary Mallon aka Typhoid Mary (the first person in US identified as a carrier of the pathogen associated with typhoid fever), the trio plans to spread their infectious blend of powerful production and back-forth rhyme schemes all over the world. Their first single, "Smock", adds synthesizers and ambient tones that subtlety rest atop the dark beat while "Breakdance Beach" keeps focus on the tight kickdrum and distorted handclaps. The contrast of production-heavy tracks with punching lines and stripped down bangers with light-hearted hooks allow the album to never lose your attention.
Pre-Order Are You Gonna Eat That? from iTunes: Click Here (drops 5/3/2011)
Pre-Order Are You Gonna Eat That? from Fifth Element: Click Here (drops 6/7/2011)
Watch the new video for "Smock" below! It features Aesop Rock and Rob Sonic performing the song live while driving around San Francisco. Look for cameo appearances from DJ Big Wiz, Kimya Dawson, and artist/illustrator Alex Pardee. Alexander Tarrant and Justin Metros directed the video.

Buy "Smock" now on iTunes: Single | Instrumental
Listen to the full song here:

Tracklisting:
1. Church Pants
2. Garfield
3. Grubstake
4. Meter Feeder
5. Smock
6. The Poconos
7. Breakdance Beach
8. Table Talk
9. Mailbox Baseball
10. Holy Driver
11. Knievel
12. Plagues and Bacon
Don't miss the group on these upcoming tour dates!
Aesop Rock with Rob Sonic and DJ Big Wiz:
04.28 - Anchorage, AK @ Anchor Bar (with Murs)
04.29 - Fairbanks, AK @ University of Alaska Spring Fest (with Murs, etc)
05.07 - Berkeley, CA @ Greek Theater (supporting Atmosphere) | Buy Tickets
A NIGHT WITH AESOP ROCK AND KIMYA DAWSON featuring Rob Sonic and DJ Big Wiz:

5/10 - Princeton, NJ @ Terrace Club
5/11 - Boston, MA @ Middle East | Buy Tickets
5/13 - Washington DC @ Rock N Roll Hotel | Buy Tickets
5/14 - New York, NY @ Bowery Ballroom | SOLD OUT!
5/16 - Pittsburgh, PA @ Altar | Buy Tickets
5/17 - Columbus, OH @ Outland | Buy Tickets
5/19 - Chicago, IL @ Lincoln Hall
5/20 - Madison, WI @ High Noon Saloon | Buy Tickets
5/21 - Minneapolis, MN @ Triple Rock Social Club | Buy Tickets
Aesop Rock: AesopRock.com | 900Bats | Twitter
Rob Sonic: Twitter
DJ Big Wiz: Twitter
Rhymesayers: Facebook | Twitter | YouTube | Flickr | Myspace | Soundcloud