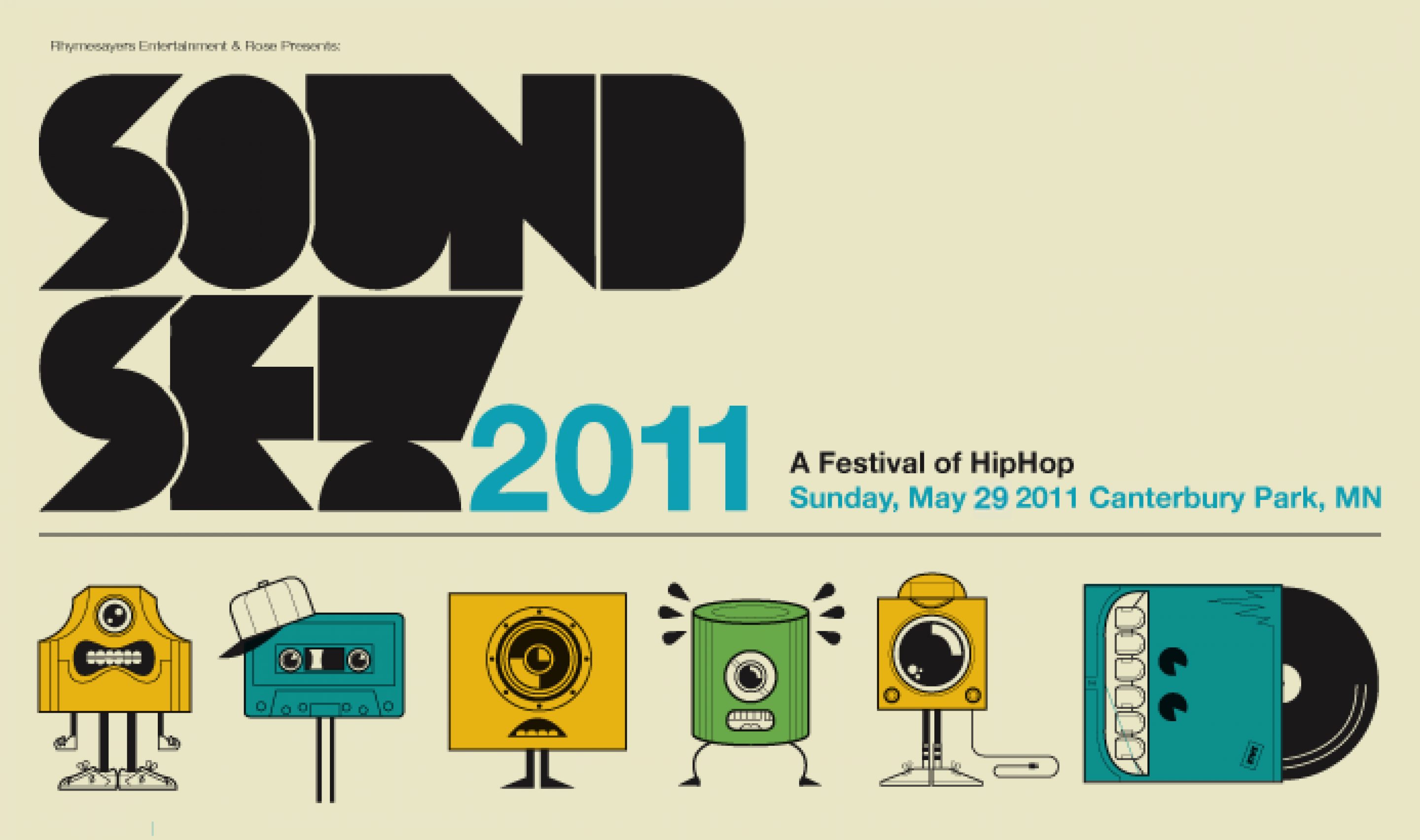 You asked for it!
Here's your official Soundset 2011 Frequently Asked Questions:

1. What time does everything kick off? Gates open at 11:00AM, we are going to set it off with DJS right away on ALL stages. We have like 40 artists performing within nine hours, so, shortly after gates open the mics will open too, and it will be go time. Get there early and you will not miss anything. Soundset ends at 8:30PM as the sun sets over the Shakopee water tower.

2. The set times for Soundset will not be announced until day of show. If you are emailing us asking when your favorite artist is playing, we will NOT have that answer for you until day of show. There are a lot of amazing artists playing, broaden your horizons, get there early and see as many artists for the low cost of your ticket.  You want to be the first to know, well we highly suggest you follow us on Twitter. Everyone loves surprises, who knows, Atmosphere may go on first? Stay tuned to @Soundset and @Rhymesayers on twitter all day long!

3. There are NO in and outs. Show goes on rain or shine. Line up and set times are subject to change.

4. What can you bring: backpacks (medium 20� tall, 15� wide and 9� thick), small beach towel, hats, (1) plastic bottle of water (must be SEALED or EMPTY), sun block, lighters, cigarettes, sunglasses, cell phones, beepers, kids, mom, dad, digital cameras (non-pro), disposable cameras, hacky sacks, fanny packs, film cameras (non pro) and pictures of P.O.S.

5. What can you NOT bring: weapons (knives, guns, chains- anything that can be used as a weapons to hurt someone), glass, band instruments of any kind, drugs or drug paraphernalia, for sale items (unless you are a contracted vendor), markers, spray paint, hula hoops, outside food, outside beverages, squirt guns, audio recording devices, video recording devices, umbrellas, blankets, stuffed animals, pets (unless licensed service animals), kites, flags, golf carts (unless youâ??re Ant), chairs and Tool CDs (unless youâ??re Randy Hawkins). 

6. Where is Canterbury Park? Well, if youâ??re standing in front of Fifth Element in Minneapolis, itâ??s 23 miles and less than 30 minutes. Click HERE to head to Google Maps and map out your own route to Soundset!

7. Hey Artist Arena fan pre-sale peeps, you were the first to buy tickets, and yes, your tickets will be at will call under your name. Your I.D must match the name on the ticket order. Please print out your confirmation and bring it with you to Soundset. If you purchased General Admission tickets, you will find your tickets at the Will Call tent before you enter into Soundset. The tent will have clear signage that says Will Call, and that's where you go. If you purchased VIP tickets through Artist Arena, your Will Call tent can be found in the VIP parking lot. To see where this is, click HERE. Any questions about Artist Areana tickets, please call 212-420-8500 or e-mail info@artistarena.com!

8. Are tickets still available? YES, tickets are available at TicketWeb.com, go to our freshly shortened URL: http://tktwb.tw/ss11tix. We also have tickets available at Fifth Element service charge FREE if you pay cash. If you pay with a credit card, there are no fees if you buy anything in the store! For information on tickets available at Fifth Element, call 612-377-0044. Yes, Fifth Element has general admission and VIP tickets all available. No phone or online orders will be taken by Fifth Element. If you selected Will Call through TicketWeb, you can pick them up HERE on-site. Questions for TicketWeb? Give them a call at 1-866-777-8932.

9. If you have a friend that is disabled, we DO have accessible seating tickets available at both TicketWeb: http://tktwb.tw/ss11tix and at Fifth Element (in-store). These tickets will allow 1 person (with a ticket) to accompany the person, and there will be an accessible area designated near the main stage area. Specific questions in regards to accessible seating tickets, please email us at info@soundsetfestival.com with the subject line: ACCESSIBLE TICKETS.

10. Of course, Soundset 2011 is all-ages, we are for the kids! And for those youngsters under the age of 10, you get to experience the music for FREE. You must be accompanied by ticket paying adult. 2 kids per one adult. Strollers are allowed for infants and toddlers only, no adults in strollers please.

11. For those people 18+, we are offering a special Soundset 2011 VIP experience! The VIP ticket includes the following amenities: Soundset swag bag, exclusive VIP parking, separate VIP entrance to the festival grounds, access to a special exclusive VIP area near the main stage, bleacher style seating viewing the main stage, shaded tent chill area, meet and greets with artists, separate restrooms, VIP full bar with adult beverages, the only location on site that will serve hard liquor to those 21+ (you can still get beer in GA area), a special limited edition festival laminate and more! VIP tickets are $90 each (plus applicable fees) and are subject to limited availability. Your I.D WILL BE CHECKED upon entrance to VIP area. NOTE: No-one under 18 is allowed in the VIP area, even accompanied by an adult. Your VIP laminate does not get you backstage no matter how hard you try (we donâ??t care if you can spit hot bars).
12. VIP Parking Info: Your parking pass is your ticket. If you do not have an actual ticket, you MUST bring a printout of your ticket order from Ticketweb or Artist Arena. This document must say VIP with your confirmation number. Show the document to the friendly parking attendant and you are now in VIP parking! For directions on how to get to VIP Parking, click HERE.

13. If youâ??re on Hip Hop time and did not get your tickets before Sunday, May 29, we understand. We will have some tickets available at the on site box office, pending advance ticket sales. On site box office opens at 10:00am day of show.

14. When you get a General Admission ticket to Soundset, you get a parking spot. Thatâ??s right party people, NO extra parking fees. So, get your carpool on and help save the planet!

15. Yes, there is a FREE shuttle service. Hereâ??s the deal, Soundset will offer a FREE shuttle service from Mall of America at the North Bus Loop (between Nordstroms and Sears) direct to Canterbury- dropping off at the entrance to the concert site. We will have 2 buses going every half hour starting at 10:00AM. Please note, the pick up location is NOT the MOA transit center. Just look for the orange school buses that say Positive Connection and SOUNDSET. The FREE shuttles run every half hour, with the last bus departing Soundset at 9:30PM. 

16. My Mom, Dad or Uncle Roscoe will be dropping me off at Soundset, is there a drop off point? Yes, there will be signs upon entering Canterbury. For parent drop off/pick up: Take Hwy 101 to Shenandoah, Go SOUTH and follow signs to the gravel lot that says SHUTTLE & DROP OFF/PICK UP AREA. 

19. Yes itâ??s true, this year Soundset will be on GRASS. The field will be hippie and rap cypher friendly and more comforting for your feet and butt when you sit down. Oh wait, when will you have time to sit down? This is a Hip Hop show!

20 . Yes, there is beer at Soundset, do you know how many people come from Wisconsin? You need to be 21+ and you will need to show your I.D. each time you kick back with some suds. If youâ??re from Canada or Europe, you still need to be 21+, donâ??t ask why, itâ??s some weird USA thing. Beer is available in general admission and VIP areas. Please drink responsible. Drunk drivers are not Hip Hop, please be safe people!

21. Yes, there will be a location on site that will provide FREE tap water for you to stay hydrated throughout the day. For the record, we did also have free water last year too!

22. YES, first aid and medics will be on site. As we get closer to the event, we will offer a site map you can download online that will tell where these amazing people can be found. Soundset offers safety first!

23. All people with medical prescriptions, please identify yourselves to security at gate check in. ALL medical prescriptions and accompanying names on those containers MUST match the personâ??s proper I.D. 

24. YES, there will be ATM machines available on site. CASH rules everything around me.

25. Can I bring my camera? Yes, â??point and shootâ? photo cameras are allowed, but NO VIDEO cameras and ALL professional cameras will need a photo pass. What is a professional camera? Any camera with removable lenses. To get a photo pass you MUST be affiliated with a credible print or online publication (your flickr page does not necessarily qualify you)  and submit your credentials. List all your contact information, including the publication youâ??re there to shoot for, and please email us at: info@soundsetfestival.com with the subject line: PHOTO PASS.

26. If you submitted your band, favorite local artist or amazing new rap group from Moose Lake, MN, the final line-up has been 100% confirmed. So, if you have not been contacted by us yet, your submission did not make the final cut. Yes, this does mean we do not even have time for your 1, 5, 10 or 15 minute set. Thank you for reaching out, hustling your groups and sending us a massive amount of great music and some really bad ones too. The decisions were not easy, but have been fully made. Next year, we will put instructions up for submissions, so be on the lookout in early 2012 and get your best material ready.

27. If you have a car, truck or low rider golf cart that you would like to have be part of the fourth annual Soundset Custom Car Show, please send all your questions and inquiries to slowlow@rhymesayers.com. This guy named Phil will get back to you, he has a pony tail (sometimes) and is highly qualified for this position.
28. How do I enter the B-Boy / B-Girl Battle? This year we've teamed up with Red Bull to bring you the BC One Cypher! What happens at a BC One Cypher? The Red Bull BC One Cyphers are 1-on-1 battles that will take place in clubs or popular dance locations in 27 countries, in various cities. Winning a Cypher will get you one step closer to becoming the next 1-on-1 world champion. Go HERE for all the details. Please note that you must register before the event, there will be NO on-site registration. You can register HERE at RedBullBCOne.com
29. Familia Skate Shop Soundset Showdown - Presented by DC Shoes: You must register at Familila Skatehop (2833 Hennepin Ave S. in Minneapolis) starting May 16th, if youâ??re under 18 youâ??ll need a parentâ??s signature. $38 registration/admission, only 40 spots available! Exhibition from 12pm-4pm, and the Showdown starts at 4pm. PLEASE NOTE: You canâ??t bring a board to Soundset unless youâ??ve pre-registered. More info: 612-353-6930 and at familiaskateshop.com

30. So you have the freshest skateboard shop in the Twin Cities or any other product, service or organization, and you want to vend at Soundset- we can make this happen. Send us an email to vending@rhymesayers.com with the subject line: VENDING and we will have our super VENDOR specialist reach out to you with all the details. No taxidermy or hunting vendors please. J-Bird is for the animals.

31. So youâ??re a master chef (Raekwon The Chef is not eligible) with the greatest veggie tacos in the world and want to be a food vendor at Soundset. Well, we all love tacos, so please send all food vendor  inquiries to: info@soundsetfestival.com SUBJECT: FOOD AND BEVERAGE

32. Hey man, I have a great product. Yo, I have a great new service that people need to know about. Really man, how can I be a sponsor on Soundset to help keep these ticket prices low? Send us an email to info@soundsetfestival.com with the subject line: SPONSOR.

33. There will be artist meet and greets on site at Soundset. Look for times to be posted in VIP and at our festival merchandise area. If you want to be up on the latest and greatest, follow us on Twitter @Soundset and you will be in the knowâ?¦ yo.

33 1/3. Hell yes there will be official Soundset merchandise! Look for the BIG tent that says â??Soundset Merchandiseâ?. Go there and look for our merch Jedis. We will also have this listed on our official site map that will be available week of the show. Yes, your cash and credit is good with us.

34. Itâ??s true, Soundset will have vegetarian/vegan options available for our healthy and animal friendly people.

35. Soundset understands it can be hot. We know there are some pale friends out there that the sun just doesnâ??t like. Shaded areas will be provided. There are also cool tents you can go into, such as the DJ BBoy / BGirl tent where battles, a production showcase and DJs will be playing records some of your parents may not like ALL DAY LONG! 

36. There is an Official Soundset After Party this year at First Avenue.The after party will feature Mike Relm, Hip Hop Karoake NYC, Plain Ole Bill, Jimmy 2 Times, DJ Fundo, and Last Word (Get Cryphy), with Special Surprise Guest Performances and is hosted by Brother Ali. You have to be 18+ to party, and 21+ to party with adult beverages. Doors and event start at 10:00pm and there are $10 limited advance tickets. Soundset will end by 8:30PM, so you'll have plenty of time to get downtown Minneapolis, but get there early because you don't want to miss any of the action! The after party is off festival grounds and is presented by Soundset and First Avenue so it is a separate ticketed event. Tickets are available at Fifth Element, First Avenue, and online at eTix!
37. If you're a Soundset VIP, you still need a separate party ticket to enter the after party. As VIP, you get special access to the party through and to The Record Room entrance on First Avenue. The Record Room is exclusive to VIPs of Soundset. Your Soundset VIP wristband with your purchased Afterparty ticket (available at Fifth Element, First Avenue, and online at eTix) is all you need to get in the door and start the (after)party.

38: If you still have a question, concern or just want to voice your opinion, please email us at:Â info@soundsetfestival.com

Thank you for your support, see you in beautiful Shakopee, MN on Sunday, May 29, 2011!

Soundset: SoundsetFestival.com | Facebook | Twitter
Rhymesayers: Facebook | Twitter | Youtube | Flickr | Myspace | Soundcloud