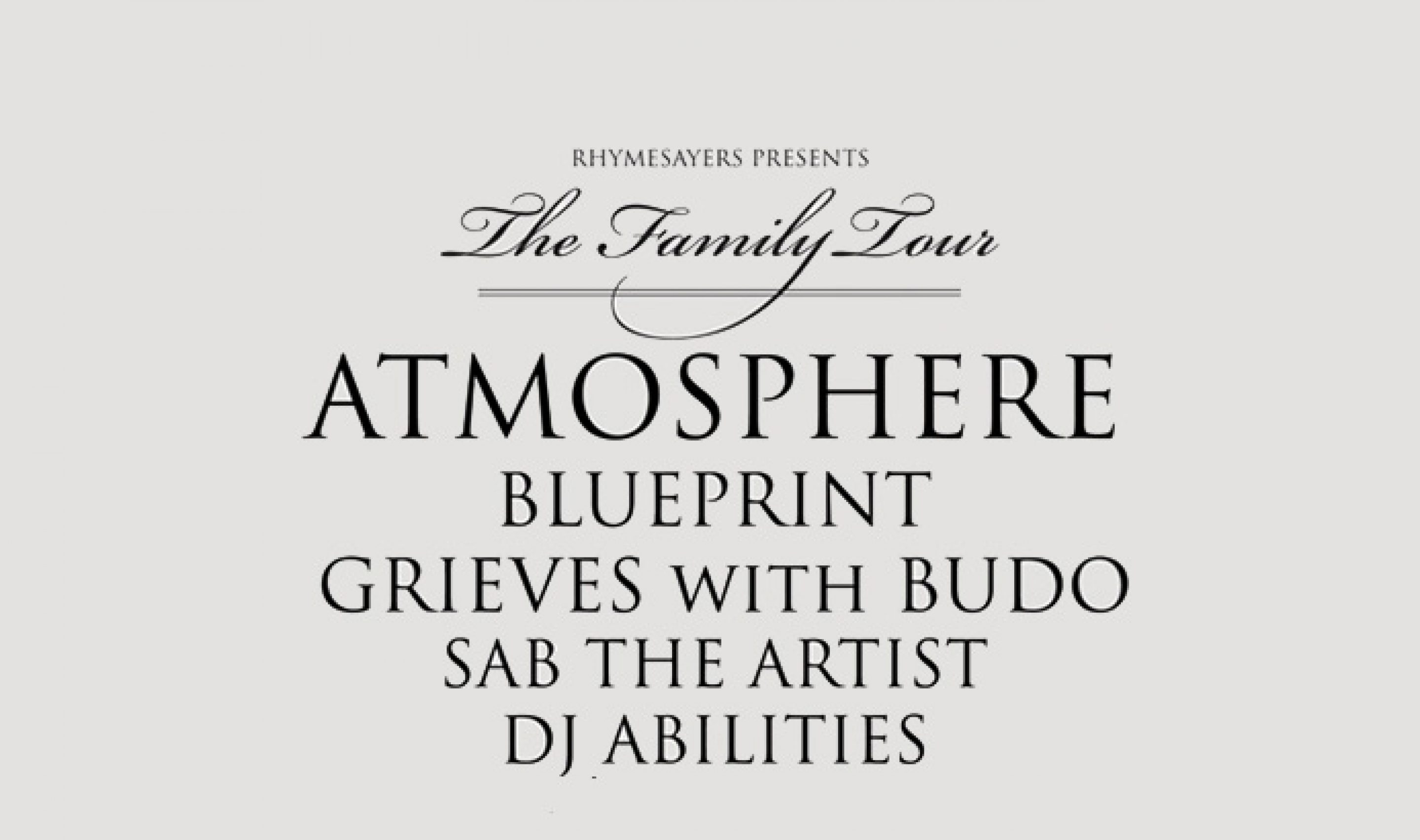 Two weeks left on The Family Tour!
The Family Tour with Atmosphere, Blueprint, Grieves & Budo, Sab The Artist, and Dj Abilities keeps on rolling for the next 2 weeks! The only show in the US with tickets available is in Berkeley this weekend, the biggest show on tour! Our friends in Canada can still get their tickets for Calgary, Edmonton, and Saskatoon as well.
Tickets are moving fast for these few remaining show! See below for info and ticket links and head to Rhymesayers.com/Events for all the details.

TONIGHT - Tucson, AZ @ Rialto Theatre - SOLD OUT | RSVP
05.05.11 - Pomona, CA @ Fox Theater - SOLD OUT! | RSVP
05.06.11 - San Diego, CA @ House of Blues - SOLD OUT! | RSVP
05.07.11 - Berkeley, CA @ Greek Theatre ^ - Buy Tickets | RSVP
05.09.11 - Portland, OR @ Roseland Theater - SOLD OUT! | RSVP
05.10.11 - Vancouver, BC @ Vogue Theatre - SOLD OUT! | RSVP
05.12.11 - Calgary, AB @ MacEwan Hall - Buy Tickets | RSVP
05.13.11 - Edmonton, AB @ The Starlite Room - Buy Tickets | RSVP
05.14.11 - Saskatoon, SK @ The Odeon - Buy Tickets | RSVP
05.17.11 - Boulder, CO @ Fox Theatre - SOLD OUT! | RSVP
^ with Aesop Rock, Rob Sonic & DJ Big Wiz


Order Atmosphere's new album The Family Sign: Fifth Element | iTunes | Amazon (OUT NOW!)
Order Blueprint's new album Adventures In Counter-Culture: Fifth Element | iTunes | Amazon (OUT NOW!)
Check out the video for Grieves' new track "Bloody Poetry" produced by Budo: Watch now

Atmosphere: Facebook | Twitter | Myspace | Ping
Blueprint: Printmatic.net | Facebook | Twitter | Myspace | Ping
Grieves: Facebook | Twitter | Myspace | Ping
Budo: BudoBeats.com | Facebook | Twitter | Ping
Sab The Artist: SabTheArtist.com | Facebook | Twitter | YouTube
DJ Abilities: Facebook | Twitter
Rhymesayers: Facebook | Twitter | YouTube | Flickr | Myspace | Soundcloud