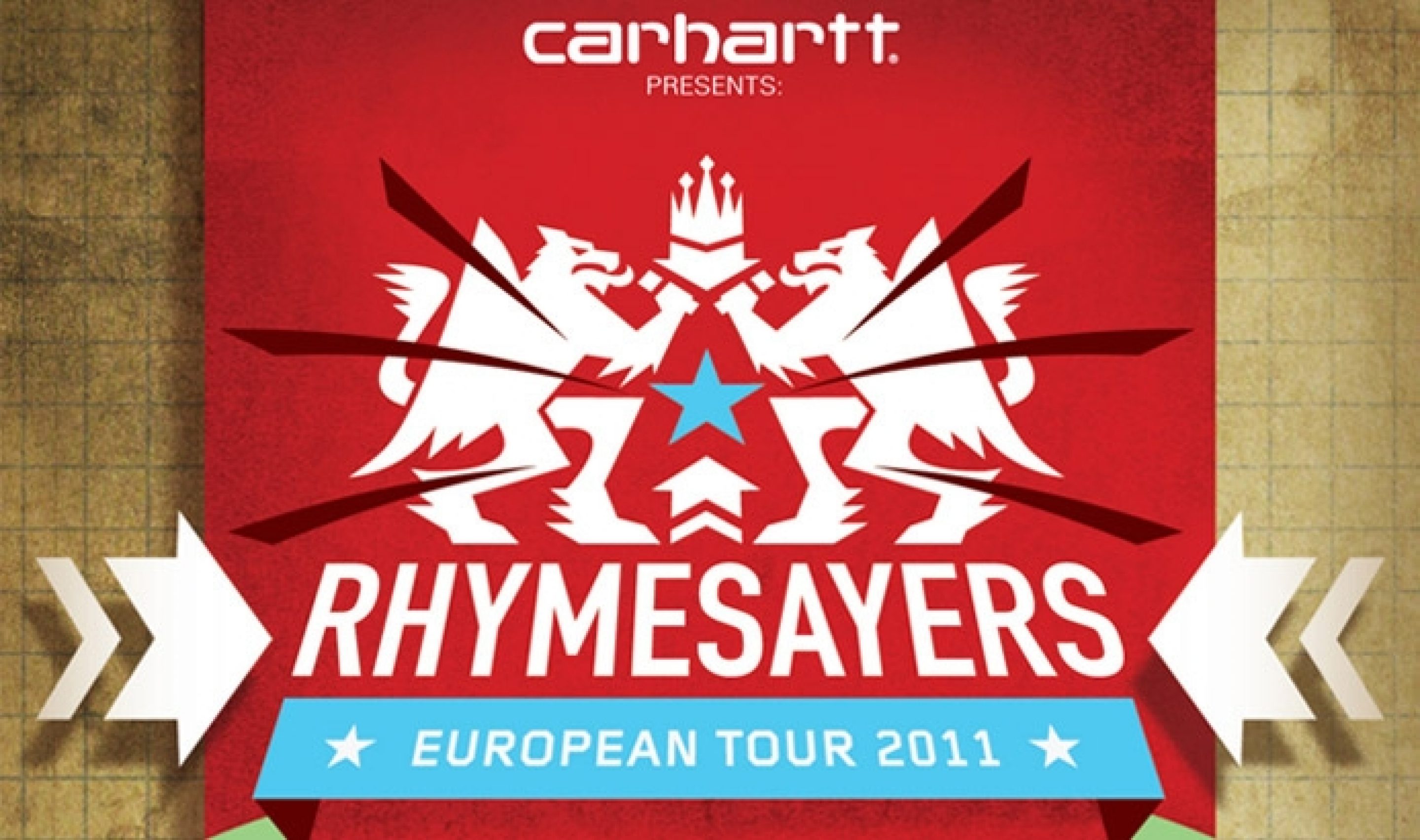 Enter the Carhartt presents Rhymesayers European Tour Mixtape Contest!
Hey DJs!
Rhymesayers and Carhartt have combined forces to give you the chance to create the official Rhymesayers European Tour mixtape.

You can win an exclusive Rhymesayers Battle Kings flash drive full of music and including personalised drops recorded by Atmosphere, Evidence, Brother Ali, Blueprint and Grieves. You'll also receive LPs by each of those artists, a limited edition tour T-shirt and a Carhartt x UDG DJ Bag with room for your laptop, CDs and records!

To enter, just create a 15-minute mixtape of Rhymesayers material and submit it to the "Rhymesayers European Tour Group" (http://bit.ly/nmOWir) on Soundcloud, where you can also check out and comment on all the other mixes.
What are we looking for? Originality and something special, not just a mix of Rhymesayers material. Incorporate your own talents of scratching and production in the mix, too!

The winner will get the chance to create an hour-long Rhymesayers mix for Carhartt's regular radio show, promoted as part of the Carhartt presents Rhymesayers European Tour campaign, as well as the prizes mentioned above.

Final submissions are due September 27th. We will pick the winner on October 4th.
The Rhymesayers European Tour presented by Carhartt is the first of its kind for the Rhymesayers collective and features heavyweight figureheads Atmosphere alongside label-mates Brother Ali, Evidence, Blueprint, and Grieves & Budo.
07.11 - London, UK @ The Electric Ballroom: SOLD OUT! | RSVP
08.11 - Amsterdam, NL @ Melkweg: Buy Tickets: SOLD OUT! | RSVP
09.11 - Paris, FR @ La Machine du Moulin Rouge: Buy Tickets | RSVP
11.11 - Brussels, BE @ Ancienne Belgique: Buy Tickets | RSVP
12.11 - Zurich, CH @ Rote Fabrik: Buy Tickets | RSVP
13.11 - Fribourg, CH @ Fri-Son: Buy Tickets | RSVP
15.11 - Berlin, DE @ C-Club: Buy Tickets | RSVP
16.11 - Hamburg, DE @ Uebel & Gefahrlich: Buy Tickets | RSVP
18.11 - Stockholm , SE @ Nalen: Buy Tickets | RSVP
19.11 - Oslo, NO @ Spikerboks: Buy Tickets | RSVP
20.11 - Copenhagen, DK @ Vega Musikkenshus: Buy Tickets | RSVP


Atmosphere: Facebook | Twitter | Myspace | Ping
Brother Ali: BrotherAli.com | Facebook | Twitter | Myspace | Ping
Evidence: Twitter | Facebook | Myspace | Ping
Blueprint: Printmatic.net | Twitter | Facebook | Myspace | Ping
Grieves: Twitter | Facebook | Myspace | Ping
Budo: BudoBeats.com | Twitter | Facebook | Myspace | Ping
Rhymesayers: Facebook | Twitter | YouTube | Flickr | Myspace | Soundcloud