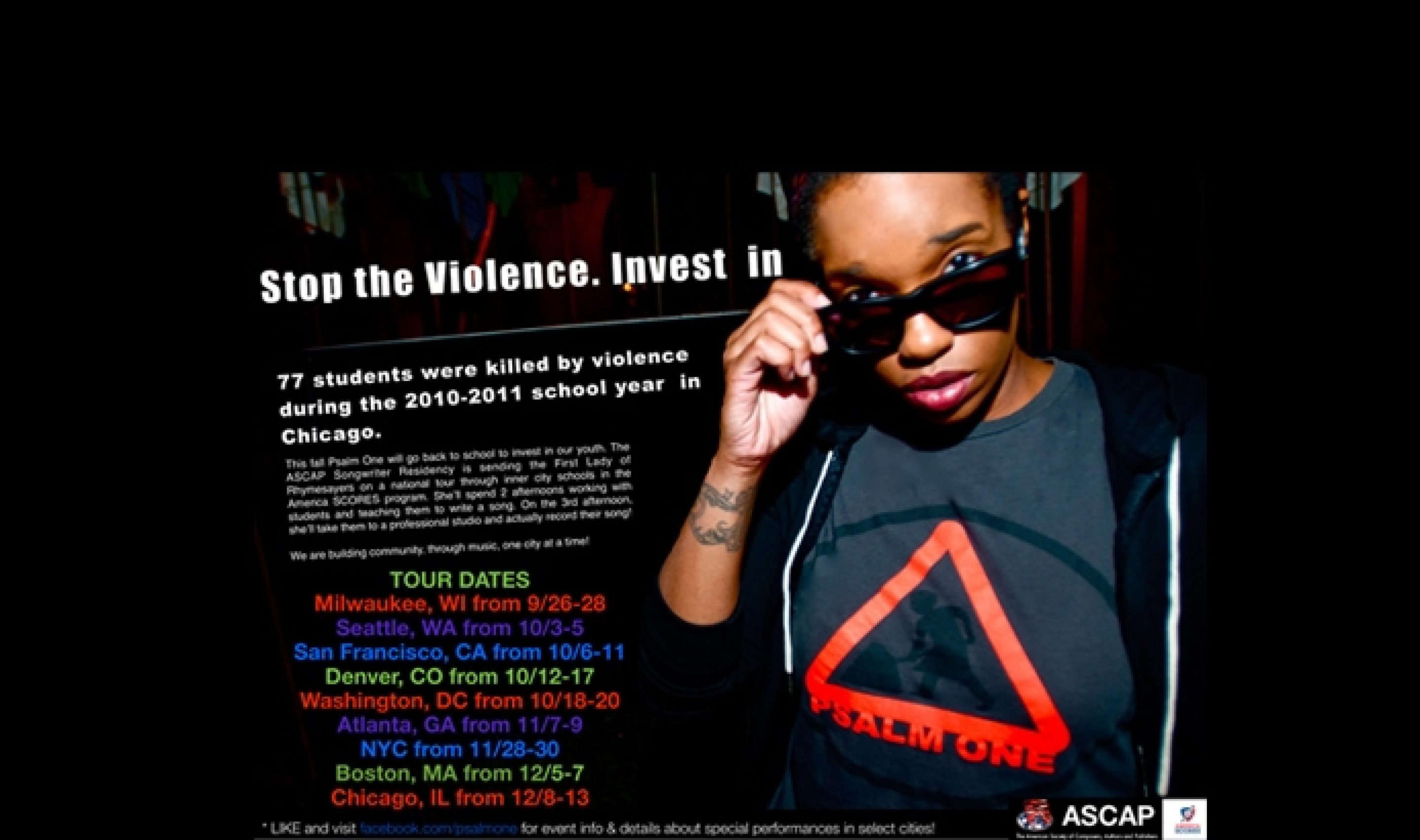 Psalm One to write and record with inner city kids on a nine-city tour!
Starting today, Psalm One will embark on a nine-city tour (full dates below) for the ASCAP Songwriter Residency @ America SCORES, a mentorship program that provides a platform for songwriters to engage and inspire elementary and middle school students in under-resourced neighborhoods. In each city Psalm will spend three two-hour sessions with students: co-writing a song during the first two sessions and recording it in a professional studio during the third session.  The finished songs will be included on a special compilation CD that ASCAP produces and distributes to each of the schools involved, as well as to music industry influencers. Established in 2006, the ASCAP Songwriter Residency @ America SCORES has brought more than 30 songwriters to 12 cities across the country.  Psalm One is the second artist to embark on a multi-city tour.
In addition to the ASCAP Songwriter Residency @ America SCORES, Psalm One will also be working at Rhyme School, a music mentoring program at The Avalon School on Chicago's South Side.  Rhyme School is a partnership between Psalm One's Charm Lab and the Intonation Music Workshop.  Over the course of three months, Psalm will work with student musicians on how to utilize Rap as a part of their musical repertoire.

Psalm One's ASCAP Songwriter Residency @ America SCORES tour dates are:
Milwaukee
September 26 & 27: James Whitcomb Riley Elementary School
September 28: Tanner Monagle Studio
Seattle
October 3 & 4: Roxhill Elementary School
October 5: Recording Studio TBD
San Francisco
October 6 & 10: Cleveland Elementary School
October 11: Different Fur Studios
Denver
October 12 & 13: Knapp Elementary School
October 17: Side 3 Studios
Washington, D.C.
October 18 & 19: School TBD
October 20: Recording Studio TBD
Atlanta
November 7 & 9: Carter G. Woodson Elementary School
November 10: Recording Studio TBD
New York City
November 28 & 29: The selected school will be the winner of the America SCORES New York Community Poetry SLAM! Team Competition
November 30: Recording Studio TBD
Boston
December 5 & 6: School TBD
December 7: Recording Studio TBD
Chicago
December 8 & 12: School TBD
December 13: CRC Studios
For updates on Psalm's progress and work during the next 3 months, make sure to "like" her on Facebook, and follow @PsalmOne on twitter.
Check out the ASCAP blog post about this tour HERE.
Get her latest work, Get In The Van Vol. 3 HERE on Bandcamp or in store at Fifth Element.
Grab her Rhymesayers debut The Death of Frequent Flyer now! Buy now: Fifth Element | iTunes | Amazon
Psalm One: Twitter | Facebook | Myspace | PsalmOne.TV | Bandcamp
Rhymesayers: Facebook | Twitter | YouTube | Flickr | Myspace | Soundcloud