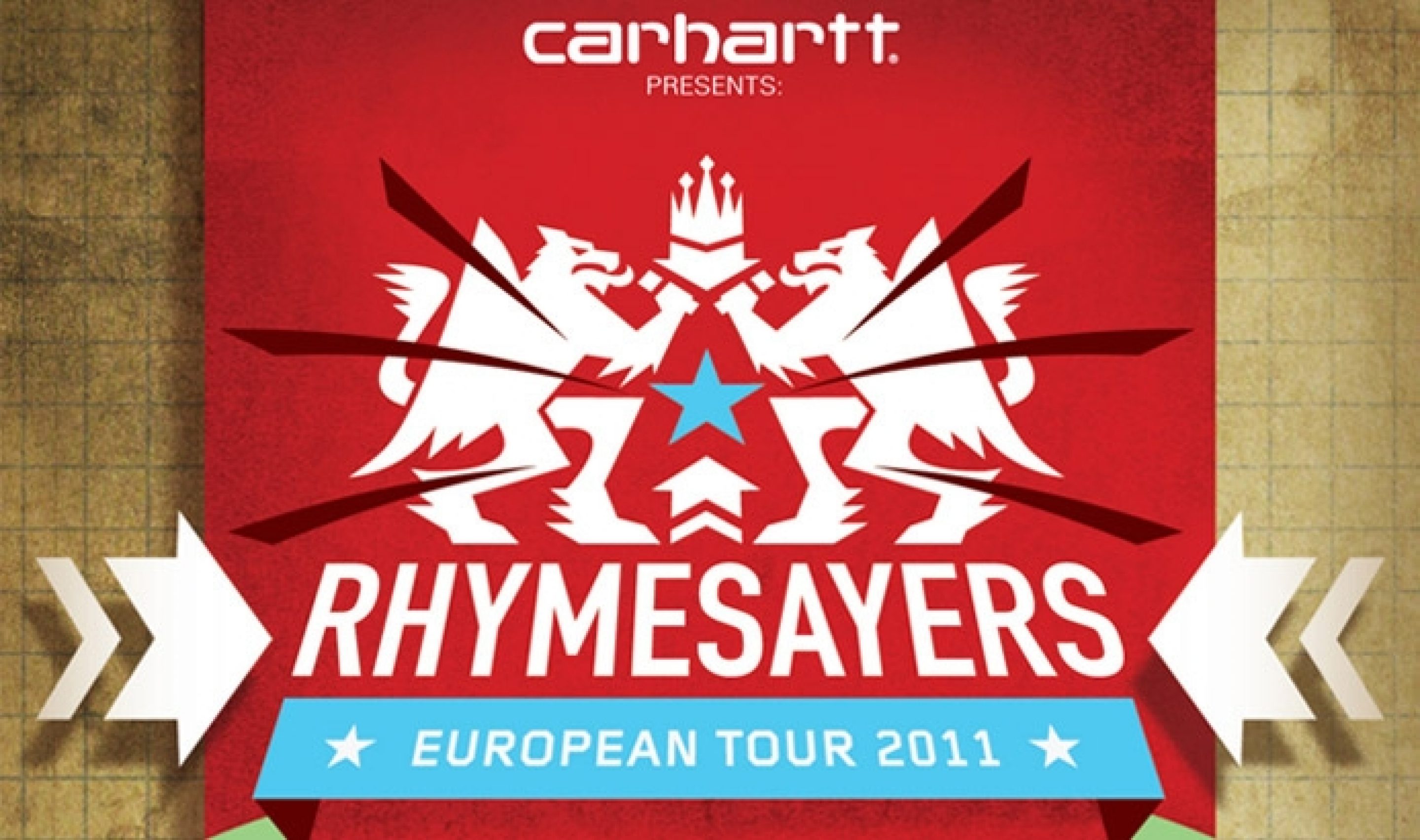 Rhymesayers European Tour Mixtape Contest winner announced!
After receiving entries from all across the globe, it's our pleasure to announce that Christian "Chrisfader" Flesichmann from Vienna, Austria has won The Rhymesayers European Tour Mixtape Contest! Listen to the mix below.
Chrisfader - Rhymesayers European Tour Mix by Chrisfader
Chris wins an exclusive Rhymesayers Battle Kings flash drive full of music and including personalised drops recorded by Atmosphere, Evidence, Brother Ali, Blueprint and Grieves, as well as LPs by each of those artists, a limited edition tour T-shirt and a Carhartt x UDG DJ Bag.

From here, he'll create an hour-long Rhymesayers mix for Carhartt's radio show, promoted as part of the Carhartt presents Rhymesayers European Tour campaign!
The Rhymesayers European Tour presented by Carhartt begins in less than two months. Don't miss the show nearest you, tickets are moving fast!
07.11 - London, UK @ The Electric Ballroom: Buy Tickets | RSVP
08.11 - Amsterdam, NL @ Melkweg: Buy Tickets: Buy Tickets | RSVP
09.11 - Paris, FR @ La Machine du Moulin Rouge: Buy Tickets | RSVP
11.11 - Brussels, BE @ Ancienne Belgique: Buy Tickets | RSVP
12.11 - Zurich, CH @ Rote Fabrik: Buy Tickets | RSVP
15.11 - Berlin, DE @ C-Club: Buy Tickets | RSVP
16.11 - Hamburg, DE @ Uebel & Gefahrlich: Buy Tickets | RSVP
18.11 - Stockholm , SE @ Nalen: Buy Tickets | RSVP
19.11 - Oslo, NO @ Spikerboks: Buy Tickets | RSVP
20.11 - Copenhagen, DK @ Vega Musikkenshus: Buy Tickets | RSVP


Atmosphere: Facebook | Twitter | Myspace | Ping
Brother Ali: BrotherAli.com | Facebook | Twitter | Myspace | Ping
Evidence: Twitter | Facebook | Myspace | Ping
Blueprint: Printmatic.net | Twitter | Facebook | Myspace | Ping
Grieves: Twitter | Facebook | Myspace | Ping
Budo: BudoBeats.com | Twitter | Facebook | Myspace | Ping
Rhymesayers: Facebook | Twitter | YouTube | Flickr | Myspace | Soundcloud