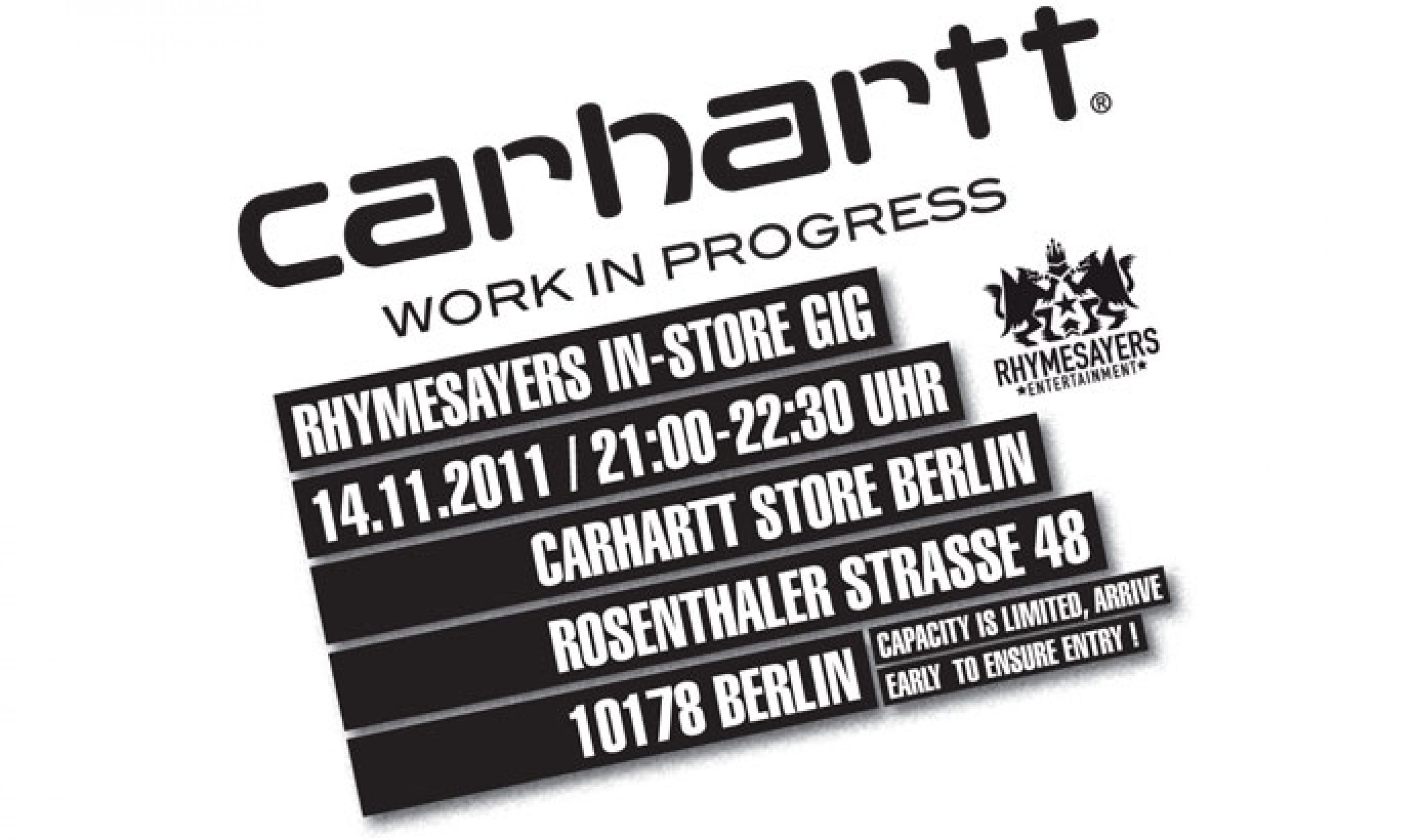 Rhymesayers European Tour In-store performance in at Carhartt in Berlin, Germany on Monday, Nov. 14th!
Atmosphere, Evidence, Brother Ali, Blueprint, and Grieves & Budo will be stopping by the Carhartt WIP Store in Berlin on Monday (tomorrow) night for an exclusive FREE/ALL AGES in-store performance. The event starts right at 21:00 so make sure to get there early so you don't miss anything.
On Tuesday, you can catch the whole crew at C-Club: Buy Tickets | RSVP on Facebook - tickets are moving fast so get yours now!

Check out the exclusive Carhartt x Rhymesayers Tour shirt, only available on this tour.

Evidence's new album Cats & Dogs is available now! Fifth Element: CD | Vinyl, iTunes: Deluxe | Standard, HHV.de: CD | Vinyl, HMV: CD, Bandcamp: MP3
Buy the new album from Atmosphere - The Family Sign : Fifth Element | iTunes | Amazon | Best Buy | Hot Topic
Buy Blueprint's Adventures In Counter-Culture : Fifth Element | iTunes | Amazon | Best Buy | Hot Topic
Pick up the latest from Grieves - Together/Apart: : Fifth Element | iTunes | Amazon | Best Buy | Hot Topic
Get your copy of Brother Ali's Us: Fifth Element | iTunes | Amazon
Atmosphere: Facebook | Twitter | Myspace | Ping
Brother Ali: BrotherAli.com | Facebook | Twitter | Myspace | Ping
Evidence: Twitter | Facebook | Myspace | Ping
Blueprint: Printmatic.net | Twitter | Facebook | Myspace | Ping
Grieves: Twitter | Facebook | Myspace | Ping
Budo: BudoBeats.com | Twitter | Facebook | Myspace | Ping
Rhymesayers: Facebook | Twitter | YouTube | Flickr | Myspace | Soundcloud