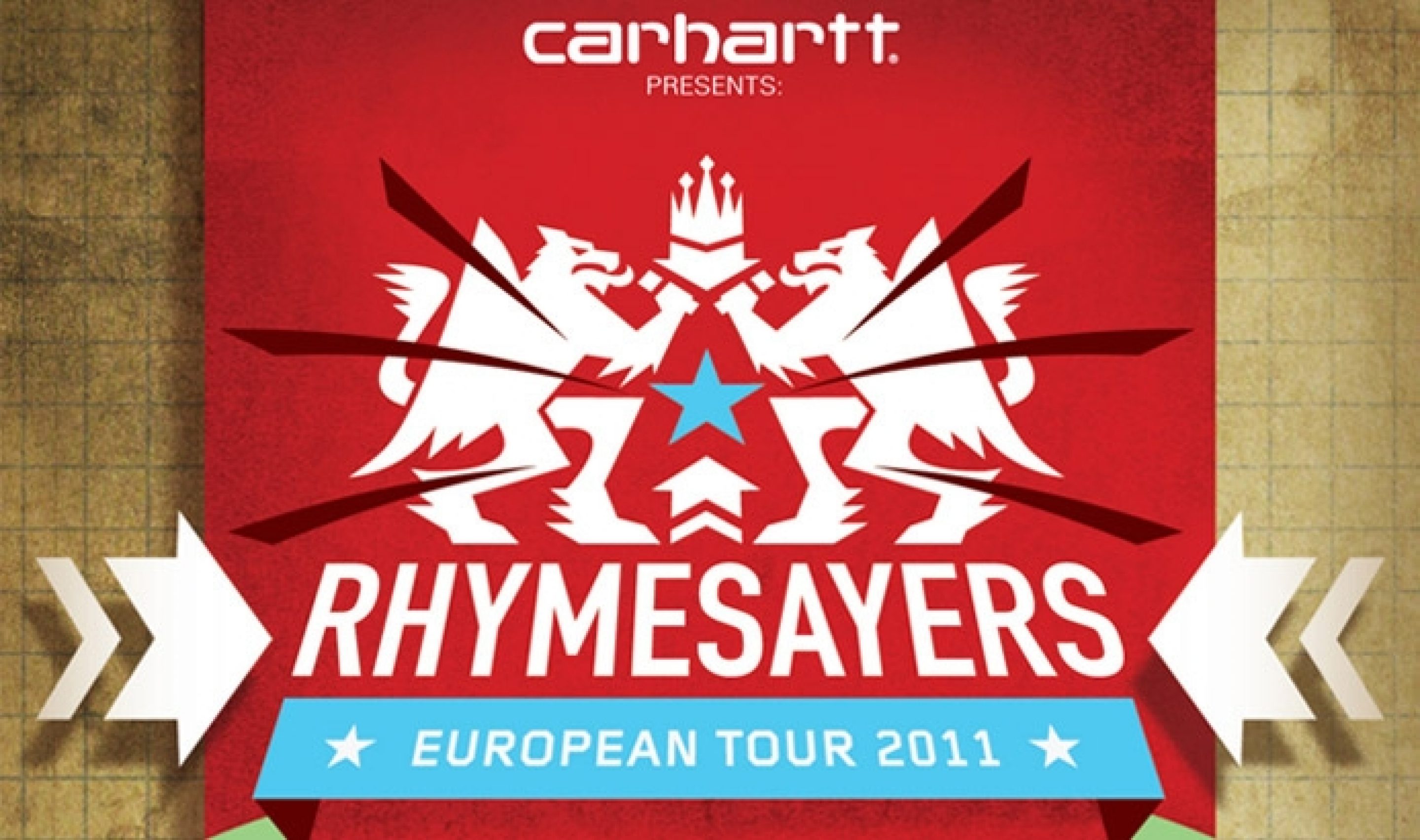 The last show of the Rhymesayers European Tour is tonight in Copenhagen!
After traveling halfway across the globe for thousands of fans, the tour has almost come to an end. Atmosphere, Evidence, Brother Ali, Blueprint, and Grieves & Budo are in Copenhagen and preparing to play the final show of the Rhymesayers European Tour presented by Carhartt at Vega.
Tickets are moving fast, there are only a limited amount left for the show. Get there early or buy yours online now!
Buy tickets now:
20.11 - Copenhagen, DK @ Vega Musikkenshus: Buy Tickets | RSVP
Check out the exclusive Carhartt x Rhymesayers Tour shirt, only available on this tour.

Evidence's new album Cats & Dogs is available now! Fifth Element: CD | Vinyl, iTunes: Deluxe | Standard, HHV.de: CD | Vinyl, HMV: CD, Bandcamp: MP3
Buy the new album from Atmosphere - The Family Sign : Fifth Element | iTunes | Amazon | Best Buy | Hot Topic
Buy Blueprint's Adventures In Counter-Culture : Fifth Element | iTunes | Amazon | Best Buy | Hot Topic
Pick up the latest from Grieves - Together/Apart: : Fifth Element | iTunes | Amazon | Best Buy | Hot Topic
Get your copy of Brother Ali's Us: Fifth Element | iTunes | Amazon
Atmosphere: Facebook | Twitter | Myspace | Ping
Brother Ali: BrotherAli.com | Facebook | Twitter | Myspace | Ping
Evidence: Twitter | Facebook | Myspace | Ping
Blueprint: Printmatic.net | Twitter | Facebook | Myspace | Ping
Grieves: Twitter | Facebook | Myspace | Ping
Budo: BudoBeats.com | Twitter | Facebook | Myspace | Ping
Rhymesayers: Facebook | Twitter | YouTube | Flickr | Myspace | Soundcloud