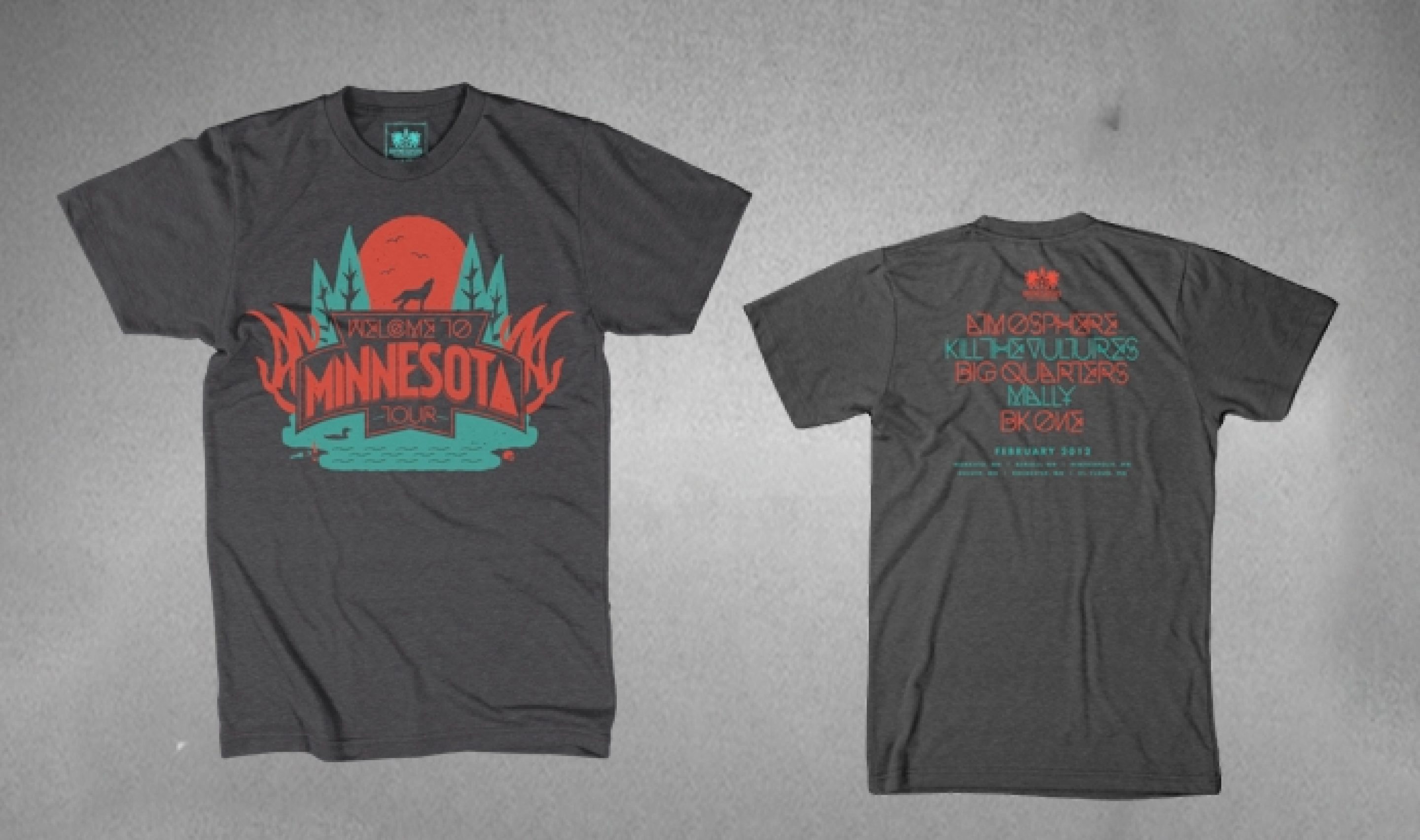 New Atmosphere and Rhymesayers merch available on the Welcome To Minnesota Tour
Atmosphere's Welcome To Minnesota Tour with Kill The Vultures, Big Quarters, MaLLy, and BK-One starts tonight in Mankato, MN - and RSE and Atmosphere want to make sure you're ready for the Minnesota cold.
The fresh-off-the-press tour shirt (above) will be available at the merch table starting tonight, as well as the new items below! Cold hands? Check out the new gloves, also available.
Get your tickets for the tour stops in Bemidji, Rochester, and St. Cloud before it's too late!
2.20 - Mankato, MN @ Verizon Wireless Center Ballroom: SOLD OUT! | RSVP

2.21 - Bemidji, MN @ Sanford Center Ballroom: Buy Tickets | RSVP
Tickets also available at Sanford Center Ballroom (No Fees)

2.22 - Minneapolis, MN @ First Avenue: SOLD OUT! | RSVP

2.23 - Duluth, MN @ Clyde Iron Works: SOLD OUT! | RSVP

2.25 - Rochester, MN @ Mayo Civic Center Auditorium: Buy Tickets | RSVP
Tickets also available at Mayo Civic Center Box Office (No Fees)

2.26 - St. Cloud, MN @ SCSU Atwood Center Ballroom: Buy Tickets | RSVP
Tickets also available at Electric Fetus St. Cloud ($2 Fee), SCSU Atwood Center Memorial Union, and Fifth Element (No Fees w/ cash)

Atmosphere: Facebook | Twitter | Google+ | Myspace | Ping
Rhymesayers: Facebook | Twitter | YouTube | Google+ | Flickr | Soundcloud | Myspace