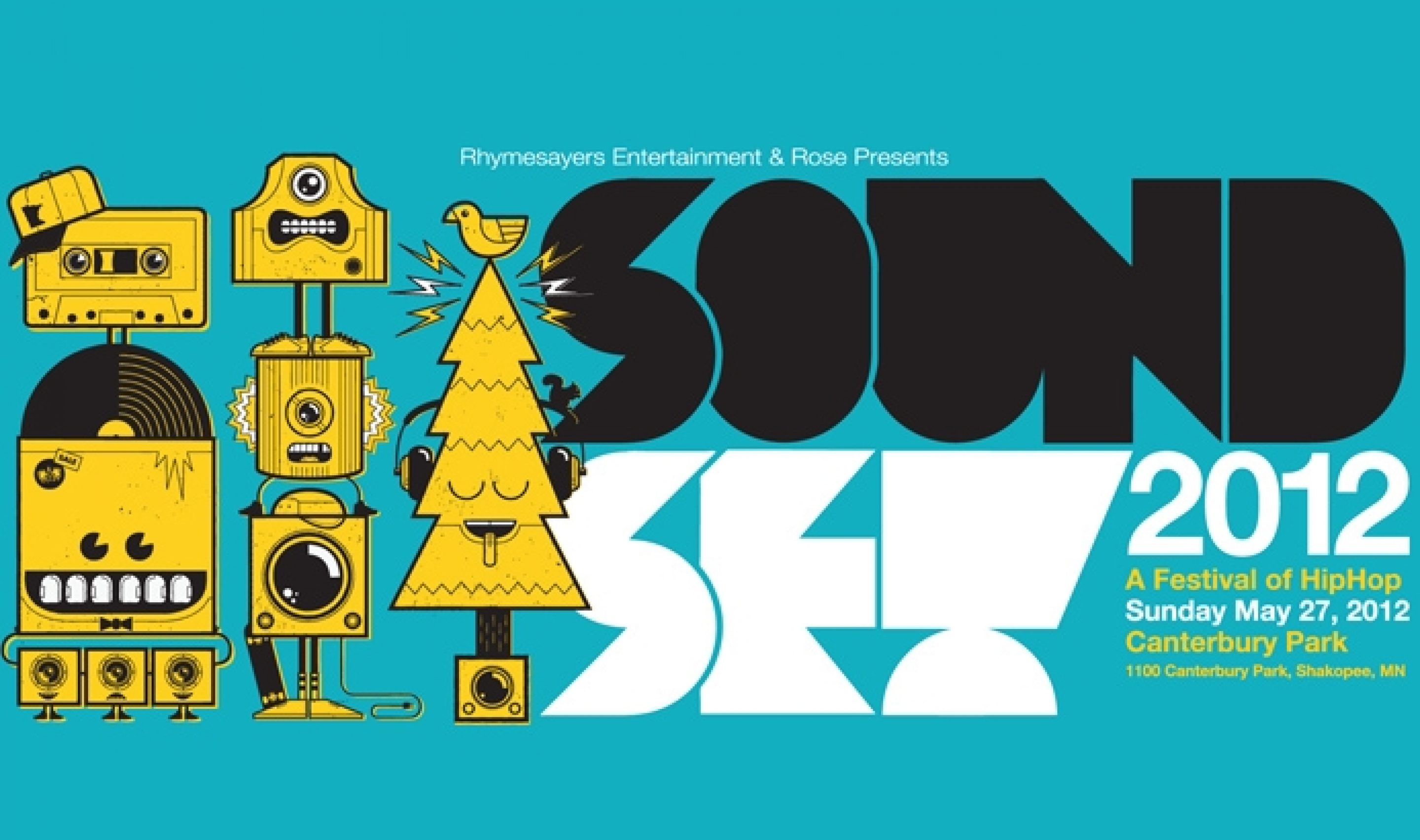 Fan Pre-sale tickets now available for Soundset 2012
Fan pre-sale and VIP tickets are now available for Soundset 2012! Get yours now at Fifth Element (2411 Hennepin Ave. S in Uptown Minneapolis) or on TicketWeb if you have the exclusive password. There are only a limited amount available so move fast! Maximum 8 tickets per person.
What does VIP include? Click here to learn more.
This year's festival will feature Atmosphere, Lupe Fiasco, Ghostface Killah & Raekwon, Kendrick Lamar, Aesop Rock with Rob Sonic & Dj Big Wiz, P.O.S, Macklemore & Ryan Lewis, Grieves & Budo, Danny Brown, Big K.R.I.T, Evidence, Prof with DJ Fundo, Action Bronson, DJ Premier, I Self Devine, Astronautalis, Bambu, J-Zone (DJ set), Medusa, Chief Kamachi, Grynch, Chuuwee, Paten Locke and Willie Evans Jr. are DUMBTRON, Villa Rosa (Muja Messiah & Maria Isa), The Tribe & Big Cats, Audio Perm, Long Doe (Tony Bones, Big Wiz & Mike The Martyr), Auddio Draggon (Gene Poole & Xilam Balam), Tomorrow Genius, BdotCroc, DJ Stage One, DJ Kool AKIEM, LAST WORD, Kid Cut Up, Superbrush427, DIVINCI (of Solillaquists of Sound), & Los Boogie. Hosted by Brother Ali, MaLLy, and J Pratt. RSVP to Soundset 2012 now!
Tickets are also available today for the Official Afterparty featuring the GET CRYPHY DJs (Plain Ole Bill, Jimmy 2 Times, DJ Fundo, and LAST WORD), and is hosted by Brother Ali and MaLLy - and there will also be special surprise Soundset artist performances! Buy Tickets for only $10 each now at Fifth Element, The Depot, or eTix. RSVP now.
In 2011, Rhymesayers and Rose Presents produced the fourth year of Soundset to an outdoor festival setting at Canterbury Park in Shakopee, MN with over 20,000 people in attendance, including: two stages with over 40 artists performing, B-Boy battles, live DJs, live artists painting, skateboard demos and a custom car show. The fifth annual Soundset Festival is expected to be even bigger this year!
â??The biggest indie-rap festival of the yearâ?¦â? URB.com
With options of two Main Stages and the Fifth Element stage delivering over 40 artists performing nine hours of diverse music, an expanded B-Boy/B-Girl DJ tent, live painting exhibit, skate demo area, fifth annual Soundset custom car show with over 200 cars and a special Last of the Record Buyers live production showcase, Soundsetâ??s Fifth Anniversary is guaranteed to provide fun for the whole family!

Tickets are officially on sale Saturday, March 10, 2012 at 11:00AM to the general public through www.ticketweb.com and Fifth Element. General admission tickets are $41 ($3 facility fee and parking are included in ticket price), VIP options for $90 are also available!
Use hashtag #Soundset when tweeting to join the discussion!

Soundset: SoundsetFestival.com | Facebook | Twitter | Google+
Rhymesayers: Facebook | Twitter | YouTube | Google+ | Flickr | Soundcloud | Myspace