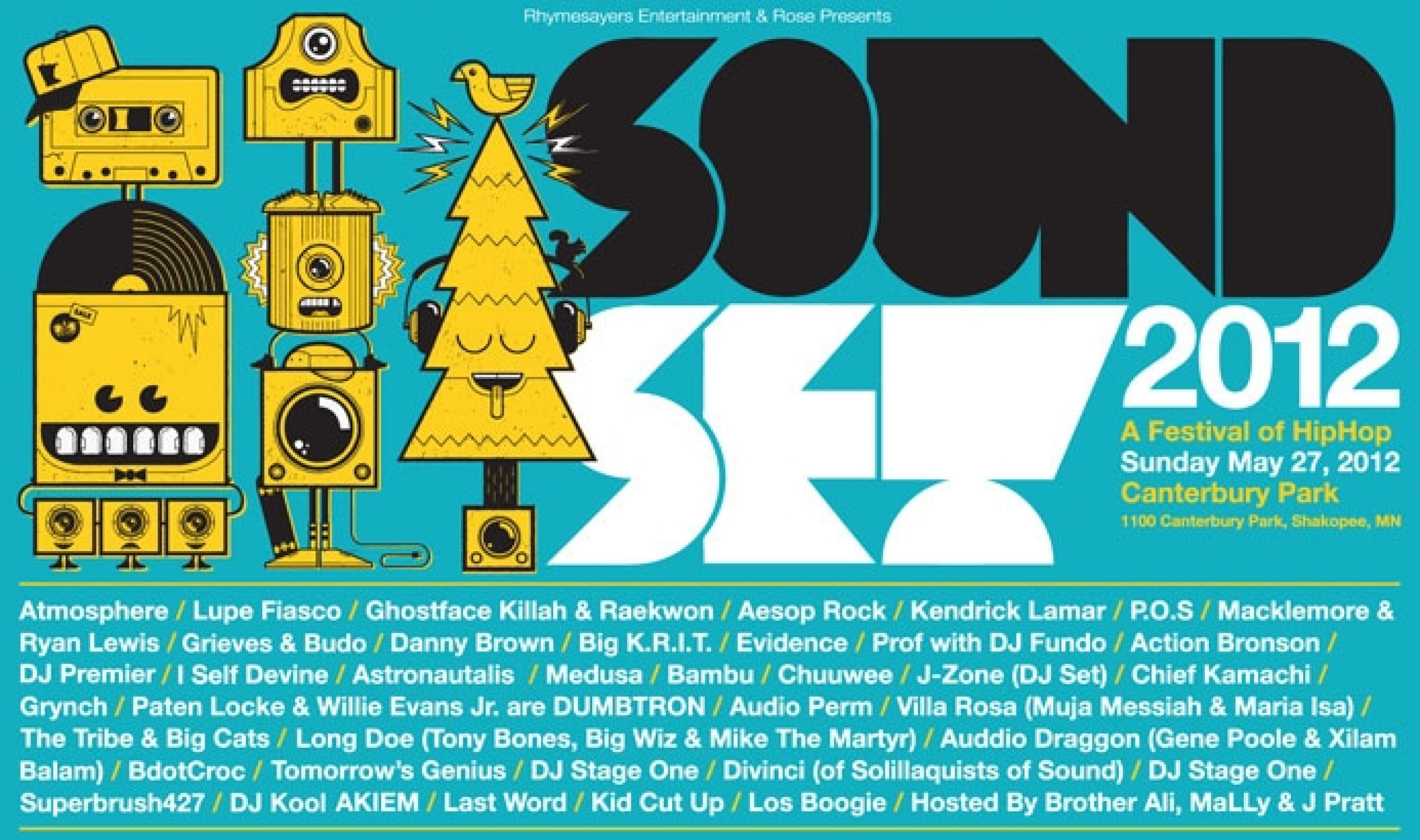 Soundset 2012 Lineup Announced
Just announced by Complex Magazine, Rhymesayers Entertainment and Rose Presents announce the Fifth Annual Soundset Festival: your official Midwest kick-off of the summer with nine hours of the best independent Hip Hop music in one day. It all goes down at Canterbury Park in Shakopee, MN (rain or shine). Confirmed artists for Soundset 2012 include:
Atmosphere, Lupe Fiasco, Ghostface Killah & Raekwon, Kendrick Lamar, Aesop Rock with Rob Sonic & Dj Big Wiz, P.O.S, Macklemore & Ryan Lewis, Grieves & Budo, Danny Brown, Big K.R.I.T, Evidence, Prof with DJ Fundo, Action Bronson, DJ Premier, I Self Devine, Astronautalis, Bambu, J-Zone (DJ set), Medusa, Chief Kamachi, Grynch, Chuuwee, Paten Locke and Willie Evans Jr. are DUMBTRON, Villa Rosa (Muja Messiah & Maria Isa), The Tribe & Big Cats, Audio Perm, Long Doe (Tony Bones, Big Wiz & Mike The Martyr), Auddio Draggon (Gene Poole & Xilam Balam), Tomorrow Genius, BdotCroc, DJ Stage One, DJ Kool AKIEM, LAST WORD, Kid Cut Up, Superbrush427, DIVINCI (of Solillaquists of Sound), Los Boogie.
Hosted by Brother Ali, MaLLy, J Pratt.
In 2011, Rhymesayers and Rose Presents produced the fourth year of Soundset to an outdoor festival setting at Canterbury Park in Shakopee, MN with over 20,000 people in attendance, including: Â two stages with over 40 artists performing, B-Boy battles, live DJs, live artists painting, skateboard demos and a custom car show. The fifth annual Soundset Festival is expected to be even bigger this year!
â??The biggest indie-rap festival of the yearâ?¦â? URB.com
Since headlining Soundset in 2011 Atmosphere has had a very successful year promoting their 2011 release The Family Sign. Theyâ??ve sold out their American and European tours, had performances at Lollapalooza, Bonnaroo as well as two sold out headlining appearances at Red Rocks. Raekwon & Ghostface Killah appear courtesy of the legendary Wu-Tang Clan and will be performing both new material and the classics. 2012 also welcomes five XXL Freshmen alums to Soundset including Lupe Fiasco coming off his recent Letterman performance, rising star Kendrick Lamar as he continues his huge year since the release of his highly successful album Section.80, Big K.R.I.T who just dropped his brand new mixtape 4EvaNaDay, Macklemore & Danny Brown, five of the best young MCs currently in the game. Youâ??ll also see performances from Rhymesayers favorites Evidence and P.O.S, as well as Aesop Rock who dropped a new album with his group Hail Mary Mallon on Rhymesayers in 2011 and is putting the final touches on his highly anticipated follow up to 2007â??s None Shall Pass entitled Skelethon. Brother Ali, in anticipation of his new album, Mourning In America and Dreaming in Color is set to be the Soundset Master of Ceremony all day on both main stages. Local favorite Prof returns for his second appearance at Soundset after a very successful year touring with Atmosphere and selling out shows nationwide. We also welcome the best of new up and coming local artists to the Fifth Element stage.
With options of two Main Stages and the Fifth Element stage delivering over 40 artists performing nine hours of diverse music, an expanded B-Boy/B-Girl DJ tent, live painting exhibit, skate demo area, fifth annual Soundset custom car show with over 200 cars and a special Last of the Record Buyers live production showcase, Soundsetâ??s Fifth Anniversary is guaranteed to provide fun for the whole family!
Fan Pre-sale begings this Wednesday, March 7th at 11am local time. For Fan Pre-sale Ticket information - sign up for the Rhymesayers newsletter to get the password first! SIGN UP HERE.

Tickets are on sale Saturday, March 10, 2012 at 11:00AM local time to the general public through www.ticketweb.com and Fifth Element. General admission tickets are $38 ($3 facility fee and parking are included in ticket price), VIP options for $90 are also available!
Use hashtag #Soundset when tweeting to join the discussion! RSVP on Facebook.

Soundset: SoundsetFestival.com | Facebook | Twitter | Google+
Rhymesayers: Facebook | Twitter | YouTube | Google+ | Flickr | Soundcloud | Myspace