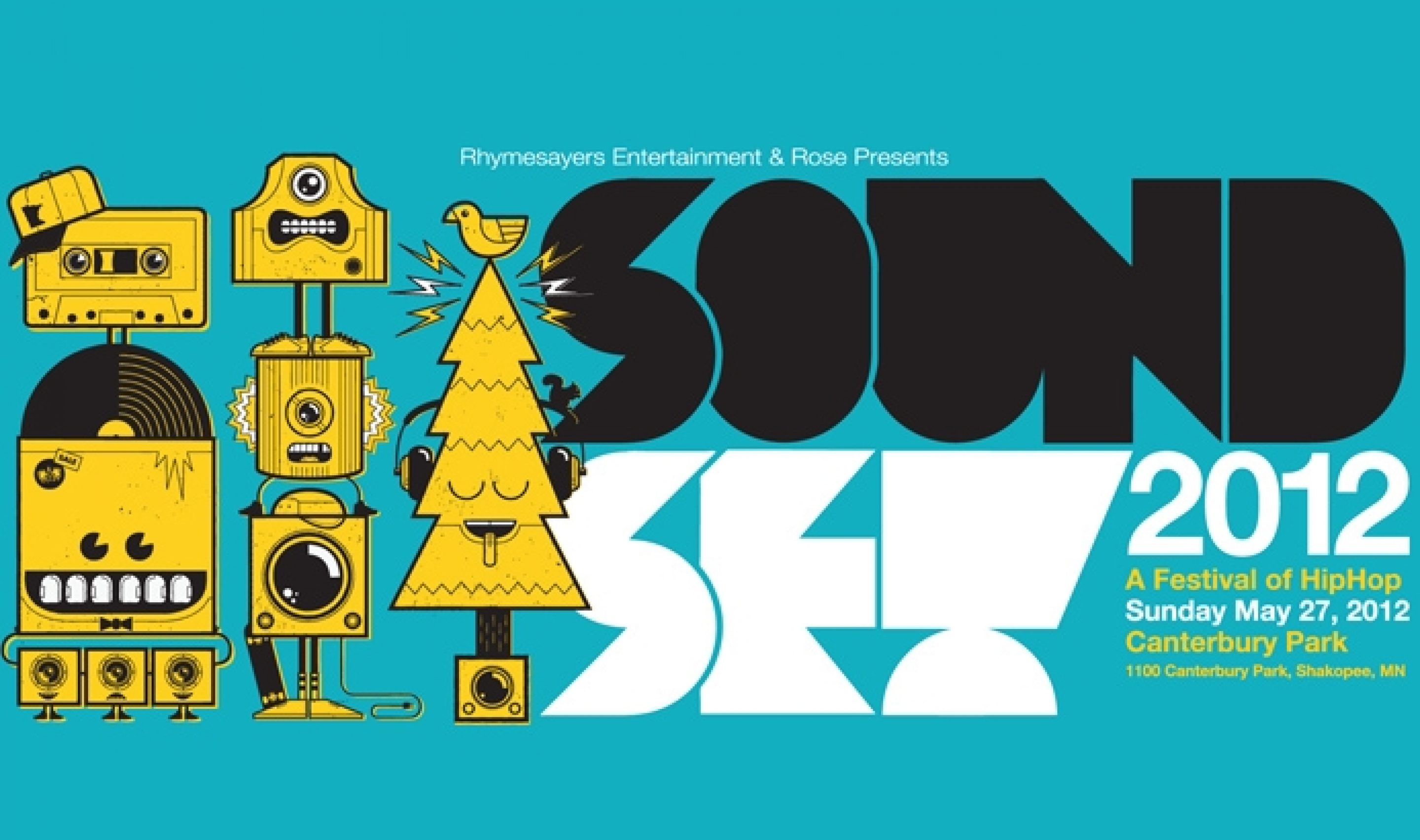 Soundset 2012 VIP Tickets are SOLD OUT! General Admission still available.
It's official - VIP tickets for Soundset 2012 are SOLD OUT!
You can still buy General Admission tickets at Fifth Element on 2411 Hennepin Ave. S. in Uptown Minneapolis or Online via Ticketweb. No Fees when you pay with cash or $5 minimum credit card purchase at Fifth Element.
Ticket Prices go up on Monday, May 21st so buy now to save some $$$!
It all goes down on Sunday, May 27th at Canterbury Park with Atmosphere, Lupe Fiasco, Ghostface Killah & Raekwon, Kendrick Lamar, Aesop Rock with Rob Sonic & Dj Big Wiz, P.O.S, Macklemore & Ryan Lewis, Grieves & Budo, Danny Brown, Big K.R.I.T, Evidence, Prof with DJ Fundo, Action Bronson, DJ Premier, I Self Devine, Astronautalis, Bambu, J-Zone (DJ set), Medusa, Chief Kamachi, Grynch, Chuuwee, Paten Locke and Willie Evans Jr. are DUMBTRON, Villa Rosa (Muja Messiah & Maria Isa), The Tribe & Big Cats, Audio Perm, Long Doe (Tony Bones, Big Wiz & Mike The Martyr), Auddio Draggon (Gene Poole & Xilam Balam), Tomorrow Genius, BdotCroc, DJ Stage One, DJ Kool AKIEM, LAST WORD, Kid Cut Up, Superbrush427, DIVINCI (of Solillaquists of Sound), & Los Boogie. Hosted by Brother Ali, MaLLy, and J Pratt. RSVP to Soundset 2012 now.
Tickets for the Official Afterparty at First Avenue featuring the Get Cryphy DJs and special surprise guest performances are also available now at Fifth Element, The Depot, and eTix. RSVP now.
Use hashtag #Soundset when tweeting to join the discussion!
Listen to the Official Soundset 2012 Playlist on Spotify to get familiar with this year's artists: http://spoti.fi/ss12playlist

Soundset: SoundsetFestival.com | Facebook | Twitter | Google+
Rhymesayers: Facebook | Twitter | YouTube | Google+ | Flickr | Soundcloud | Myspace