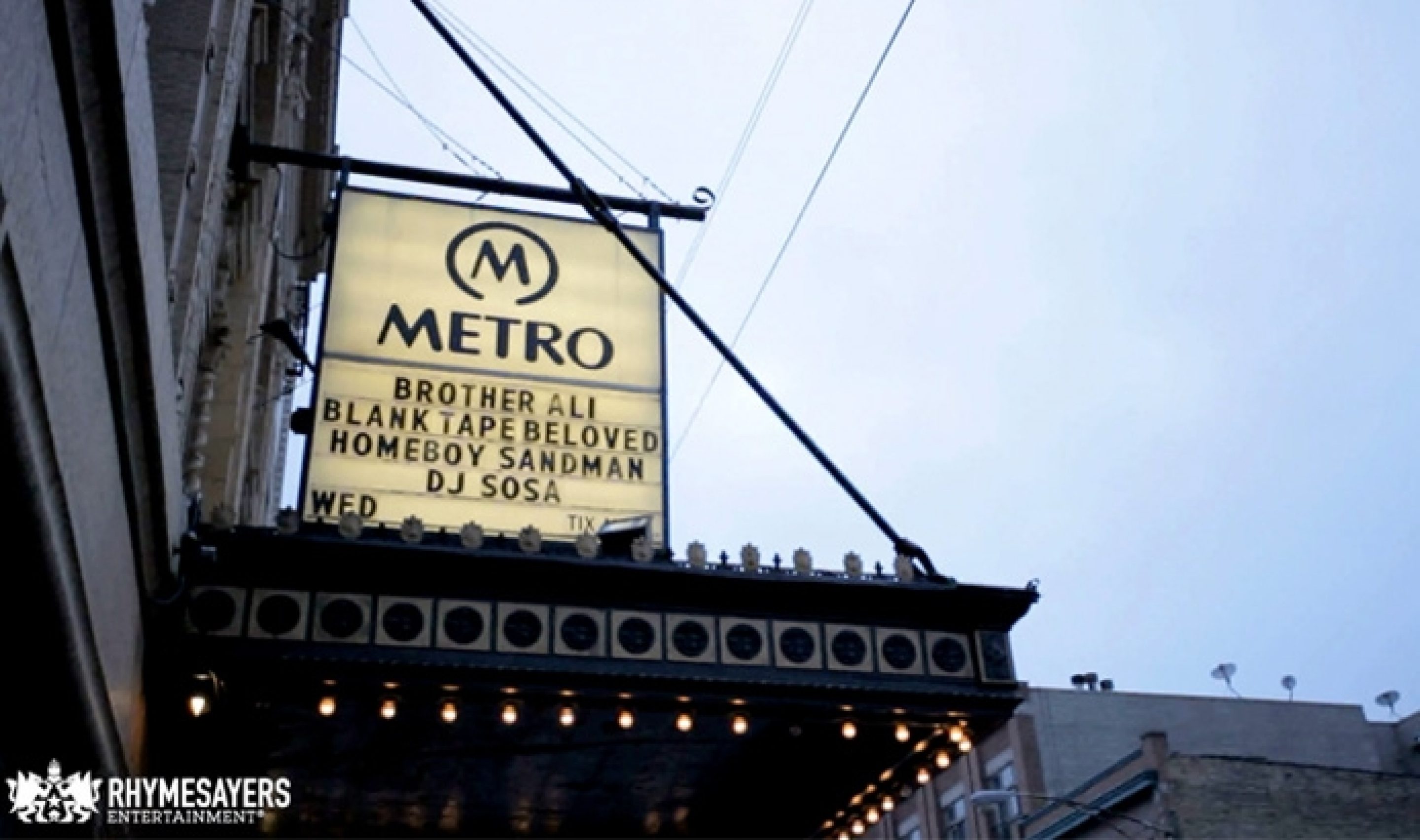 Video: Brother Ali's Mourning in America Tour swings through Chicago
Brother Ali has been playing shows in Chicago, Illinois for over ten years now. Last week's show at The Metro was no different than any incredible and fan-filled show he's had in the city the last decade. Thanks to everyone who came out! Check out the new video and get a look inside at one of the most incredible venues in the country. The Mourning in America Tour isn't showing any signs of slowing down, get your tickets NOW!
Mourning in America and Dreaming in Color is now available for purchase on iTunes (Deluxe version with two bonus songs), from Fifth Element, Amazon, and your favorite local independent or chain music retailer.
*With Homeboy Sandman, DJ Sosa, The Reminders
10.09 - Iowa City, IA @ Gabe's Oasis: Buy Tickets
10.10 - Omaha, NE @ Waiting Room: Buy Tickets
10.11 - Fort Collins, CO @ Aggie Theatre: Buy Tickets
10.12 - Denver, CO @ Bluebird Theatre: Buy Tickets (16+)
10.13 - Boulder, CO @ Fox Theater: Buy Tickets
10.15 - Salt Lake City, UT @ Urban Lounge: Buy Tickets (21+)
10.17 - Seattle, WA @ Neumos: Buy Tickets
10.18 - Bellingham, WA @ Wild Buffalo: Buy Tickets (21+)
10.19 - Vancouver, BC @ Venue Nightclub: Buy Tickets (19+)
10.20 - Portland, OR @ Hawthorne Theater: Buy Tickets
10.21 - Eugene, OR @ WOW Hall: Buy Tickets
10.23 - Reno, NV @ Cargo: Buy Tickets
10.24 - Arcata, CA @ Humboldt State Univ.: Buy Tickets
10.25 - San Francisco, CA @ The Fillmore: Buy Tickets
10.26 - Santa Cruz, CA @ The Catalyst: Buy Tickets (16+)
10.27 - Los Angeles, CA @ El Rey Theatre: Buy Tickets
10.30 - Santa Barbara, CA @ Velvet Jones: Buy Tickets
Brother Ali: BrotherAli.com | Facebook | Twitter | Google+ | Myspace | Ping
Rhymesayers: Facebook | Twitter | YouTube | Google+ | Flickr | Soundcloud | Myspace