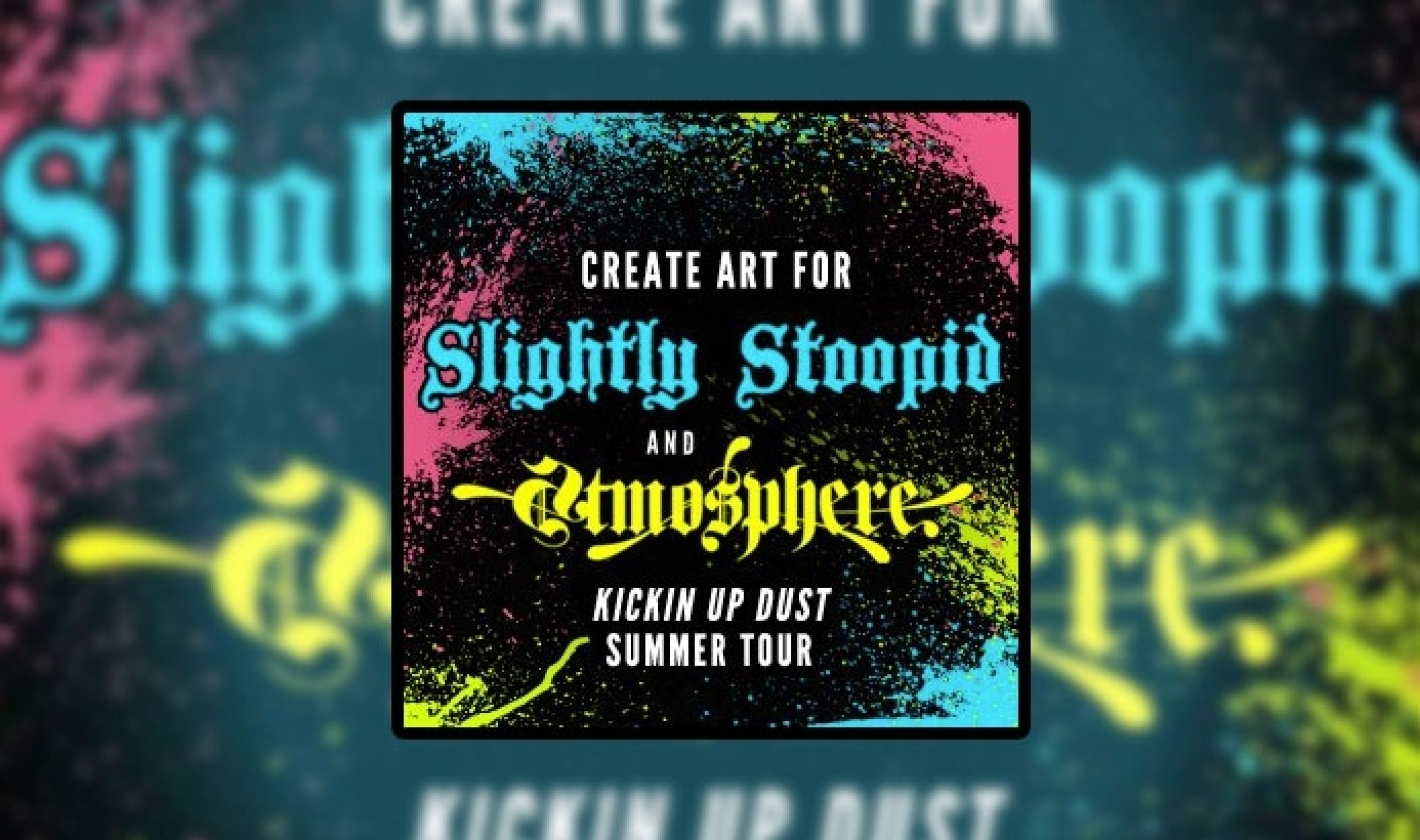 Design a tour poster for Atmosphere and Slightly Stoopid!
Atmosphere and Slightly Stoopid are set to head out on the road this summer for their Kickin' Up Dust tour. Along for the ride will be The Grouch & Eligh, The Budos Band, and Tribal Seeds. Head over to the More Info page to learn more!

Create original tour art for Slightly Stoopid and Atmosphere inspired by the theme of Kickin' Up Dust. The winning designer will earn $500 plus two Golden Tickets (good for entry to ANY show on the tour)!

Suggested Theme & Style Guidelines Be inspired by the theme, 'Kickin' Up Dust'. We're open to your interpretation but avoid being too literal. Be imaginative with your design and use the tour theme to capture Slightly Stoopid and Atmosphere's inevitably adventurous upcoming journey.
CLICK HERE to head to CreativeAllies.com to learn more and enter your submission.
Fan presale tickets are available NOW from Rhymesayers.com/KickinUpDust. We're offering a special incentive for our fans: you can bundle with an exclusive poster and limited edition "Bottle" t-shirt in an exclusive navy blue colorway for this tour. All Kickin' Up Dust posters and Atmosphere shirt orders will come with a FREE Atmosphere Conehead sticker. Head to Facebook.com/Atmosphere to RSVP and invite your friends!
July 10, 2013 â?? Albuquerque, NM â?? Sandia Amphitheatre *
July 11, 2013 â?? Phoenix, AZ â?? Mesa Amphitheatre *
July 12, 2013 â?? Irvine, CA â?? Verizon Wireless Amphitheatre *
July 13, 2013 â?? Las Vegas, NV â?? Boulevard Pool at The Cosmopolitan of Las Vegas
July 14, 2013 â?? Santa Barbara, CA â?? Santa Barbara Bowl *
July 18, 2013 â?? Stateline, NV â?? Montbleu Outdoor Stage *+
July 19, 2013 â?? Berkeley, CA â?? Greek Theatre *+
July 20, 2013 â?? Chula Vista, CA â?? Sleep Train Amphitheater *+
July 24, 2013 â?? Eugene, OR â?? Cuthbert Amphitheatre +
July 25, 2013 â?? Boise, ID â?? Idaho Center Amphitheater +
July 26, 2013 â?? Missoula, MT â?? Big Sky Brewery +
July 27, 2013 â?? Salt Lake City, UT â?? The Great Salt Air +
August 1, 2013 â?? Tulsa, OK â?? Cain's Ballroom +
August 2, 2013 â?? Kansas City, MO â?? Crossroads +
August 3, 2013 â?? Council Bluffs, IA â?? Stir Cove +
August 4, 2013 â?? Des Moines, IA, Simon Estes Amphitheater +
August 8, 2013 â?? Boston, MA â?? Bank of America Pavilion  ^
August 9, 2013 â?? Asbury Park, NJ â?? Stone Pony Summerstage Lot ^
August 10, 2013 â?? Philadelphia, PA â?? Festival Pier @ Pennâ??s Landing ^
August 11, 2013 â?? Baltimore, MD â?? Pier Six Pavilion ^
August 14, 2013 â?? Richmond, VA â?? Pocahontas State Park ^
August 15, 2013 â?? Myrtle Beach, SC â?? House of Blues ^
August 16, 2013 â?? Raleigh, NC â?? Red Hat Amphitheater ^
August 17, 2013 â?? Charlotte, NC â?? Time Warner Cable Uptown Amphitheatre ^
August 21, 2013 â?? Atlanta, GA â?? The Tabernacle ^
August 22, 2013 â?? St. Augustine, FL â?? St. Augustine Amphitheatre *
August 23, 2013 â?? Cocoa Beach, FL â?? Cocoa Riverfront Park *

* with Tribal Seeds
+ with The Grouch and Eligh
^ with The Budos Band
Atmosphere: Facebook | Twitter | Google+ | Instagram | Myspace
Rhymesayers: Facebook | Twitter | YouTube | Google+ | Instagram | Flickr | Soundcloud | Myspace