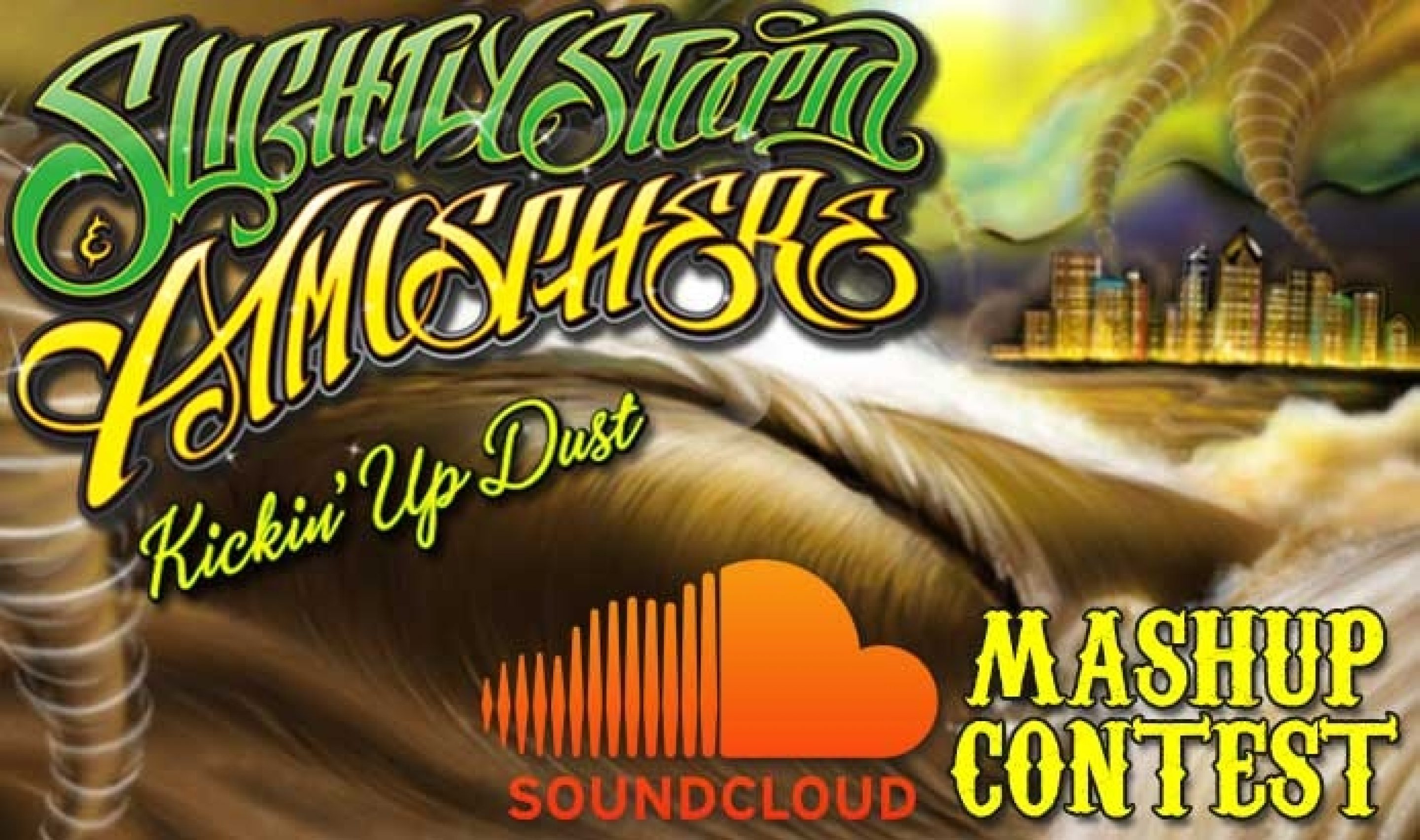 Mashup Atmosphere & Slightly Stoopid for a chance to win tickets
Hearing our fans, family and friends create something unique is music to our ears! Let's make it even better: submit your SLIGHTLY STOOPID and ATMOSPHERE mashups by July 1st for a chance to win 2 tickets to a Kickin' Up Dust Tour show near you. Winning will also be uploaded to our Soundcloud accounts. Just submit your mix in the form below!
Rules and Regulations:
1) You can use ANY song from either group's catalog.
2) Must submit by 12pm PDT by Mon., July 1st, 2013.
3) Tickets are non-exchangeable.
4) Have FUN!
BUY TICKETS:
July 10, 2013 â?? Albuquerque, NM â?? Sandia Amphitheatre | Buy Tickets
July 11, 2013 â?? Phoenix, AZ â?? Mesa Amphitheatre | Buy Tickets
July 12, 2013 â?? Irvine, CA â?? Verizon Wireless Amphitheatre | Buy Tickets
July 13, 2013 â?? Las Vegas, NV â?? Boulevard Pool at The Cosmopolitan | Buy Tickets
July 14, 2013 â?? Santa Barbara, CA â?? Santa Barbara Bowl | Buy Tickets
July 18, 2013 â?? Stateline, NV â?? Montbleu Outdoor Stage | Buy Tickets
July 19, 2013 â?? Berkeley, CA â?? Greek Theatre | Buy Tickets
July 20, 2013 â?? Chula Vista, CA â?? Sleep Train Amphitheater | Buy Tickets
July 24, 2013 â?? Eugene, OR â?? Cuthbert Amphitheatre | Buy Tickets
July 25, 2013 â?? Boise, ID â?? Idaho Center Amphitheater | Buy Tickets
July 26, 2013 â?? Missoula, MT â?? Big Sky Brewery | Buy Tickets
July 27, 2013 â?? Salt Lake City, UT â?? The Great Salt Air | Buy Tickets
August 1, 2013 â?? Tulsa, OK â?? Cain's Ballroom | Buy Tickets
August 2, 2013 â?? Kansas City, MO â?? Crossroads | Buy Tickets
August 3, 2013 â?? Council Bluffs, IA â?? Stir Cove | Buy Tickets
August 4, 2013 â?? Des Moines, IA, Simon Estes Amphitheater | Buy Tickets
August 8, 2013 â?? Boston, MA â?? Bank of America Pavilion | Buy Tickets
August 9, 2013 â?? Asbury Park, NJ â?? Stone Pony Summerstage Lot | Buy Tickets
August 10, 2013 â?? Philadelphia, PA â?? Festival Pier @ Pennâ??s Landing | Buy Tickets
August 11, 2013 â?? Baltimore, MD â?? Pier Six Pavilion | Buy Tickets
August 14, 2013 â?? Richmond, VA â?? Pocahontas State Park | Buy Tickets
August 15, 2013 â?? Myrtle Beach, SC â?? House of Blues | Buy Tickets
August 16, 2013 â?? Raleigh, NC â?? Red Hat Amphitheater | Buy Tickets
August 17, 2013 â?? Charlotte, NC â?? Time Warner Cable Uptown Amphitheatre | Buy Tickets
August 21, 2013 â?? Atlanta, GA â?? The Tabernacle | Buy Tickets
August 22, 2013 â?? St. Augustine, FL â?? St. Augustine Amphitheatre | Buy Tickets
August 23, 2013 â?? Cocoa Beach, FL â?? Cocoa Riverfront Park | Buy Tickets
August 24, 2013 â?? Boca Raton, FL â?? Sunset Cove Amphitheater | Buy Tickets
Atmosphere: Facebook | Twitter | Google+ | Instagram | Myspace
Rhymesayers: Facebook | Twitter | YouTube | Google+ | Instagram | Flickr | Soundcloud | Myspace