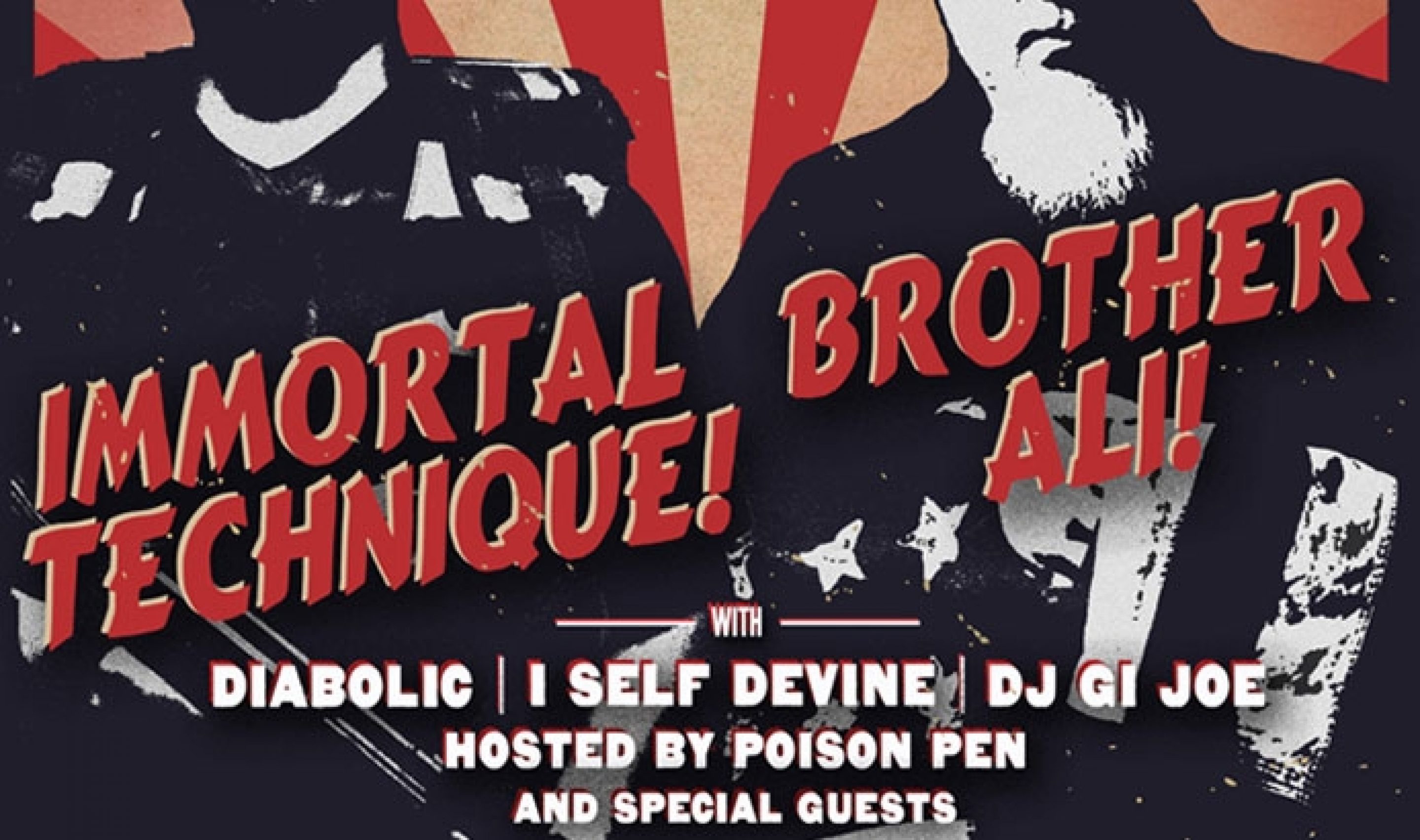 Brother Ali and Immortal Technique announce the War & Peace Tour - On sale NOW!
You asked for it, and it's happening! Brother Ali and Immortal Technique are hitting the road together this fall on the War & Peace Tour. They'll be joined by RSE's own I Self Devine, Diabolic, DJ GI Joe, and everything will be hosted by Poison Pen. The tour kicks off on September 5th in Redway, CA at the Mateel Community Center and will play over 25 shows ending up at Rock The Bells in New Jersey on October 5th. Various special guests will appear at different venues, throughout the tour. Special VIP ticket packages including chances to briefly meet/politic with Tech & Ali and also to receive various merchandise. Tickets are on sale today at 10am local time. #WarAndPeaceTour
BUY REGULAR AND VIP TICKET PACKAGES NOW AT WARANDPEACETOUR.COM
â??Itâ??s important that we make this alliance to affirm the notion that Hip Hop music and culture will forever be linked to the people and conditions that birthed it. Every artist on this tour is known for giving incredible live shows that create moments and uplift the spirits of the people. Weâ??re also deeply committed to allowing the music to build community and fight for justice. Immortal Technique and his crew are like family to me. I Self Divine is one of my dearest brothers and mentors. This is the tour Iâ??ve wanted to do for years, and itâ??s finally a reality.â? â??Brother Ali
"When I was a kid, I had a master teacher instruct me in the Martial Arts. Ju Jitsu, Street fighting. A plethora of styles to say the least. I will always remember though, what my old master said to me one day, "While you're smoking weed, someone is running miles. While you're playing video games, someone is practicing Kata. While you're hanging out in the street with your friends someone is doing push ups. And when you and this person meet, he's going to fuckin' destroy you." So while you're reading this we're doing push ups, running miles and practicing. See you soon." - Immortal Technique
Mourning in America and Dreaming in Color is available for purchase on iTunes (Deluxe version with two bonus songs), from Fifth Element, Amazon, and your favorite local independent or chain music retailer.
Brother Ali: BrotherAli.com | Facebook | Twitter | Google+ | Instagram | Myspace
Rhymesayers: Facebook | Twitter | YouTube | Google+ | Instagram | Flickr | Soundcloud | Myspace