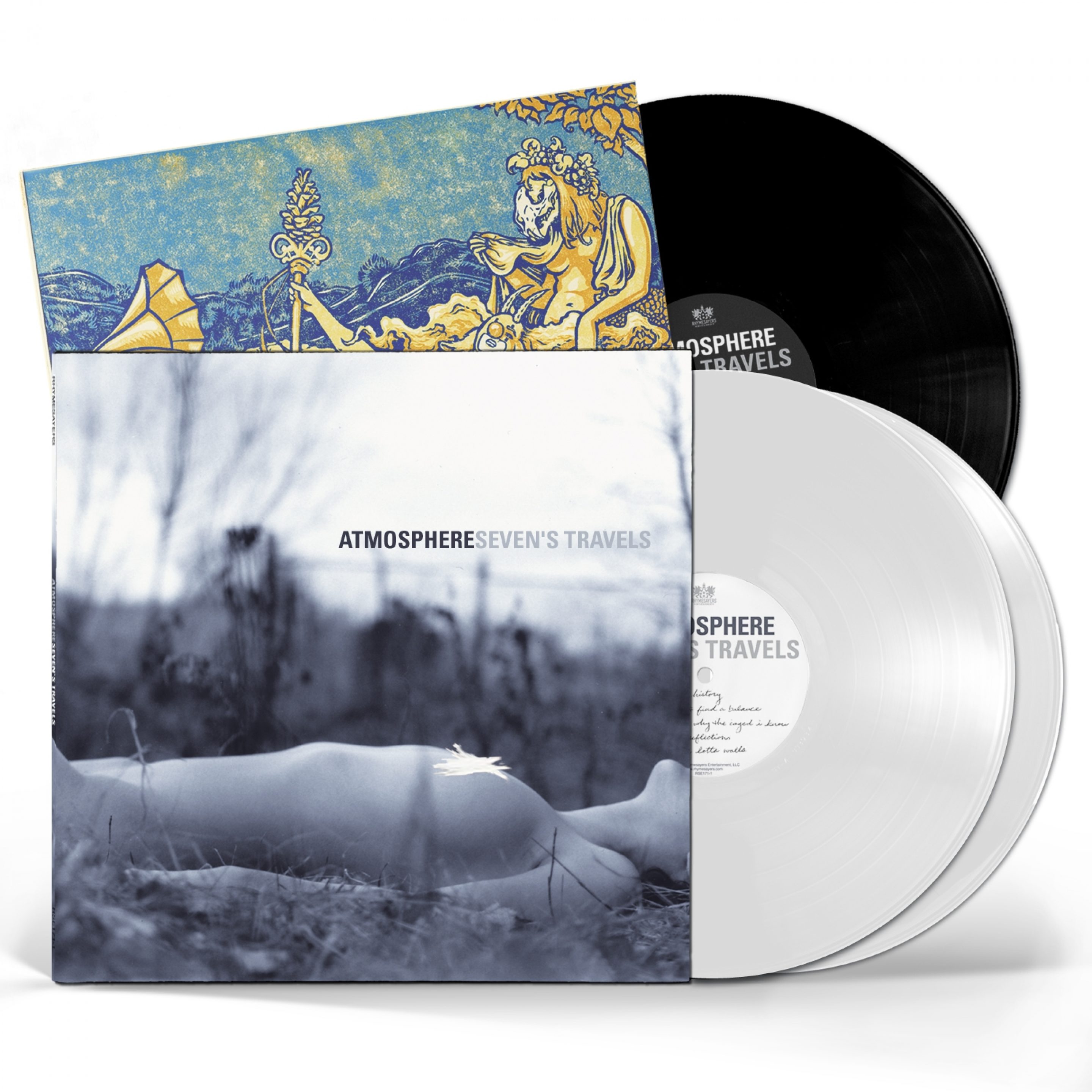 Atmosphere Seven's Travels (10 Year Anniversary Vinyl Edition)
Originally released September 23, 2003, Seven's Travels has not been available on vinyl for over seven years. As Atmosphere's fourth official album, it included 19 tracks with lyrics by Sean Daley (Slug) and production by Anthony Davis (Ant). Seven's Travels contained two singles, "Trying To Find A Balance" and "National Disgrace." The album also included a special appearance by Brother Ali on "Cats Van Bags."
To celebrate the 10 year anniversary, Rhymesayers will reissue Seven's Travels for the first time ever as a 180 gram double vinyl gatefold package. The original album will be recorded on two white pieces of vinyl spanning four sides.
To complete the Seven's Travels anniversary edition, a bonus third black vinyl will also be packaged in an exclusive new full-color double-sided illustrated 12� Jacket.  The bonus vinyl contains: the hidden track, "Say Shh" along with the three bonus songs from the original vinyl pressing, plus two b-side only releases and two additional tracks recorded in 2003.
Twenty-seven tracks, over 85 minutes of music, packaged together for the first time ever on 3,000 gold foil stamp numbered copies. All vinyl copies include free digital download card.
Welcome to Seven's Travels ten years later!
Track Listing:
01. History
02. Trying to Find a Balance
03. Bird Sings Why the Caged I Know
04. Reflections
05. Gotta Lotta Walls
06. The Keys to Life vs. 15 Minutes of Fame
07. Apple
08. Suicidegirls
09. Jason
10. Cats Van Bags
11. Los Angeles
12. Lifter Puller
13. Shoes
14. National Disgrace
15. Denvemolorado
16. Liquor Lyles Cool July
17. Good Times (Sick Pimpin')
18. In My Continental
19. Always Coming Back Home to You
20. Say Shh
21. DMFD
22. On the Battlefield
23. Quiet Pimpin'
24. My Songs
25. A Song We Made With Sage
26. Knock Knock Joke 2
27. Masters of War (Reinterpretation)
Pre-Order Ships: 11/22/13
Itunes Digital Version Available 

11/25/13

.