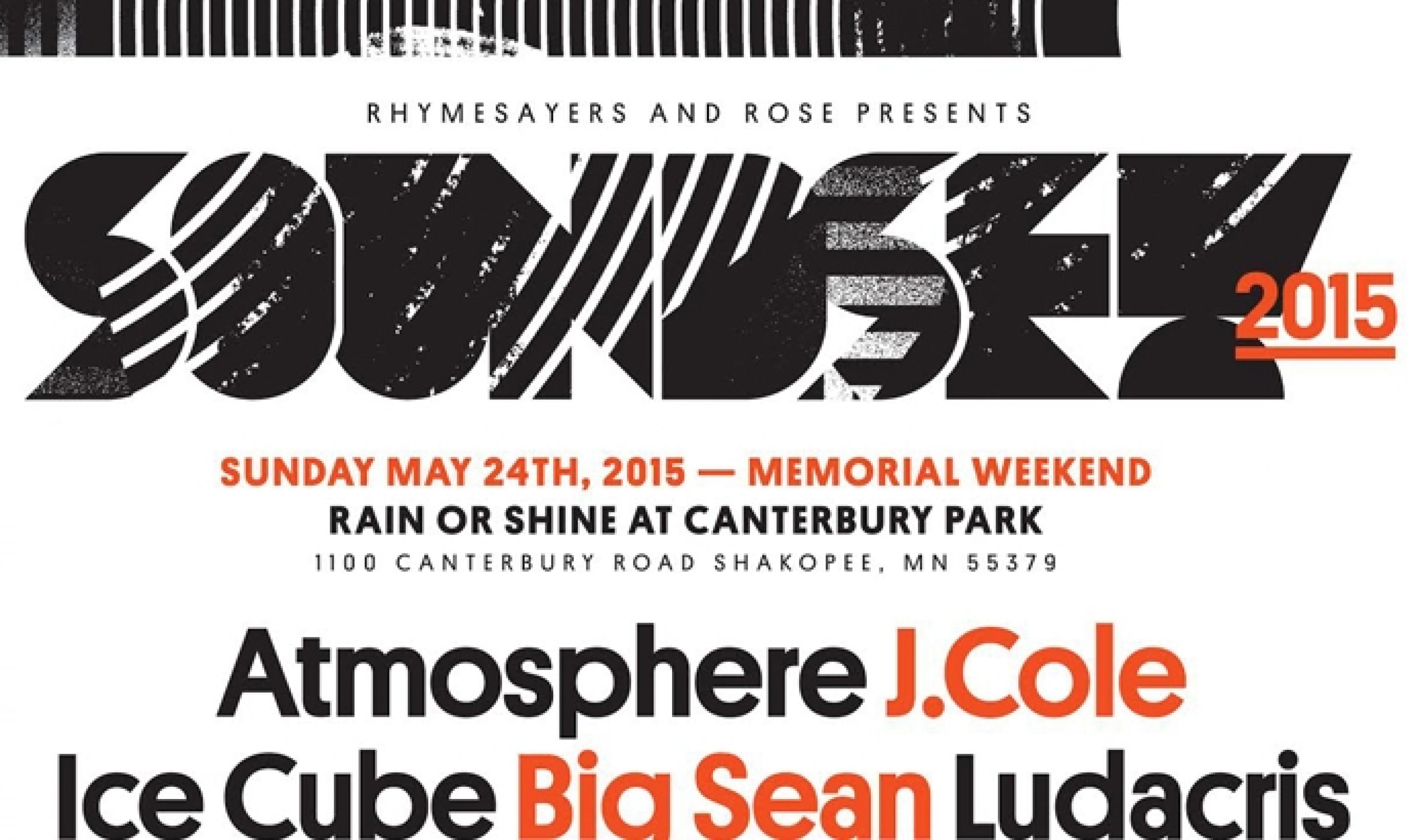 The 2015 Soundset Lineup is Here!
Rhymesayers Entertainment and Rose Presents announce the 8th Annual Soundset Festival: your official Midwest kick-off of the summer, with over nine hours of the best Hip Hop music in one day! It all goes down at Canterbury Park in Shakopee, MN on Sunday May 24th, 2015 (rain or shine).

Confirmed artists for Soundset 2015 include:
Atmosphere, J.Cole, Ice Cube, Big Sean, Ludacris, Logic, Yelawolf, Dilated Peoples, Clockwork Indigo (Flatbush Zombies & The Underachievers), Brother Ali, Vic Mensa, Aesop Rock with Rob Sonic & DJ Abilities, Dessa (of Doomtree), DJ Jazzy Jay, Hopsin, Smif-N-Wessun (20 Year Anniversary of Dah Shinin'), DJ Babu, Freddie Gibbs & Madlib, Vince Staples, Watsky, DJ Eclipse, deM atlaS, DJ Supreme, B.Dolan, Father, SonReal, G.L.A.M., Chester Watson, Sa-Roc, Sean Anonymous, Manny Phesto, Freez with DJ Willie Shu, SET THE SMITH, DJ Lean Rock, DJ Stage One, DJ Adatrak, and DJ Str8reppin.

Hosted by Sway Calloway, St. Paul Slim & J.Pratt.
Tickets go on sale to the general public on Saturday, March 7, 2015 at 11 AM (CST) online through TicketWeb and in-store at Fifth Element (2411 Hennepin Avenue South, Minneapolis, MN 55405). General Admission tickets are $62 (The $4 facility fee and parking are included in this ticket price). VIP options for $140 ($4 facility fee and parking are both included in ticket price) are also available! Please note that additional processing fees may apply.

This year, Soundset boasts a full day of two Main Stages and the Fifth Element stage delivering 40 artists performing over nine hours of diverse music, plus the Essential Elements tent featuring Freestyle Session Minnesota B-Boy/B-Girl competition. In addition, Ironlak & The Seventh Letter presents live painting by Ewok, Sever, Vizie, Much, NMPH, Hop4, and River. Also returning will be the 5th annual Skateboard Showdown presented by Familia, the 8th annual Soundset Custom Car Show, and a special Last of the Record Buyers production showcase.

Celebrating its 8th Anniversary this year, Soundset 2015 is guaranteed to provide a full day of fun!

Have questions? We have answers! Check out our updated FAQ. After you've read it, if you still have a question, concern, or just want to voice your opinion, please email us at info@soundsetfestival.com.

Follow Soundset on:
Twitter | Facebook | Instagram