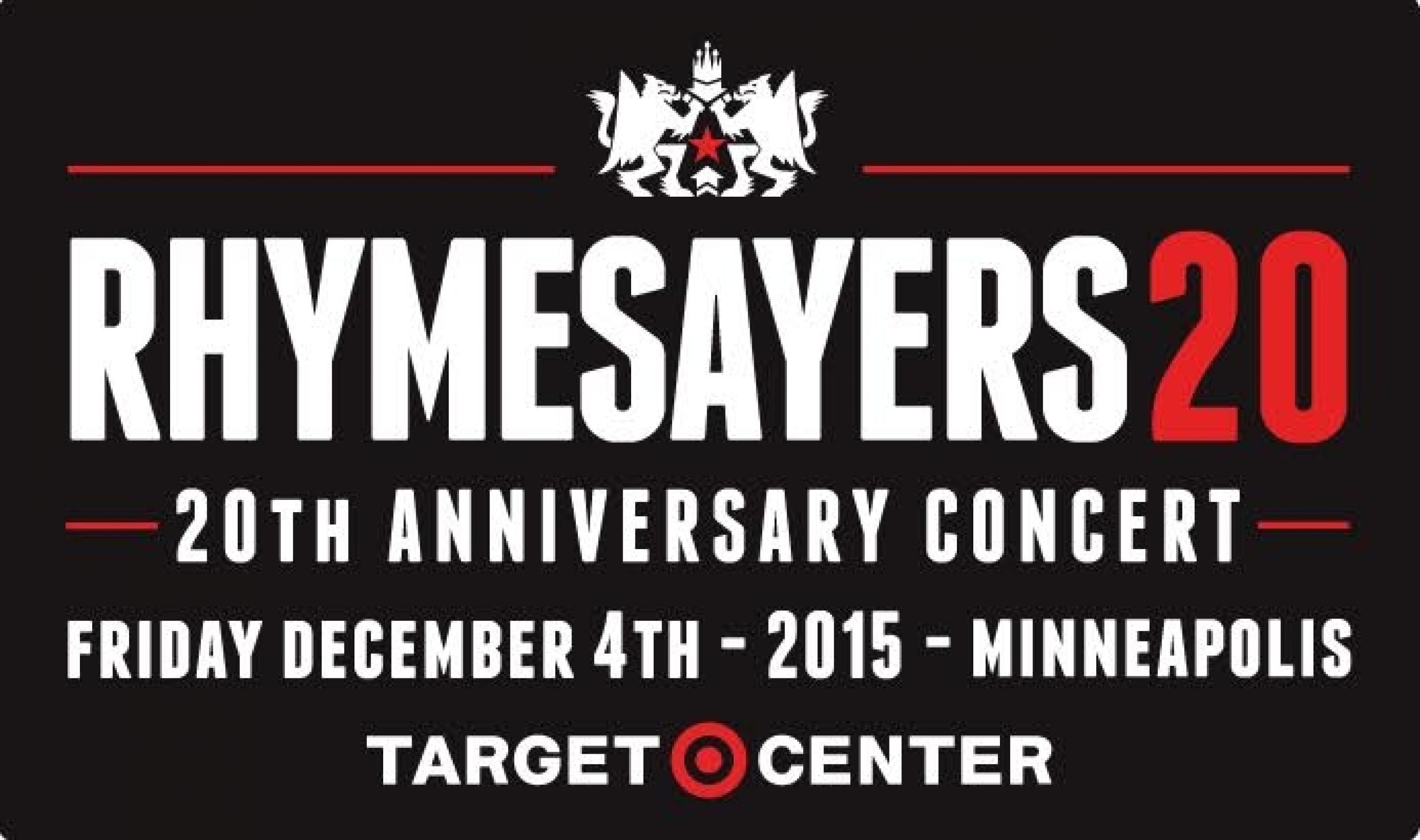 Rhymesayers 20th Anniversary Concert - FAQ
ONE NIGHT ONLY!! SAVE THE DATE. // TICKETS ON SALE NOW.

On Friday, December 4, 2015, Rhymesayers, in conjunction with First Avenue and Target Center, will bring together twenty years of music and artists for a one-night only performance at the Target Center, downtown Minneapolis, MN. 

The evening will include special performances by (in alphabetical order):
Abstract Rude, Aesop Rock, Atmosphere, Battlecats, BK One, Blueprint, Boom Bap Project, Brother Ali, deM atlaS, Dilated Peoples, DJ Abilities, Evidence, Felt, Freeway, Grayskul, Grieves, Hail Mary Mallon, I Self Devine, Jake One, K-Salaam, Los Nativos, Micranots, Mr. Dibbs, Musab, P.O.S, Prof, Soul Position, The Uncluded and Toki Wright. 

Arena seats and the entire General Admission floor are only $20.00 (plus venue facility fees, ticketing fees and taxes) to celebrate twenty years of Rhymesayers!

Limited VIP packages available (with all the goodies) for $100.00 (plus venue facility fee, ticketing fees and taxes).

VIP includes:
- Premium VIP Seating
- Exclusive Rhymesayers 20 Shirt
- VIP Bag
- Rhymesayers 20 Sticker
- Limited Edition VIP Laminate w/ Lanyard
- Exclusive VIP Entrance
- Special VIP-Only Bars 

SEATING CHART: - click here -

- - - - - - - - - - - - - - -Â 

FAQ + THINGS TO KNOW:

~ ~ ~ TICKETS + VIP: ~ ~ ~

- Where can I get tickets?
General Admission FLOOR tickets are now ALL SOLD OUT, however, general seat tickets (for $20) and VIP tickets (for $100) are still available! Get 'em while you can!

General $20 SEAT tickets can be purchased through Target Center's box office or online via AXS at http://bit.ly/RSE20seats.

VIP tickets ($100) are ONLY available for purchase online through AXS at http://bit.ly/RSE20VIP.

- Is there a ticket purchase limit?
Yes. (6) Ticket limit per customer (4 ticket limit for VIP). 

- Are there additional fees to the ticket prices?
Yes. ALL ticket prices will have an additional $2 venue facility fee and additional service fees and taxes on top of the advertised ticket price. 

- What are the GA Floor tickets?
The General Admission FLOOR at the Target Center will be standing only - no seats, no VIP, all party - $20 per ticket.
- Can I go on the floor if I buy VIP or a general seat ticket?
No. Only those who have General Admission FLOOR tickets will be granted access to the floor.

- What if I bought VIP AND a GA Floor ticket?
Then yes, you can gain access to the floor as long as you still hold your floor ticket.

- What comes in VIP?
See above.

- Does my name have to match the name on the VIP ticket?
Yes. VIP tickets MUST match full name on actual order and purchaser must check in day of show for actual tickets with matching ID. If the order name does not match ticket order, it will not be honored no matter what anyone tells you. 


~ ~ ~ TICKET DELIVERY OPTIONS: ~ ~ ~

- WILL CALL ONLY:
Sections 129-133, 109-113 & the first 10 rows of 136-138, 101-106. 

- PRINT AT HOME & MOBILE:
All tickets will be delivered on 11/27/2015. 

- MAIL:
Tickets will be sent on 11/19/2015Â 

~ ~ ~ AXS CUSTOMER SERVICE: ~ ~ ~

Call or email AXS at:
- 888-9-AXS-TIX (888-929-7849)
- guestservices@AXS.com

Box office hours on show day:
Open at 10AM and will remain open after the show begins at 5PMÂ 

~ ~ ~ SHOW: ~ ~ ~

- Is there an age limit to the show?
This show is ALL AGES.

- What time are doors?
5 PM sharp.

- How long will the show go?
Until midnight.

- - - - - - - - - -Â 

Official Hashtag: #Rhymesayers20

SIGN UP FOR THE Rhymesayers NEWSLETTER:
http://rhymesayers.com/newsletter

STAY IN TOUCH WITH #RHYMESAYERS SOCIAL MEDIA:
- Twitter: http://twitter.com/rhymesayers
- Instagram: http://instagram.com/rhymesayers
- Facebook: http://facebook.com/rhymesayers
- Tumblr: http://rhymesayers.tumblr.com
- Snapchat: realrhymesayers 
- Periscope: rhymesayers