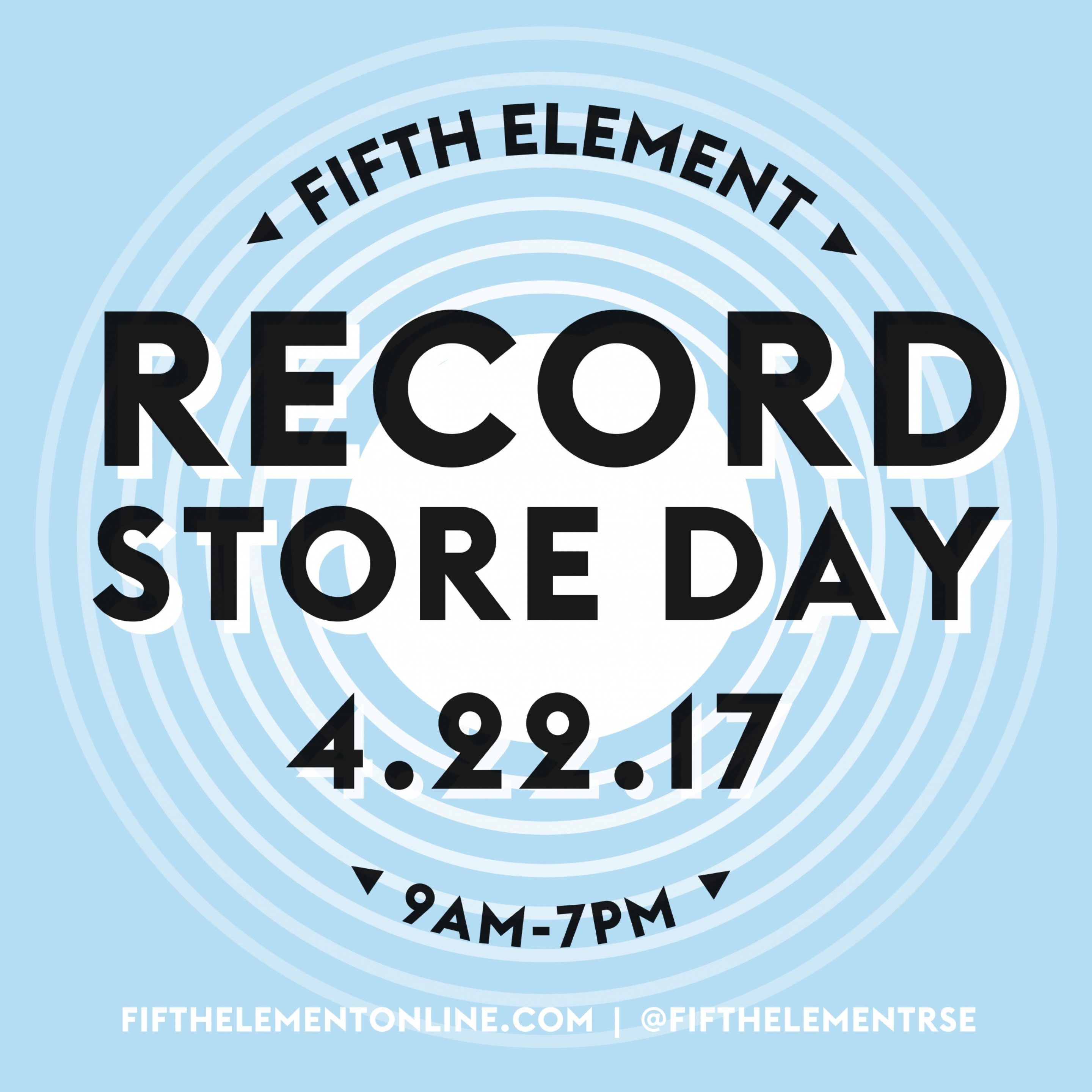 International Record Store Day is upon us and once again, Fifth Element and Rhymesayers has an action-packed day in store for you including live performances starting at 1PM!
LIVE PERFORMANCES:
1 PM - DJ Keezy
2 PM - Destiny Roberts
3 PM - DJ Just Nine
4 PM - Nazeem & Spencer Joles

On Record Store Day, we are open from 9 AM to 7 PM, but to avoid missing out on your favorite releases, you'll want to get here early! Fifth Element is located at 2411 Hennepin Avenue South Minneapolis, MN 55405.

Note: In the links, the items say SOLD OUT, but that is just because they are not live yet. These items will be hidden online the night before RSD and available first come, first serve in the store on the morning of 4-22
RECORD STORE DAY EXCLUSIVES:
We've ordered a mighty fine variety of exclusive items this year. Here's a full list of RSD2017 exclusive releases:
http://recordstoreday.com/SpecialReleases

Due to such extreme demand, RSD allotments are never guaranteed, but as soon as our shipments start to show up, we'll be posting them on social media, so make sure you are connected to Fifth Element on Facebook, Twitter, and Instagram!
After Record Store Day has come to a close, any remaining stock of those items will go live on our online store the following day (Sunday, April 23rd), at 8 am CST.
RHYMESAYERS DEALS:


Sale pricing will be available both in-store AND online, immediately on Saturday, April 22nd!


(Note: No more than five copies of the same title available for purchase at once, but feel free to buy as many different titles as you like, at the sale price.)
- 20% off select Vinyl
- 50% off select CD's

HUGE AMOUNT *NEW* USED VINYL being added! Available in-store only.
"I first moved to Minneapolis to work at Rhymesayers in 2002, and around that same time, there was an increased influx of people coming by Fifth Element looking to sell off their vinyl collections. I would often help appraise these collections and determine what to buy. The goal was to eventually start a used vinyl section in the store, but at that time, we didn't have the space for it. By the time we remodeled and expanded the store, the collection of used vinyl was so large, no one had the time to go through it and price it for sale. So, once we finally did start our used vinyl section, it was based on new, smaller collections we purchased moving forward, rather than looking back on the previous years of records.

As a result, the basement of Fifth Element/Rhymesayers houses over 10,000 records that have been amassed over the years, boxed up and untouched for well over a decade. It's an impressive collection of rarities, classics, and seemingly endless must-haves for any DJ or collector. The collection is made up of 70's Soul/Funk, 90's and early 00's Hip Hop, Jazz, White Labels, Test Pressings, Breakbeat Records, Reggae, 90's R&B, and more!

Record Store Day 2017 will be the first time we make part of this collection available for sale, starting with a couple thousand choice records, with many more to be added to the FE sales floor throughout the year. Don't miss your chance to enhance your collection with these gems!" -Kevin Beacham (a.k.a The Guy Digging Through The 10,000+ Records)