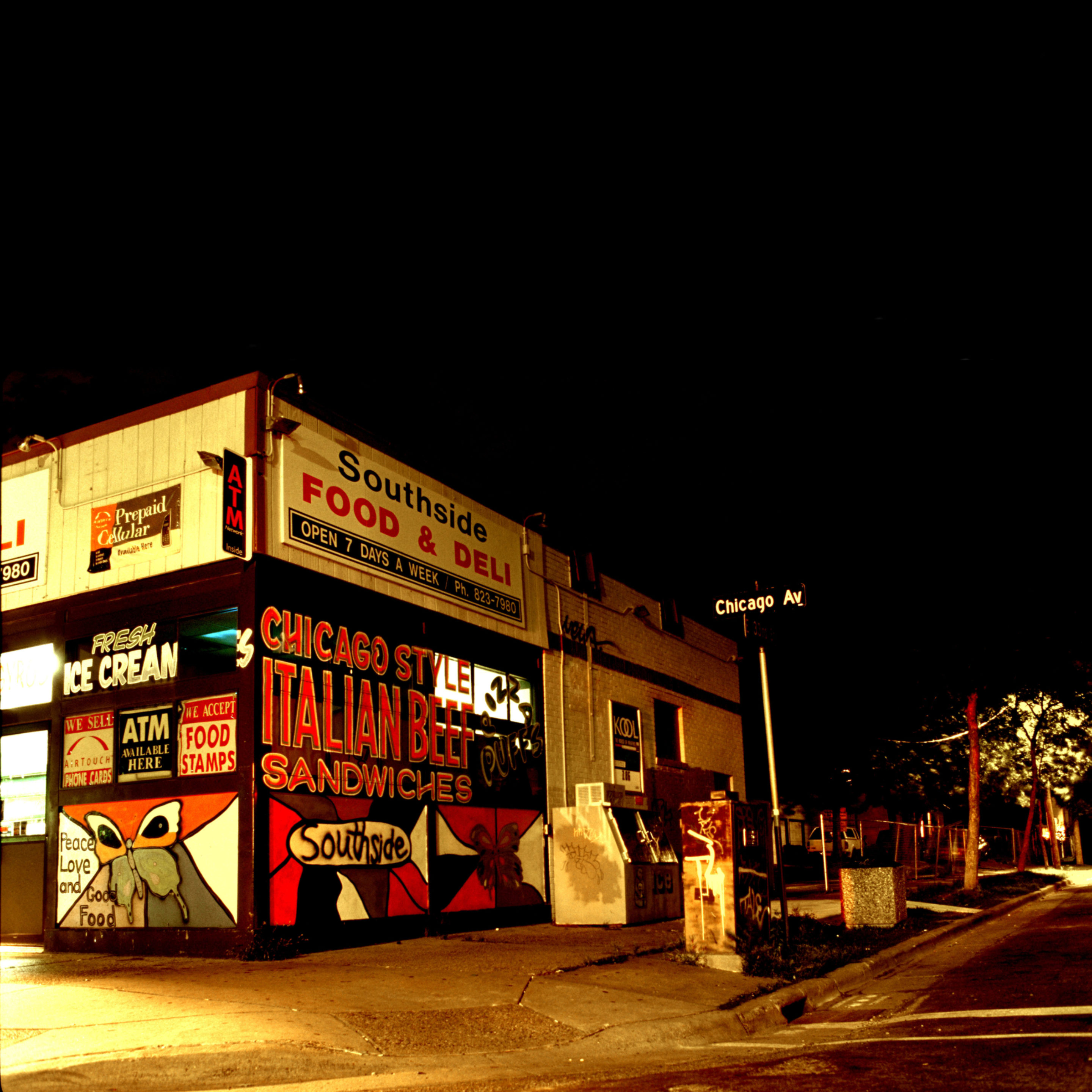 Musab - Respect the Life
15th Anniversary Retrospective
Written by: Chaz Kangas
While reading, listen to Respect the Life on the platform of your choice.
October 29, 2002 saw the release of one of the most historically significant albums in the Rhymesayers catalog. Hitting store shelves that day was the iconic image of Minneapolis MC Musab standing in front of Chicago Avenue's Southside Food and Deli with three words that capture what a moment this was: Respect the Life.
Six years after setting a new standard under the name Beyond with his album Comparison, a record that famously was Twin Cities hip-hop's landmark first CD release, Musab's next full-length was going to be the product of a number of changes to his musical approach. After 1999 saw the cassette-only release of the final Beyond material as Be Sides, the wheels were put into motion for the transition into Musab. While the seed for the name-change was planted when touring brought the MC face-to-face with other rappers using the name Beyond around the country, changing to his real name allowed for both an expansion in his sound as well as the opportunity to explore the persona beneath his alias Minnesota Slicks. After debuting his new iteration on the 2000 Fat Beats EP Actin' Rich, the fall of 2002 saw the full reemergence of Musab.
Respect the Life was originally intended to be the second entry of a trilogy that began with Actin' Rich and concluded with a still-unreleased album Southside Accent. While the latter was eventually shelved in favor of concluding the saga with an entirely different album in 2007's Hiero release Slick's Box, Musab's Respect the Life has a unique corner of the Rhymesayers legacy all its own.
Just as his name was changing, so was his sound. While all of his releases to that point had been produced by Ant, this was Musab's first time utilizing outside producers. It was a different process for Ant as well, who describes the creation of the album as "probably the least that I'd ever been involved in." Still, Respect the Life contains two of Ant's all time favorite creations. "'Cut Throat' and 'Falling Apart,'" Ant says, "are why me and Musab work together well. Those two songs are the foundation of everything I've ever done. The feeling of the optimism and the bluntness, even if I'm not writing the words, the music goes along with the words in a feeling I've tried to recapture in everything I've ever done. He's a big reason why that sound exists in Atmosphere and Brother Ali and everything else."
While Ant still handles the bulk of the project's beats, the other production credits tell the story of a label going through some of its most important transitions. The on-record Seattle-Minneapolis connection officially began on Respect the Life with contributions from Jake One and Vitamin D. Elsewhere, six of the track's productions mark the first widely distributed on-record credits of Brother Ali. With a familiar face and pre-existing relationship with Musab that predated the two ever sharing a mic, the two went from being acquaintances in faith to partners-in-rhyme thanks to the keen eye and ear of Rhymesayers CEO Siddiq. Personally loaning his SP-1200 sampler to Ali with the understanding he'd use it to create production for the album, Ali utilized everything from all the music he could check out from his neighborhood library to common household items to craft a sound.
By all accounts, Siddiq's involvement with Respect the Life was perhaps his most directly hands-on in the label's catalog. Given Musab's prolific creation rate and perfectionist tendencies, Siddiq was the major factor in shaping the album from years of new Musab material.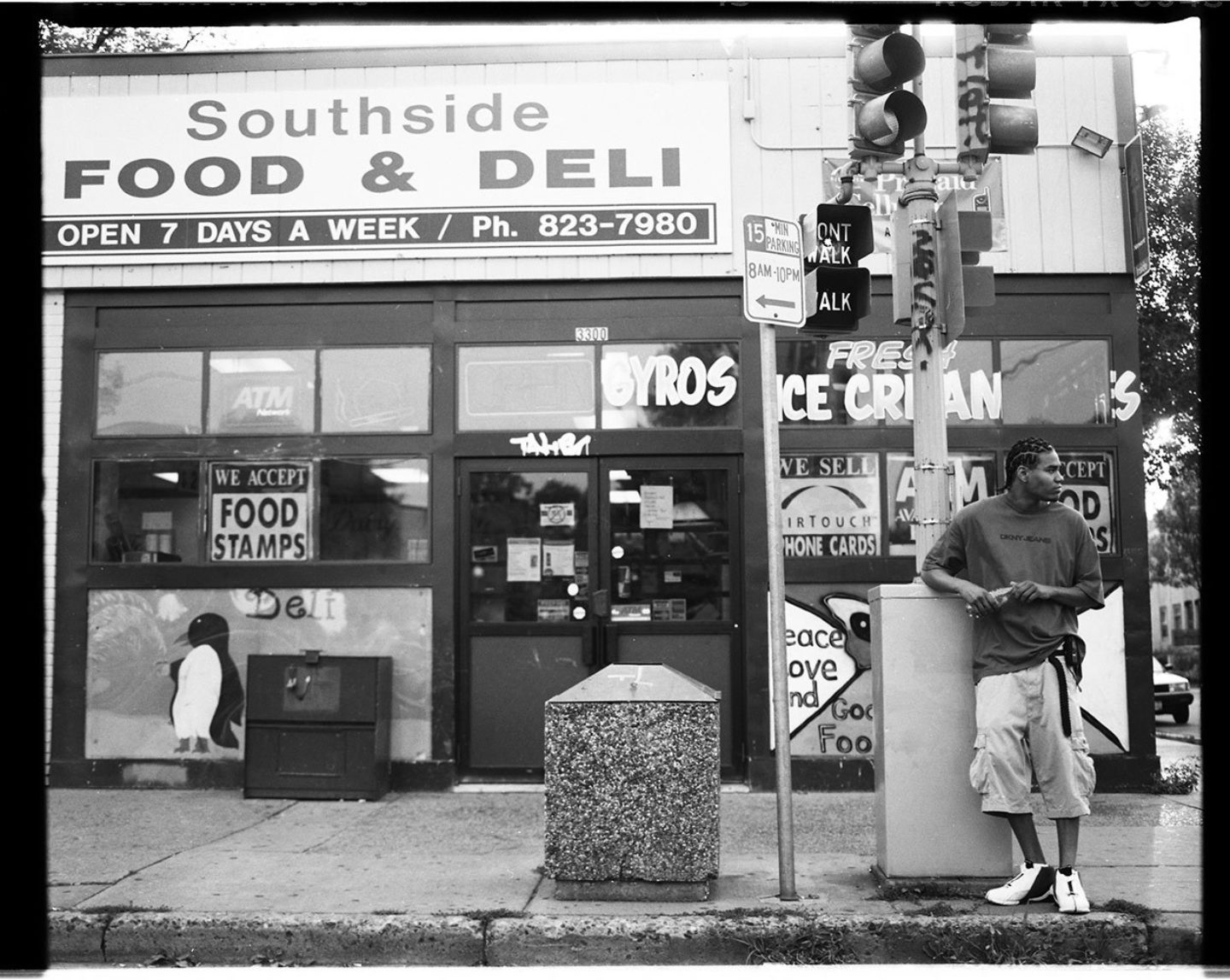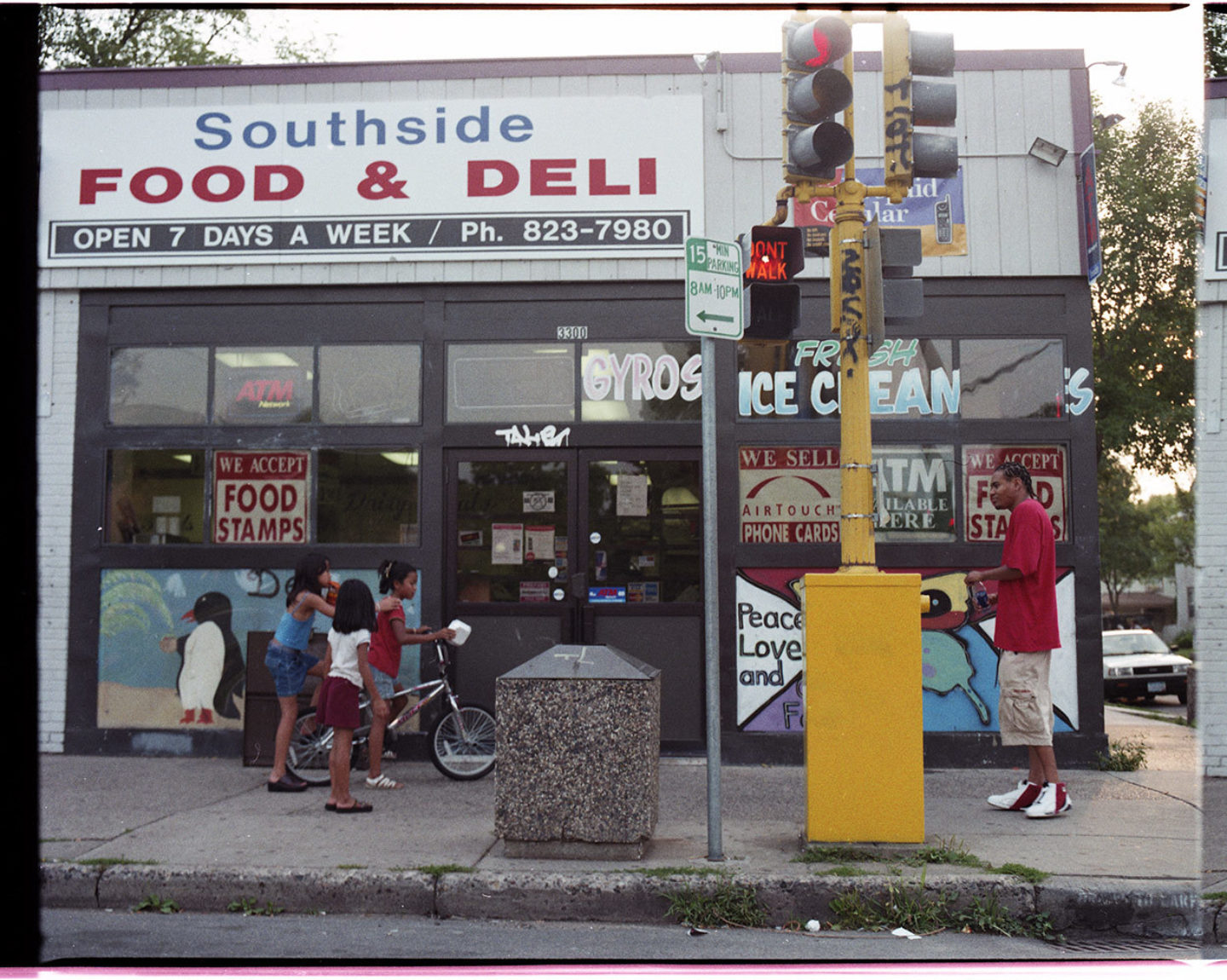 Once the tracks were in place, the day-of decision for a spontaneous photo shoot less than two months before the release date lead to the unforgettable cover. Longtime Rhymesayers collaborator Dan Monick recalled responding to Siddiq's idea for the cover with "Yeah cool! Kinda like the photos on early Springsteen records. Real loose, environmental," as Siddiq replied "ahhh sure…" which Monick took to mean "what ever gets you there dude."
As Rhymesayers continued to bring Minneapolis around the world, there was now a visual snapshot to go along with it. Monick described working with Musab for the shoot as "[he] pretty much walked up, posted on the corner for about 20 mins and rolled out." Along with Monick's imagery as an entry point, between the detailed diary-like entries of Musab's everyday existence and the chronicles of Minnesota Slicks, for 15 years and forever more hip-hop fans will continue to Respect the Life.
1. Intro
Musab: On everything I ever did, I always record the 'Intro' last.
2. Slicks Box
Musab: This was the last song recorded for the album. That was a Vitamin D beat from a Vitamin D beat CD. It was one of those situations where the first time you listen to a beat it goes over your head. I listened back to it, played it for Siddiq like 'how did we miss this beat?' And he said 'Yep, let's get it.
3. Posin'
Musab: I look at me and Ant's relationship like Richard Pryor and Paul Mooney's relationship. That's how those songs came out with a lot of character like 'Posin'' and 'Powerite.' The music Ant provided on Respect the Life was really groovy and soulful. I still do that style now, but I developed that laid back flow swag that I have over his music. He would play these beats, and it would be so captivating, you might spit a verse you intended to come out hardcore, and it came out smooth.
Ant: At the time I was definitely in the middle of a lot of really different styles. I would do something loop-based and then something I'd play. I think that beat might have been me just trying to do my best version of something, dare I say, strip club-esqe? I don't know.

4. CUT THROAT
Musab: My style of writing was always really personal. 'Cut Throat' is one of those songs where I wonder if people know it was personal shit that I actually went through. 'Cut Throat' came and developed from that lifestyle. When we made music in the 90s, that was kind of the shock rap era, we were coming up off of Geto Boys and N.W.A., at that time Eminem had already popped off. I'm looking back at it like 'Hmmm, I was really unfiltered.' I had people that know me listening to that song saying 'He's talking about me!'
Ant: I had that sample sitting around for the right time. He had the right lyrics to go with it, and it just clicked. We used to do a lot of things where there wasn't a whole lot of come-to on either end. We didn't have to do much to get it to happen, which is really rare and really cool.
5. Midwest Biz
Musab: That's like the ode to where we're from. I was like 21-years-old when I first left Minnesota to go to some of these places. [That age is] young, but older if you've never traveled outside of your area. I just started to gain a huge perspective, and I wanted [the midwest] to be known. I lived in L.A., but at the end of the day, South Minneapolis is the best in my mind, and I'm literally naming it all.
6. Cornrows Frizzy
Musab: As you can tell from the photo [on the album cover], I had just gotten cornrows at the time, and that track was really groovy and energetic.
Brother Ali: I basically had just come from being homeless and I didn't have a lot of sampling sources. Using a pair of headphones as a microphone, the shakers on that album was an aspirin bottle and the breath sounds are actually my breath. Things that sound like a bell are me hitting a spoon against a bowl. It's really the most low budget stuff.
7. Extravagant
Musab: I still love to perform that song when I get the chance. I remember when Ant played that beat, I was just saying the hook first, and I had my homegirl come to the studio to lay it down. That was one of the first songs I ever had with someone singing on the hook, and that was really the moment I knew I was jumping from the brand. It was so far removed from anything I had done, and I was like 'alright, I'm taking the dive.'
8. WHAT TIME IS IT?
Musab: I think this might have gotten overlooked, when I was doing these projects we were independent and learning as we went along with things. I never glorified the street life on my albums, but talked about them in the sense of my perspective and involvement. You're doing certain things for righteous reasons in your mind, so I would always throw something on [my albums] like this for a reflection song. Something like 'This is why this is happening.'

Brother Ali: I don't see very well, so I relate to people based on their voices. I imitate people's voices a lot, I don't know if I'm good at it, but I love voices and I've always done that. When we recorded that, Sab said 'go in there and do your Professor X.' You have people in your life that give you permission to do things you don't think you're able to do. He was the one to be like 'no, you can rap. You can produce. You can make beats. You're a good host. You're a good writer.' He gave me a lot of encouragement and his encouragement meant a lot to me. A lot of my career is inspired by him.
9. THE RECKONING
Musab: That's the sole Jake One beat on the album. There was a little bit of pressure in doing these Jake One and Vitamin D beats. It was 1) the first time we were working with outside producers and 2) the first time we sought outside production and paid for production. We bought those beats, so there was pressure for us to deliver. I maybe recorded three songs over 'Midwest Biz,' and Siddiq was like, 'you can do better.' I made a different song over 'The Reckoning,' and Ali told me 'you can do better,' and I made 'The Reckoning.' This was one of those unadulterated moments where I let my pen go to work. When you listen to the story and the way the story was told, it's one of my proudest lyrical moments. That song is the highlight of the album.
10. SIX MILLION WAYS
Musab: That beat let me go insane on it and just rap. When I go back and listen to Respect the Life, and I think about the time frame, I think 'Damn, I was really rapping my ass off on there.' If you listen to Respect the Life, you'll hear me reference 'Diplo-' on there, like being 'Diplomatic.' I had a crew that I used to run with and we called ourselves 'The Diplomats.' This was before Cam'Ron's Dipset. We were going to be a crew, and then one day I Self Devine told me 'you heard of these boys out of New York, they call themselves The Diplomats too.'
I never ran into another rapper named Musab. You don't even meet a lot of Muslim guys around here named Musab.
Brother Ali: I sampled a record of video game sounds, and played the bassline out. The way the SP-1200 arranges notes sets a natural scale. That's not a loop, I actually played that. One time on the way to Scribble Jam, we did a show at The Metro in Chicago. Musab played that song, and hearing it through the speakers and watching the audience move to that beat was such a big moment for me. I didn't have any records out, so the first time I had that happen was to that song.
11. NOPEACE
Musab: This is the one Big Jess beat on it. I originally wasn't going to put 'NoPeace' on there. Siddiq told me I should put 'NoPeace' on there, and I thought 'You think so?' At the end of the day it's just a song of a rapper talking slick, and there's not too many of those on Respect the Life. I love the song, but I was going to leave it off. Big Jess was happy, he came down to the studio to drop it off an that was that.
12. IN MY WORLD
Musab: The original [version] of this song was over an Ali beat. I went over to Ant's house and there were these beats that really weren't finished, he was just showing me what he was working on. He had this beat and we flipped it up a bit at the studio, and I spit double-time lyrics over the beat, and 'this is it, right here.' I got my cousin to spit on the hook.
When Respect the Life came out, I was still hanging out in the streets running around. I remember standing on the corner in front of that arcade Pop's, and this dude pulls up at the stoplight and he's blasting 'In My World' in his car. That was a dope moment, to have somebody pull up bumping the song when I'm basically on the block hanging out. That made me feel like I was going places.
13. POWERITE
Musab: If Minnesota Slicks had a TV show, 'Powerite' would be the theme song. It defines a part of me. I'm from an era of blaxploitation movies like Superfly, The Mack, and my uncle and his people were those kind of guys. I still talk in smooth lingo like that in my personal life, and 'Powerite' was the time Ant and I put it together. Ant cracked up when I laid that hook, we laughed for like 30 minutes off that. I'm proud of those gritty soulful moments.
14. TIGER WOODS
Musab: I actually love that song. I was developing and smoothing out my flow, but making sense and being lyrical. I never wanted to sell my lyricism short, and for me I always wanted to be defined by being super clever, super lyrical, but not 'rapper-lyrical.' It's smooth, makes perfect sense, and there might be a triple-quadruple rhyme scheme, but the listener might not even notice because it's so conversational.
The name 'Minnesota Slicks comes from playing pool.' I wouldn't say I was a hustler, but I was pretty good and I'd play in tournaments. The first pool cue I had was Minnesota Fats, so the name derived from that. And older guys would call me 'Minnesota' when I was out of town, so that kind of stuck. I was like the Tiger Woods of the pool table.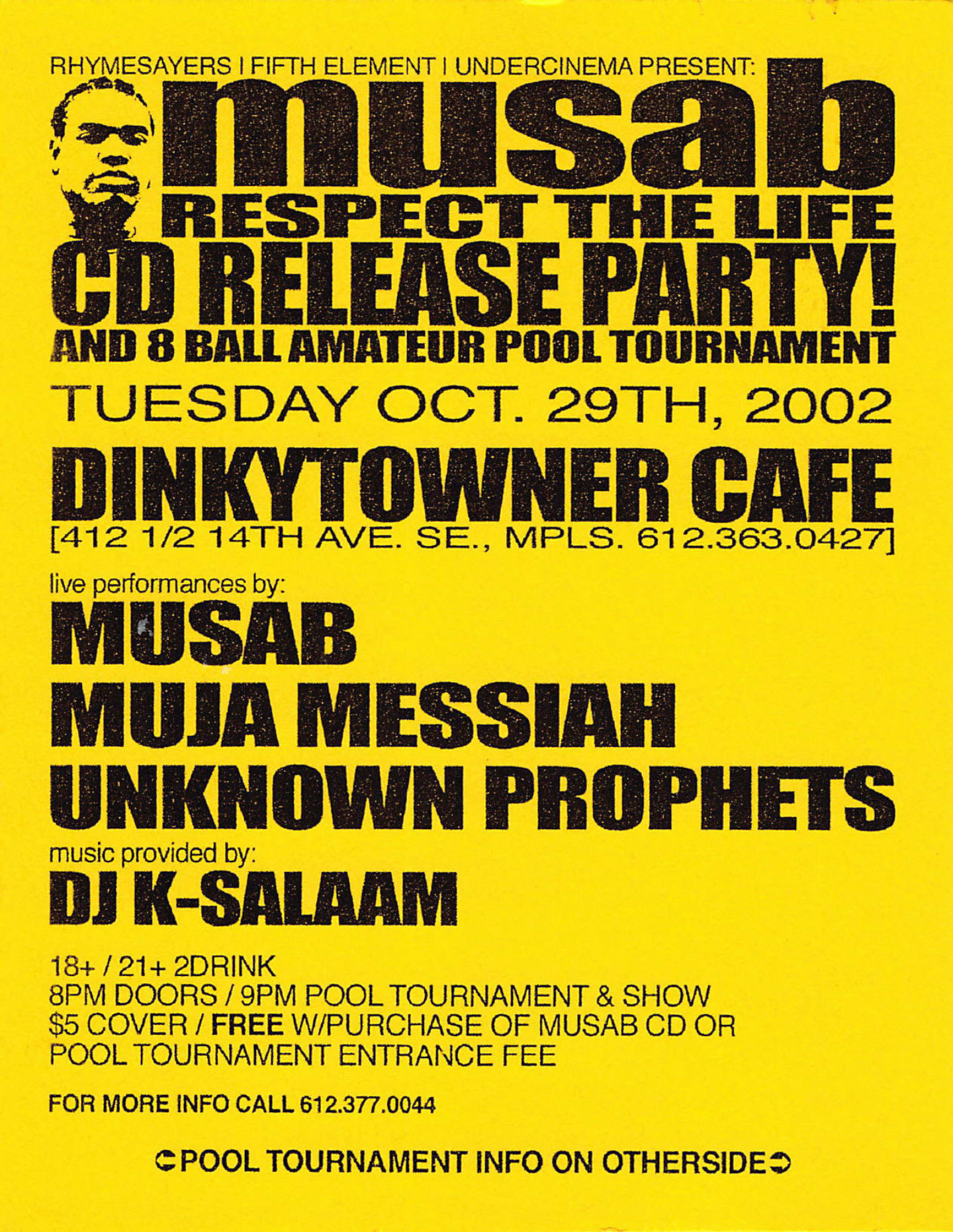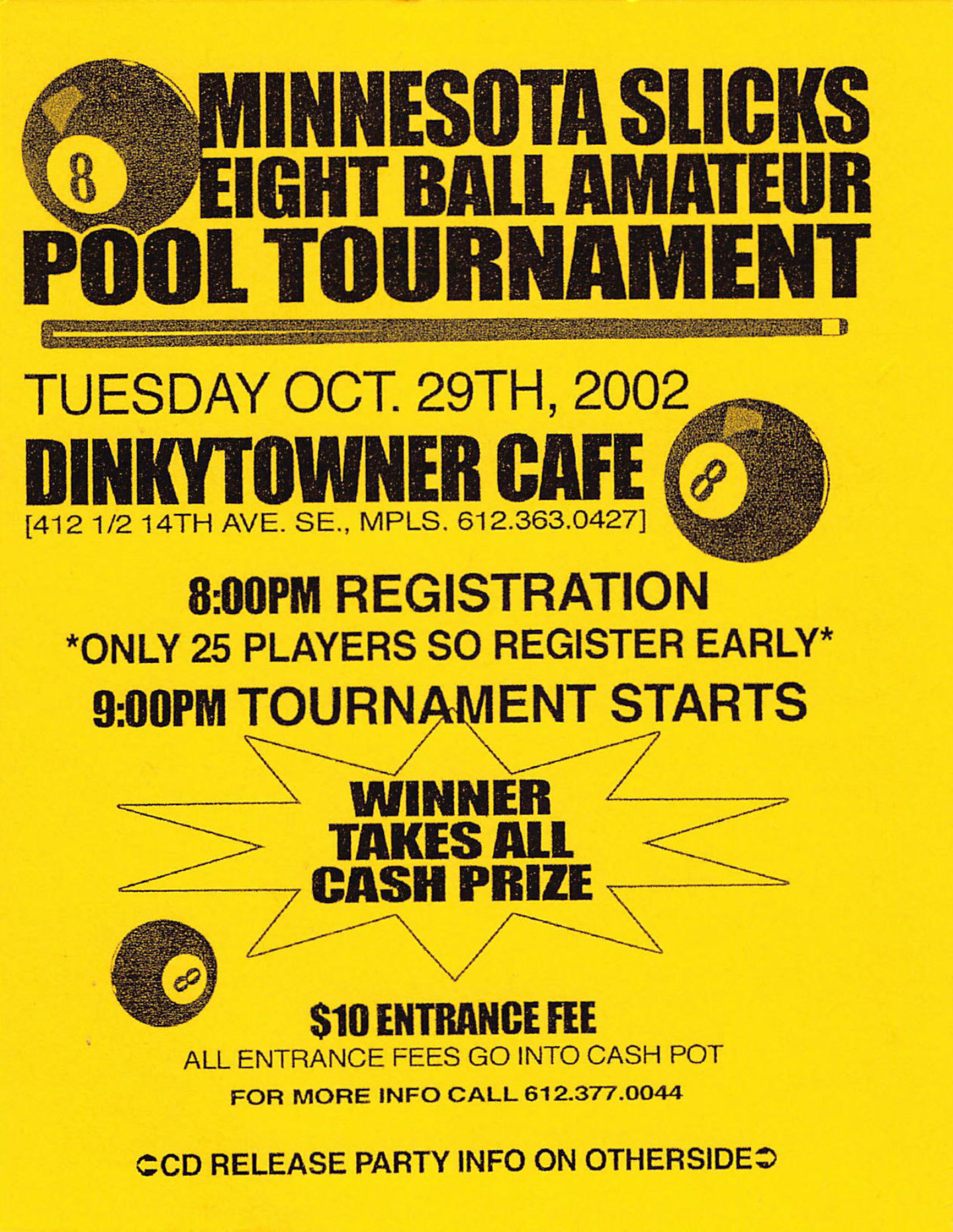 15. LIFE IN A DAY
Musab: That song is literally my life from waking up. I wrote that song driving around in my head before putting it to paper. It doesn't get any more detailed of what I do in my day. The food I might eat that day, my favorite restaurant, that song is probably the pinnacle of Respect the Life. If there was a full title track, that'd be it.
Brother Ali: I sampled one of my favorite R&B records, and I think I made that beat in Fifth Element. That was the first time Siddiq was like 'yeah, that's a good beat,' and let me take home his SP-1200.
16. MAKE BELIEVE
Musab: One.Be.Lo. (then One Man Army) is one of my best homies. He used to stay at my crib when he would come to Minneapolis. He would just come and visit the family. I was in the process of making the album and I knew I wanted him on it. He's the only feature with a verse.
He was always at my house, and at that time Ant lived a mile away. I wanted to put a conscious song on the album, and he was perfect for it. I played a few beats, that one stuck, we went down to Ant's to record it and boom. I'm glad he's on there, he's one of my favorite artists.
17. FOOLS PARADISE
Musab: Me and Ant actually made that beat together. I'm not a beat maker by any means, but that particular beat I helped him play some keys on it. We did that beat, and then I wrote the lyrics. The hook is from a Sam Cooke song. I wanted to get to a place in the music where I'm just talking to people. The second verse of that song begins 'Made cash from selling drugs / got a job - not for Sab / went back to selling drugs.' I could be funny, serious and have my dexterity on point at that same time. To look back on that song and have survived all those thing, I'm pretty proud of that.
18. RESPECT THE LIFE
Musab: I'm a lot more artistic than people give me credit for. Desdamona was perfect because she was a feminist before the feminist movement. She meant so much for women in hip-hop, and even now. It meant a lot. She's a great friend of mine, and I was knowing her for years before she started doing poetry. Maybe it was a bit of a clash with all the stuff I was talking about on the album, but I've always been about contrast and freaking people out artistically.
19. FALLING APART
Musab: Out of any song that I've ever made, 'Falling Apart' is the hardest to listen to. Not for the fact that I don't like it, but it's so personal. By the time I was 20-years-old, I had three kids. So, I'm raising a family in the process of making this album, dealing with the drama of their families, so these are real human beings I'm talking about on a personal level. This is shit I would never do today, but I'm a grown ass man and I get it. They hear it. I was so unfiltered as a person, I just was who I was. When you write songs like that and mention people in your life, it affects everything. It affects how you're going to see your kids, their family heard it and you can imagine it causes issues. But I was expressing myself and wanted to get my story out. Going back now, it's like 'Damn, I really said that?"

Ant: This was the last song [Musab and I] did for that project and might be the last song we ever made together. It's one of my favorite things I've ever done. I'm really proud of it, the weird little flutes. You'd think it would be goofy, but it's charming, overall optimistic and sad at the same time. Some of the verses in that song are always traveling through my head, especially the third verse.
Brother Ali: This is one of the greatest Rhymesayers songs ever made. There's a verse on there that's probably my favorite Musab verse. There's a thing were you work with people and you borrow something from your friends and you're so close to it, you don't realize you're doing something one of your buddies did. There's a line on there where Musab says 'I try not to do these things but that's me / and don't give an F- about it actually.' And my line on 'Forest Whitaker' - 'I don't care much about you actually,' I didn't realize until years later it sounded like it. It's interesting that my biggest song has a line inspired by him, and Atmosphere's 'Sunshine' is built from a line of a Musab song. What we make are descendants of his work.
Written by Chaz Kangas. Follow him on Twitter.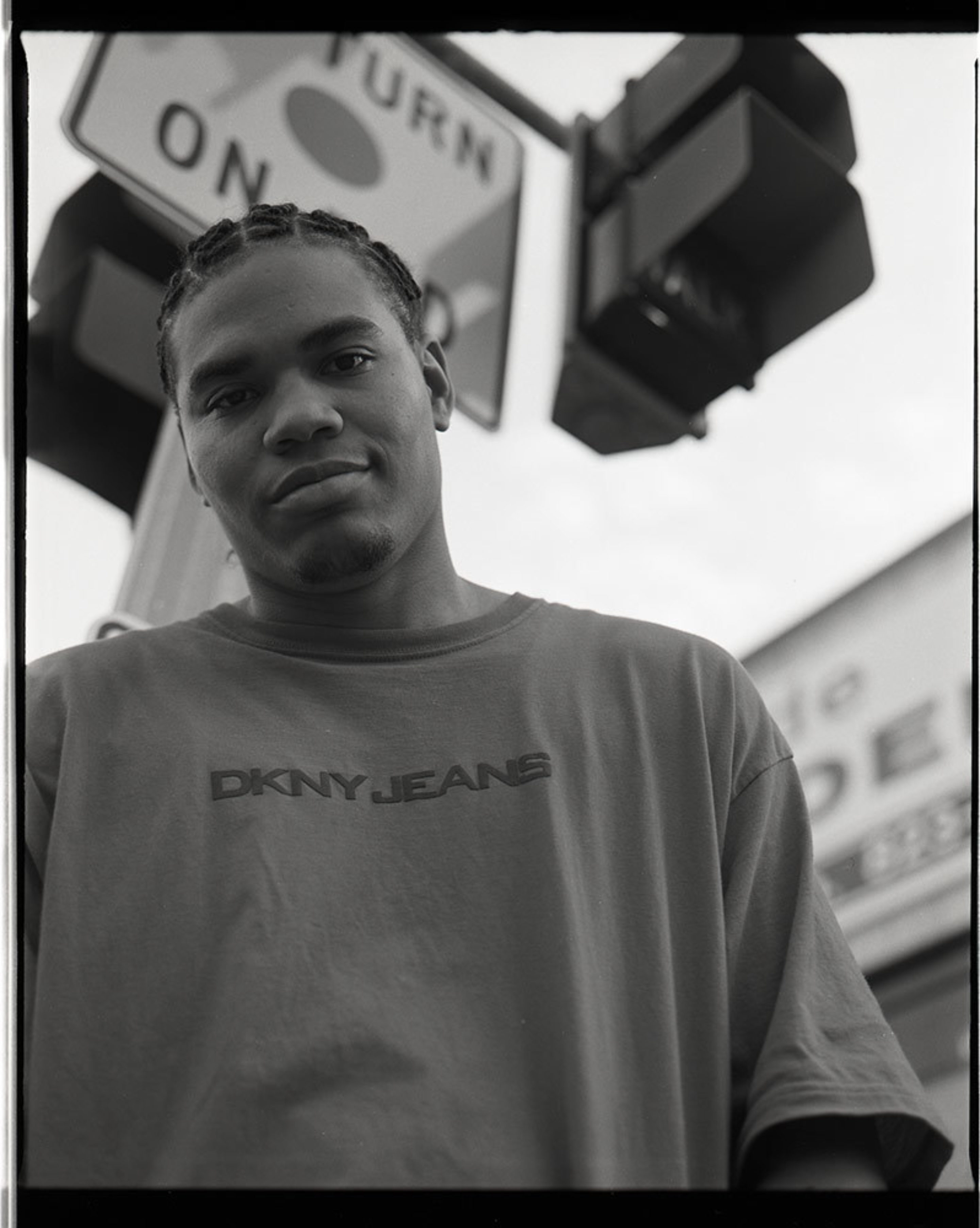 For a limited time (10/30-11/30) get Respect the Life 30% off.