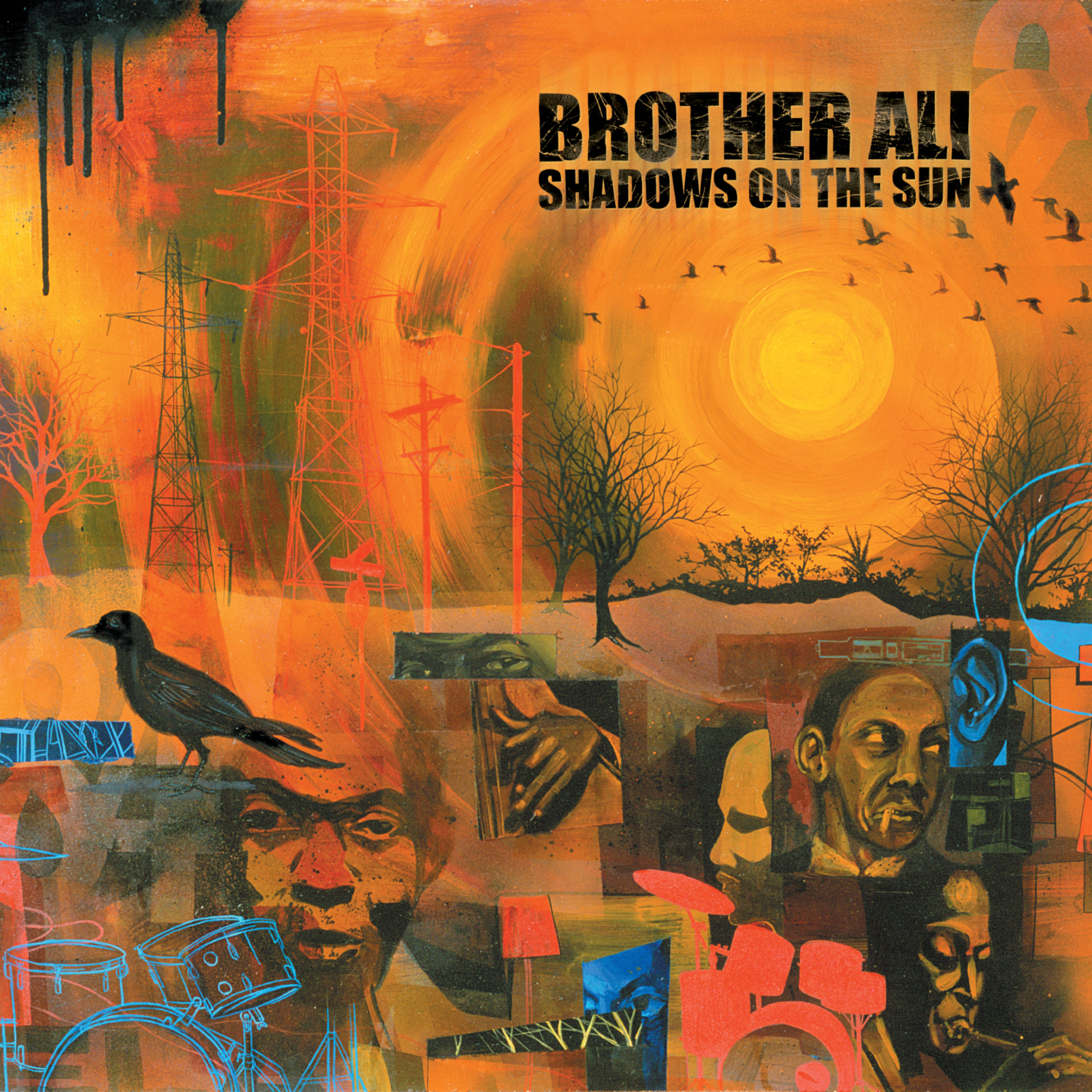 Brother Ali - Shadows On the Sun: 15th Anniversary Reflections
Written by: Andres Tardio

While reading, listen to Shadows on the Sun on the platform of your choice.

The sun has never been kind to Brother Ali. Its brilliance obscures his vision, and its rays burn his skin without mercy. That's why his debut album, Shadows on the Sun , has an extra layer of meaning. The LP, which celebrates its 15th anniversary on May 2, is a testament to resilience in more ways than one. "Being albino, the sun is a major challenge for me," explains Ali. "What I'm saying [with the title] is that all the factors in the world that feel oppressive to me, this gift that God gave me, will give me the ability to overcome everything ."
The Rites of Passage: First Impressions & Introductions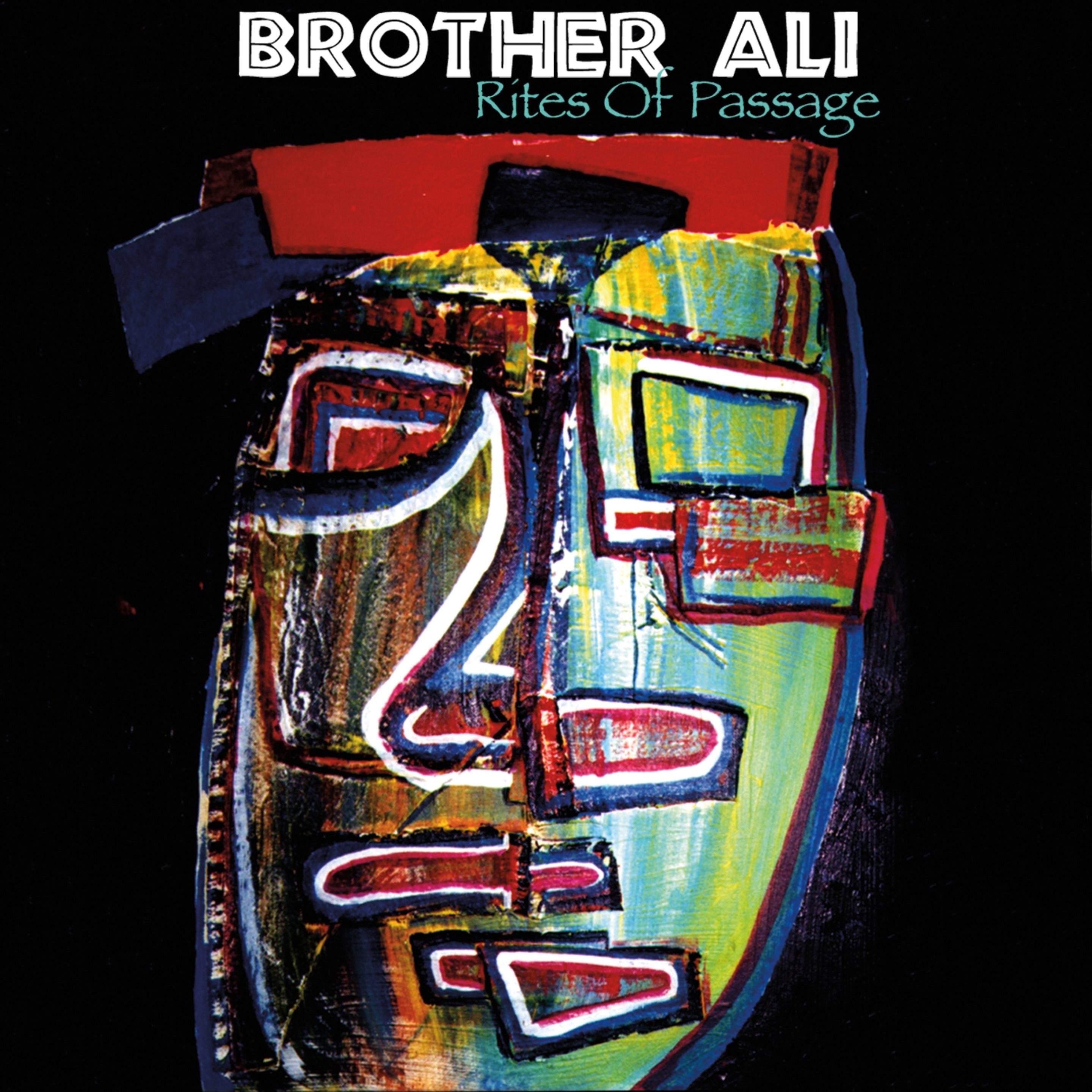 Before making this landmark album, Ali worked at UPS. He'd been disillusioned by newer hip-hop until a co-worker made him a cassette tape. Gang Starr's Moment of Truth was on one side, and a Rhymesayers mixtape was on the other. "I listened to the Gang Starr album over and over," he says. "It probably took me a couple of months before I finally flipped the tape over, but when I did, I was like, 'This is incredible!'" The tape revitalized his love for hip-hop, and soon, Ali built his own local buzz.
One of Ali's early breaks came when he opened for Rhymesayers. During that show, he saw other artists approach the label's CEO Brent "Siddiq" Sayers with jealousy. "Rhymesayers broke all the barriers and became the local music industry, so there were a bunch of rappers hating on them, like, 'How are y'all doing all this?'" says Ali. "Siddiq wasn't backing down at all. He was like, 'I'm telling you what we're doing. If you don't have the discipline or belief in yourself to do it, I can't help you.' He was unshook and unrattled. I said, 'I want to be down with that guy.'"
Siddiq saw something in Ali, too. "He was a beast," says Sayers. "He was super hungry and everything about him was striking. You got this fuckin' big albino cat who's beasting on the mic. I was like, 'Who the fuck is that?'" Atmosphere's Slug also took notice, calling him a "flawless" MC. Following first impressions, Ali connected with Rhymesayers' core members. "I think he was more strategic than he's ever let on," explains Siddiq. Slug agrees, adding, "There are four of us at the label that think we're the ones who brought Ali to the table. I think he just made such an impression on all of us that we all believed we simultaneously did. It shows me how strategic he was."
While making these connections, Ali sought guidance. "It's not like they were recruiting," he says. "You couldn't just join Rhymesayers. People felt like they were gatekeepers who didn't let anybody in, so I was asking for advice. Inspired by them, I made the Rites of Passage tape." When he brought the demo to Siddiq, Sayers made an offer. "What are you trying to do?" he asked. "Because if you're trying to do something, you should come fuck with us." Rhymesayers eventually pressed and sold 1,000 copies of the demo, as Ali started working on Shadows .
When the Beat Comes In: The Making & Impact Of Shadows on the Sun

In his debut album's nascent stages , Ali looked to Ant. Maybe he could produce a song , he thought. Maybe more . Ant had been working with Slug and Musab, but the latter hoped to explore other sounds, leaving the door open for Ali. "I came along around that time and asked Ant if I could get some of those [beats]," he says. "[Ant] was like, 'I'm not making any promises but come by the house. We'll see what happens.'" Chemistry happened. "Everything started clicking. Everything was seamless," says Ant. "I felt comfortable and confident with every song."
As they continued working together, Ali found his voice. "I didn't know how to be vulnerable, how to show my humanity, or my real heart," he explains. "I just knew how to rap straightforward." Slug encouraged him to master songwriting while Musab indirectly inspired him to share personal stories. Meanwhile, Ant motivated him to rap about different topics, to be funny, and to explore his pain all at once. "That's not just self-expression," says Ali. "It's self-exploration."
This songwriting approach paid off. "As soon as he started bringing me a couple of demos, it was obvious that this was going to be one of our next big records," says Siddiq. "The shit was dope, but it also didn't sound like Atmosphere or Musab...He fit into what we were doing, but had his own approach, voice, and style." Once the LP came out, fans and critics agreed. Today, Shadows on the Sun remains an influential, inspired, and introspective body of work that set the tone for Ali's long-lasting career and his kinship with the label.
"The greatest triumph on Shadows on the Sun for me," says Ant, "was my relationship with Ali." "When I hear the album," adds Ali, "I think of the love I have for Ant, Siddiq, Slug, and Musab. That's still the most important part of it and I feel like the person I am now is because of that album." Ali also doesn't shy away from the LP's greatness. "I'll still put it up with anything that was released around that time," he says, "anything from the early 2000s, including [JAY-Z's] The Blueprint or whatever else."
Others also continue to marvel at its lasting significance. "It's the birth of Ali," explains Siddiq. "As much as I like what he did with Rites, he was still finding his voice. When he did Shadows on the Sun, he found it...And those are amazing songs...If somebody hears them today, they'll impact them the same way they did when they first came out. It's that good."
Shadows on the Sun: Track-By-Track Reflections

"ROOM WITH A VIEW"
Brother Ali: I'd loosely put together this song about my neighborhood in my head and I went [to Ant's house for the first recording session]. The first beat he played was "Room with a View." ... When I was doing this album, things were bad. I had a son and my wife had profound mental health challenges. Mostly because of the tension between my mom and my wife, I had serious falling out with my mom. So we were living in transitional housing and most of the people who lived there were coming out of battered women shelters, prison, rehab, or homeless shelters... It's good that it's the first song we did and the first song on the album because everything on the album comes from that life and environment.
Ant: I had that beat laying around. I used a cute little trick to go from something soft into something hard. He knew how to work that and it was easy for him to walk into. A lot of this shit was like that. I was also happy with how I found those scratches at the end. I picked up any old thing almost, put it on, and it said that shit about looking out a window. I was like, "This is weird!"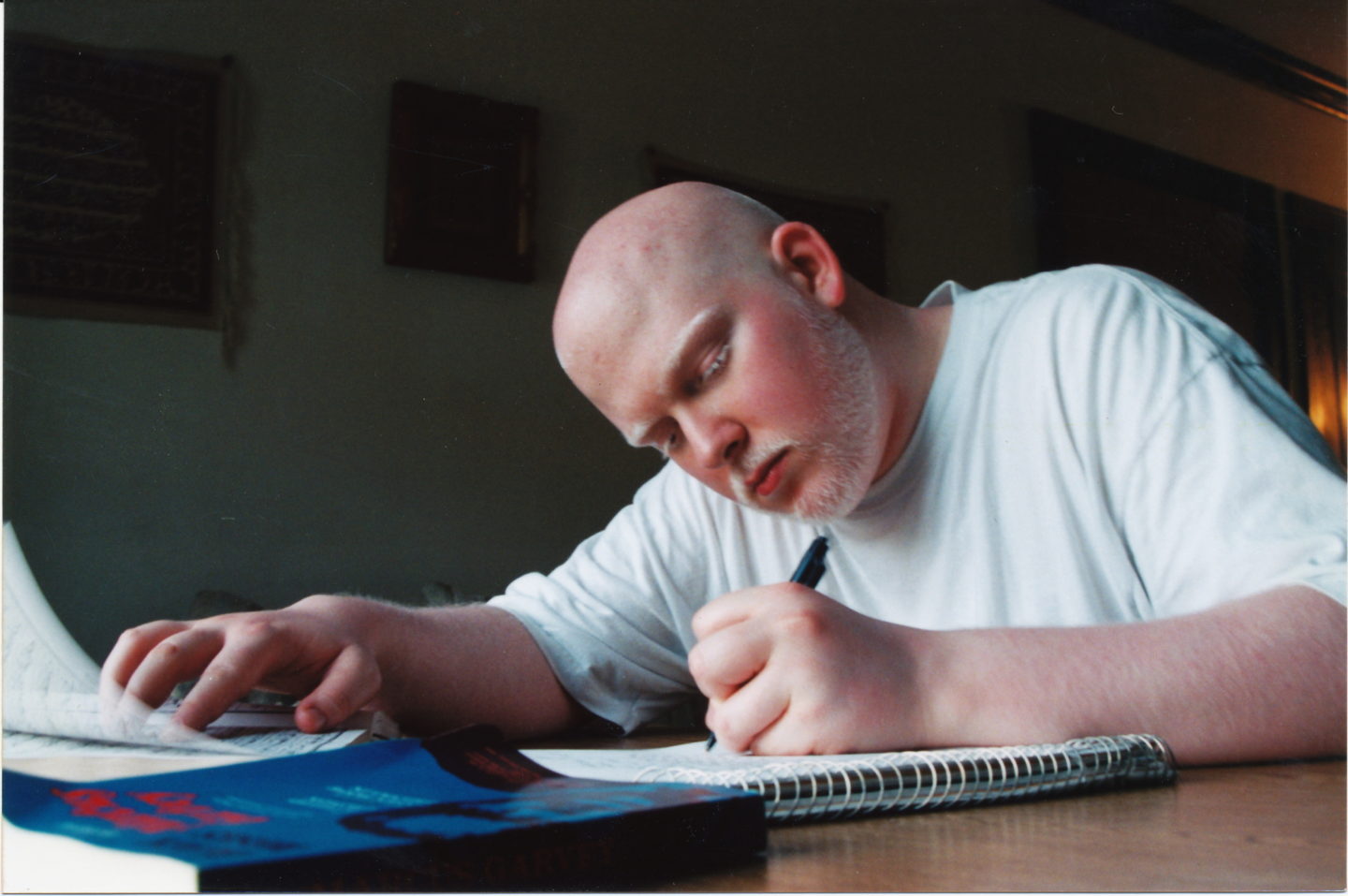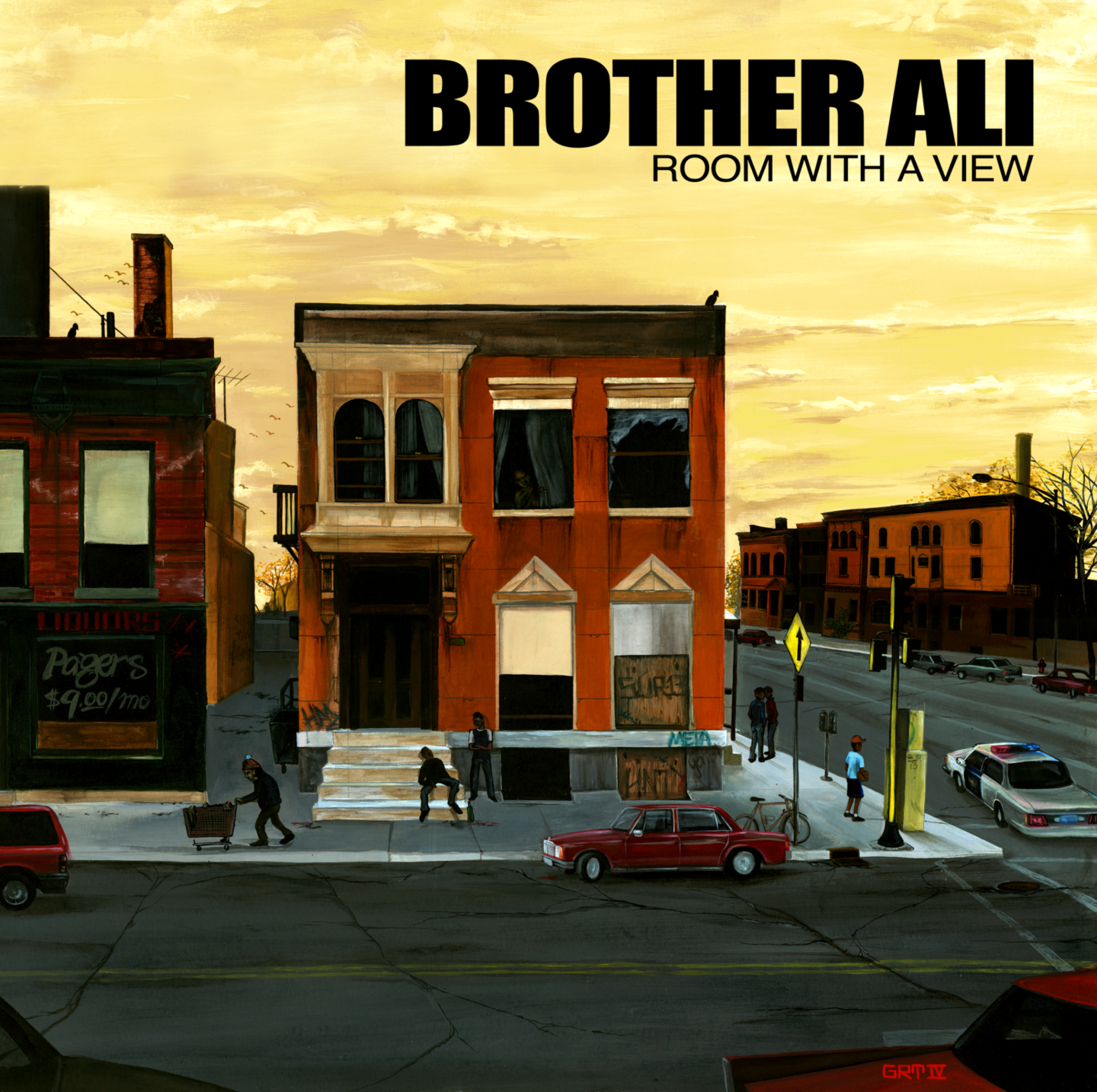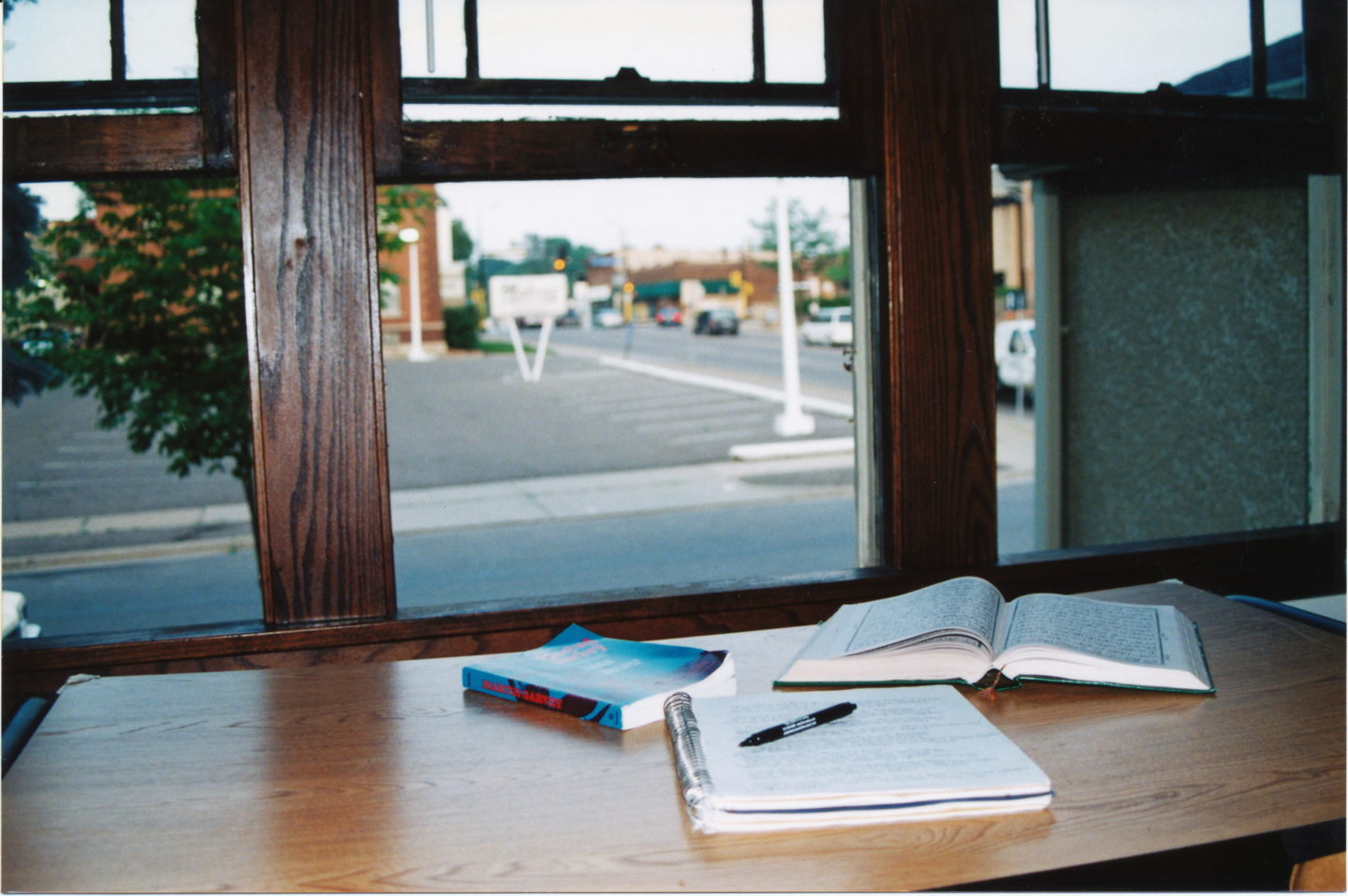 "CHAMPION"
Brother Ali: I wrote that after we got back from Scribble Jam, feeling like, This Midwest hip-hop shit is incredible . We were at the forefront of that along with Tech N9ne, but I didn't know Tech N9ne yet, so I felt like we were it. Eyedea was beating everybody and I beat Eyedea that year. Sage Francis ended up beating me but Blueprint was killing it, DJ Abilities was winning DJ battles, and our crew was dominant. We didn't come from a place where anybody taught us that. We just had the desire, will, work ethic, and sincerity to do that. That was me feeling good about myself, the crew, and the movement we were building.
"STAR QUALITY"
Brother Ali: This is the approach we have. We're stars, not because we're traditionally cool, but because we come to serve the people. I will do whatever it takes, being my authentic person, to make sure that we turn this moment into something electric. That's where my confidence came from. Rhymesayers all had that in common and I had a sense that it made us superior in a way where we didn't need a chain, or car, or sneakers. None of that mattered. We're just servants of the moment we're in and that's just better .
Ant: I used to make a lot of these fly type beats. Musab used to do some player stuff on them here and there and I enjoyed doing them, but they didn't get used that often. I was also fucking with that sound for Felt 2 . It's a little funky, fly, and a little R&B '80s thing. The music and his lyrics made sense together because we felt the same way. That's the theme throughout this record and our careers, maybe. It's right on time with the music and the lyrics because we're thinking the same shit. I'm just not using many words.
"PRINCE CHARMING"
Brother Ali: When I was in high school, I knew a girl who had a possessive boyfriend and I was clowning him. I took cues from that, but it's not a true story at all. Later, I showed that song to my wife, who was like, "This is a funny song and I know how you mean it, but there are women who are stalked in real life and there's nothing funny about it." I realized, That's what you get for telling a story that's not genuine to you . When I did The Truth Is Here andThe Undisputed Truth, I said, "From now on, everything will be from my real life experience." When I stick to that, I don't regret it. It's still a well-written song. It's also gradual, the way that stuff often happens. Somebody starts out and it's like, "He's almost too good to be true," and you realize slowly, "Oh, he's crazy. He is too good to be true."
Ant: I was playing that beat and he thought it was interesting. I thought it was corny and cute, but he started messing around on there and it was making me laugh. I think he wrote that song with the idea of how I was laughing about it, but we had talked about dudes that were insecure with their women and shit.
Brother Ali: That was completely to make Ant laugh. I knew Ant liked plot-twisty movies and things that were dark and messed up but funny. I know that Ant got a kick out of Sling Blade, which is dope and dark...So I wrote that song in the style of humor that I knew he was into.
"WIN SOME LOSE SOME"
Brother Ali: I was trying to show a lot of myself and that's a true story that reveals a lot about me. There's a lot of the racial stuff in that song and my relationship with race is complicated. When I was a kid, people told me albinos were Black. As a 12-year-old, that made sense. All my friends, teachers who taught me about life, and my heroes were Black. My family was not intact and they're White European Americans. I think that in their sympathy for me, in wanting to embrace me, and give me a home, adults told me, "You're basically Black. You're with us." So I had a lot of confusion around it. In the song, I think that's obvious. I was poking fun at myself when I repeated what I said to those guys. I'm thinking that if you look at me, you can easily tell that my genealogy is European, but apparently not.
At the time, I wasn't thinking about the fact that people who didn't know me were gonna hear this and talk about it. Certain journalists, especially white ones, wrote that I was a Black albino. They never asked me about it and I certainly never said it. They just assumed. Looking back on it, I get it. My name's Brother Ali and I got that from being in a Black Muslim community. At that time, I lived, worked, and did everything in that small Black community in North Minneapolis. There was a 10-year period of my life where everybody I knew, worked with, worshipped with, studied with, lived with, was Black, for the most part. Everybody understood that this is a European American who's albino. There was no need to explain it to anybody. What I didn't realize was that there would be a need to explain that to other people.
I would have never gone into it, except for the fact that people started writing that I was Black without asking me. At one point, somebody did ask me and it was a white person. I got the strong sense that a clear cut answer was gonna mean something to them that it didn't mean to me because they wouldn't understand all the nuances. I was like, "I'm not answering that." But if somebody writes something enough, it becomes "fake news" or an "alternative fact." I still see people arguing about it. I would like to write a book about this. When the Rachel Dolezal thing happened, people asked me, "What do you think about that?" She overtly lied and wore a costume. She lied to people about who her parents were. Race is a complicated thing, so to oversimplify it does a disservice to everybody, but you can't lie. Nothing good ever comes from a lie.
"PAY THEM BACK"
Ant: I was big on that beat and it's still one of my favorites on there. It was crackin'. I love his approach on there, the way he murdered that shit. That one still holds up in that regard. It still feels pretty grimy. He attacked the shit out of it. I used to wish it was longer, but it's perfect because I always want more.
Brother Ali: I was noticing this big movement of white hip-hop. That's not a bad thing, but when you're dealing with culture, everything you love about it is in the roots. If you try to have it without the roots, you've done yourself and everybody else a disservice. You're killing the thing you say you love. You're a parasite at that point. At the time, I also wasn't happy about being in that scene. If I would have had my choice, I would have entered the Okayplayer crowd. I looked at Little Brother's trajectory like, "I wish I was in that lane." I would have been more comfortable. But over the years. I've come to love, admire, and appreciate all of these people. I have a real strong affinity for them because we shared an amazing experience together. But that wasn't the category I wanted to be in so I was making a statement.
It was also more about the audience that loved hip-hop but didn't necessarily see its connection to Black people, Black culture, and Black history. A lot of the ways they would compliment us would be dismissive of anyone Black. They'd say, "You and Aesop Rock are my favorite rappers but I hate JAY-Z, 50 Cent, and Lil Wayne!" Well, Aesop and I love and look up to those guys. They would say, "You guys are saving hip-hop! You brought intelligence to hip-hop!" Basically, "You guys are civilizing this jungle music." That's the feeling it had. It's not like that, as much, anymore. That's almost gone. People who listen to us know Kendrick [Lamar's] the best. Nobody's listening to Mac Miller because they hate Kendrick Lamar. They see them as part of the same movement.
"BLAH BLAH BLAH"
Ant: That song was fun and I always liked the hook, but I feel like I dropped the ball. I hate that I did all that shit at the top of the song and I wish I would have done that beat a lot better. I still get to nitpick it because they perform it every now and then. They only perform it because they don't have too many songs together, which is kind of weird. I think they've had a hard time making songs because the expectation is that it would be this super deep conscious song, which I have no interest in, personally. I'd rather just do rap music. They don't get to do that often, so what a great opportunity to rap that way. It's the roots of hip-hop and they're both great at it.
Slug: That was a little bit more playful than what Ali was trying to do at the time. It might be the most playful beat on that record. For as long as we've known each other, it's almost a tragedy that we only have a few songs together and they're all just battle bars. We haven't figured out what our personal Voltron is. Individually, we're dynamic and we can rap about a million different things but we never made a song about anything other than rapping.
Brother Ali: Making this was fun. Slug came in one day and was like, "Do you need me for anything?" He was keeping up with the progression of the album and that was his way of co-signing it...Slug really championed this project and me. I toured with him for two years and he took me everywhere, told every journalist, every music exec all about me. It was touching and he's still like that. Anything he has is mine. One time, he bought a house and I was looking to buy a house, as well. He was like, "This is a big house. Why don't you guys move in here? You can save up for your down payment." He was dead serious too.
"SHADOWS ON THE SUN"
Brother Ali: I'm doing this for all of the people who have a tough time in life. That's who I represent. This was before I made overtly political music, but hip-hop's always meant that to me. I didn't fall in love with hip-hop and then start hanging out with Black people. It was the other way around. My friends were Black in the early-mid '80s and I was like, "These people are geniuses. They're the most amazing human beings on Earth. How come nobody knows that?" When hip-hop came around, I was like, "This music will show everybody that Rakim's a genius, that Chuck D's a genius, that KRS-One's as great as any political leader." To me, that's always what hip-hop meant.
Ant: That song is definitely a verse too long. I tried to get him to chop a verse off that. I'm pretty sure those lyrics were written beforehand. He rapped his ass off on it to a degree and the beat's pretty good, but it's probably my least favorite song on there.
Brother Ali: I remember Ant telling me that it was too long. That's the one time I didn't listen to him. There's a hook, a sub-hook, three very long verses, no beat change-up. He was like, "You need to cut this song in half. You made your point." I was like, "No, I have to say every word." I made the decision for the words instead of the overall song. When I listen to it, that's always a reminder that the ego was saying, "I'm important and you're all gonna sit here for five minutes while I tell you every single thing I feel like saying." I don't regret it. All these years later, it's just lessons. Looking back, I think that song was also inspired by Johnny Cash's song ["Man in Black"]. I never listened to it before but BK-One played it for me. I think that song, without me realizing it, was inspired by that.
"PRELUDE"
Ant: "Shadows on the Sun" is pretty deep and that beat's kinda hard so we had to figure out how to switch the mood for "Forest Whitiker." I had to give it an intermission because I can play almost anything after an intermission. I do that a lot on my records. I might put some shit at the end of the song or an interlude like this to make you feel like, "I'm ready to switch moods now." That was the only goal on that. You try to do it as artistic as possible, so you throw a little scratching in there, have him beatbox and hum along to it a little bit. Then you can go almost anywhere.
"FOREST WHITIKER"
Brother Ali: "Forest Whitiker" is why I'm not famous because that's probably my biggest song, even though we didn't do a video and it wasn't a single. I literally had no idea the song would connect with anybody. It wasn't even really a song; it was more like an interlude. That song was an accident. We were near the end of making the album, Ant went to load one of our songs up and he accidentally loaded that up. It wasn't a finished beat but I was like, "What's that?" I told him to put it on a tape for me, sat at work and wrote it on my break, again, trying to make Ant laugh. Blueprint, Siddiq, and Ant were there when we recorded it and we all thought it was cool, but nobody said, "This is a hit!"
That song also taught me that I don't have to try to appeal to people. What appeals the most is being firmly rooted in my own reality. Let people see themselves in you. It's condescending to be like, "See how we all feel like this?" That's what these guys who copied me and Slug are getting wrong. They're like, "I'm gonna be the everyman!" But it feels curated and it's not genuine. People are smart enough to translate it however they need to. This song is so specifically about me, but there's a feeling of being a complete outsider, and being like, "I'm so not trippin' off your approval." That's the beautiful thing about it. That song is from God.
Ant: Everytime I hear it, I hear the accidents in music. I had that beat around for I don't know how long. I was playing him ideas I had and I was going to skip over it because I thought it was corny. But he was like, "Wait, wait, wait!" He started playing around and I think he came up with the hook almost immediately. He saw the beat through a haze. I give him all the credit. It's weird how it all works out. I thought it was just a cute, funny-ass song, but I didn't think much of it past that. If I would have thought more into it, I would have made it a three-verse, three-hook song.
"BITCHSLAP!"
Brother Ali: In a lot of ways, this song led me to my teachers. There are a few lines where I'm like, That's an ugly part of me . That word is ugly. There are things I say in that song that are not me and they weren't even me when I said them. I just was doing what I thought would be edgy. We sold about 100,000 copies of that and I used to do that song every night for probably 5 years. That's 150 shows a year. How many people are at those shows? 300 to 3,000. How many people streamed it? How many hearts have been exposed to it? One of the great Muslim teachers Imam Al-Ghazali says you have to be careful about being a musician for a living because if there is anything ugly in what you do, it gets repeated so much, that even if it's minor, it gets the weight of a major sin. That song might be that for me.
As a spiritual person, you need things that remind you how needy you are of the divine. People are ruined by thinking that they're righteous. You might be righteous, but if you thinkyou are, you'll be destroyed by it. Every good thing you do will feed your ego. This is where we get self-righteousness, religious fanatics, and things like that. They're so convinced of their goodness that it's not about God; they're praying to their own egos. But it's an opportunity to be sincere when you have something in your story that's so blatant. Some people study Islam with me. They'll be like, "That was so beautiful, I'm gonna go look up your music." They wouldn't have to look long to pull up "Bitchslap!" and that will always be there. I learned that those kinds of things are important because they protect a person's sincerity. I can never tell myself or anyone else that I'm just good. I'm also the dude that wrote, said, performed, and promoted that song.
"BACK STAGE PACIN'"
Brother Ali: That was a time in my career when I was doing a lot of janky shows. Everybody goes through that. I had to come up with a creative way to talk about it because it was such a big part of my life. Ant sampled those sounds from a live concert, but the song that he sampled is also a live performance. I heard the [Yvonne Fair] sample saying, "You're always on the go!" and I took it from there.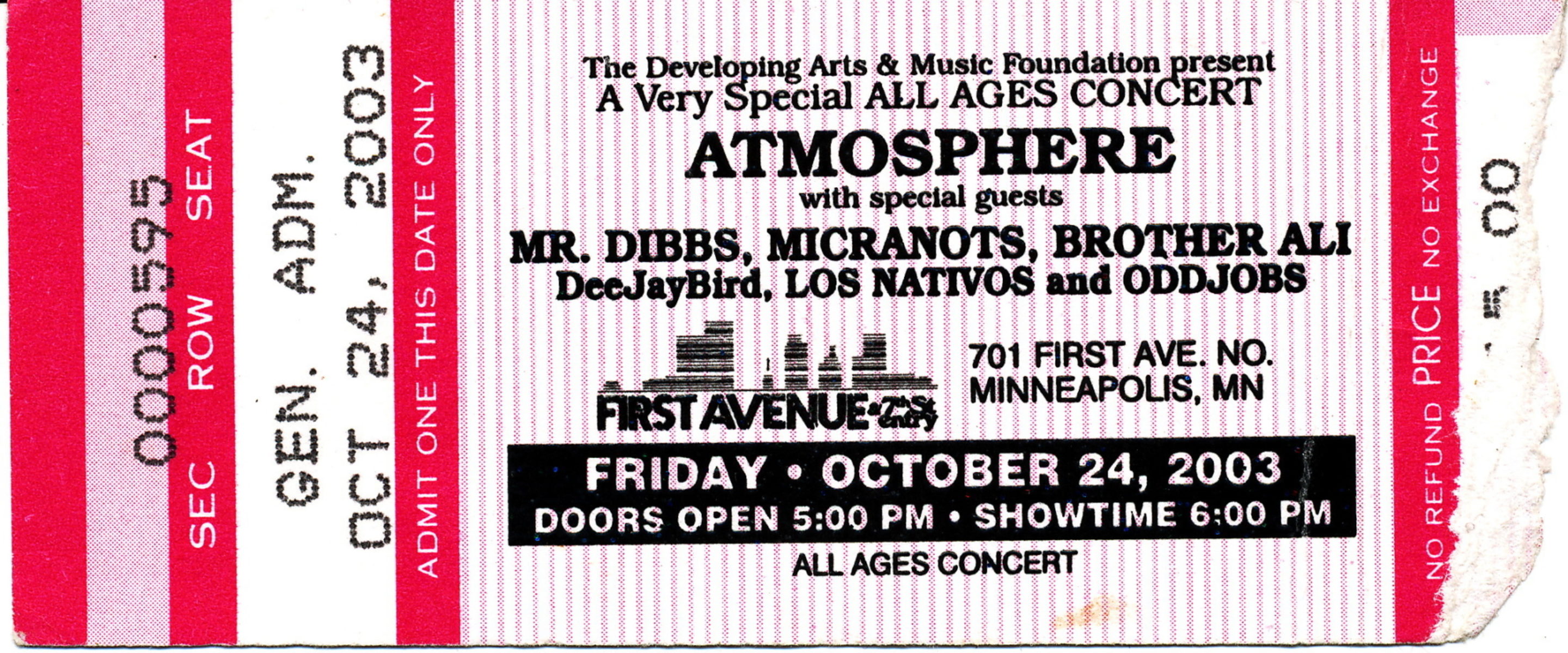 Ant: When I was doing it, the sample had the crowd in it and I was like, "Who cares? I'm doing this shit." I like some of that noisey shit sometimes. He wrote that, seemingly easily. It was structured well and I love that Little Richard's talking at the top. Everything made it work.
"WHEN THE BEAT COMES IN"
Brother Ali: Ant was trying to make as much music as possible. I would go over there with the song I wrote and he would pull up a straight rap beat and be like, "I know you got something for this." Those are verses I wouldn't put on an album because I was trying to grow into an artist making this album. "Champion" was that way. "Bitchslap!" was that way. All of these were Ant saying, "Come on, man. You got raps!"
"MISSING TEETH"
Brother Ali: It was supposed to be dark and sinister. There's something about those voices that felt horror movie-ish. We didn't have a lot of time, so Ant came up with something to get us on the same page as quick as possible. "Blah Blah Blah" and "Missing Teeth" are rappity-rap songs. One's bright and one's dark, one's playful and one's violent. Ant just knew we had that ready to go and that it would be easy.
Ant: The beat was sinister and I liked that. Ali did a verse on there and I was like, "We might as well get Slug again. It only makes sense. It ain't gonna cost us nothin' and he's the most famous person we know." In a normal case, we maybe should have used somebody else around town, but Ali wasn't friends with a bunch of rappers in town at the time.
Slug: That was an older version of me. With the earlier Headshots and Overcast! shit, I liked rapping about gross shit. My kid wasn't old enough to listen to my music yet so I was still saying things that were disgusting. When my first son reached junior high, suddenly, his friends were talking about me so he became interested in my music. That's when I had to pay attention to what I was saying. I would have raised him to be a good guy regardless, but I appreciated the effect it had on listeners. It showed my audience that it's okay to evolve. You got rappers who've been rapping for 20 years and never change their style. People give that props like it's supposed to be a good thing, but if you're not challenging yourself or your listeners, nobody's growing. So I stopped rapping about pissing on your face. Ali's evolution is even more profound. I became a state but he became a universe.
"DORIAN"
Brother Ali: That was a true story. I like the fact that there's a twist ending again. I remember writing it and feeling like, "I'm getting good at writing songs. I'm becoming a songwriter." That felt good. It's one of those slice-of-life moments. I get tweets and messages about it all the time. People will be like, "The neighbors are fighting and I'm listening to 'Dorian.'" I don't think there's a message to that [song]. It's just something that happened, but you can unpack it different ways. I always wonder if there's a racial element to the fact that it's a Black-sounding name. Once I started performing for a lot of white people, I wondered if there was that sentiment of, "Ali is the good guy and he did the right thing by beating up that thug." I didn't think about it until I started having those conversations. You just don't know how people are gonna read into stuff.
I said the f word on this. At the time, I was like, "I'm not talking about gay people. I'm not gay bashing. I'm talking about weak rappers." But I didn't follow the logic that if you use an epithet for a group of people as a synonym for weakness, you're co-signing the idea that they're inherently weak because of that characteristic. I didn't realize that. [Later], hanging out with [members of the LGBTQ community], I gained an understanding of their experiences. I realized that when you say that word, you're causing pain. That's enough for me to not say it again. I don't need to understand any more than that. It causes pain, I don't like pain, and I don't want to inflict pain. I ended up studying a bunch more and two albums later, I told the story of a guy I'm close with, a musician I know [on "Tight Rope"].
"SOUL WHISPER"
Ant: This had the same feeling as an interlude. He had that beat for awhile could never write anything to it. He had that hook, but he didn't have nowhere else to go with it. Coming out of "Dorian" into "Picket Fence" is almost impossible. If you can imagine that, it's fine but it ain't the shit. There was something missing. So my intention was to make an interlude to go into "Picket Fence" transition-wise.
Brother Ali: We both agreed that we needed that vibe on the album, but it was right at the end and I didn't have verses for it. I came up with the hook and those are prayers from The Quran . I'm grateful for that because all of the different parts of my career were represented on this album. It genuinely happened that way because I wanted to do as many things as possible. I wanted to give it all to Ant and to that album. I was like, "Let me throw the kitchen sink at this thing."
"PICKET FENCE"
Ant: We were getting closer to wrapping this album and I started making beats specifically with him in mind. I didn't know he would do that . It was what I was hoping for, but I had no idea. When I listen to it now, I'm like, "I could have done that better." But the imperfections are what makes it perfect. I also think he did his damn thing on there. I played it for somebody once and they cried to it. That's a powerful thing. At that time, I hadn't embraced that songs I'd worked on could do that to people. It was new for me. I know that it happened with my Atmosphere stuff, but you don't expect that to happen more than once in your career, let alone with a another artist. That was probably the most valuable song at the time for me, knowing that I was a part of something else like that.
Brother Ali: When we did that song, I was like, We're done. This album is finished. I didn't hold anything back. The woman in the song is a real person, but her character represents all of the wisdom, understanding, and encouragement that I've gotten from Black women throughout my life. That made me understand my life and contextualize my pain. It's the idea that you hurt so you can help people in the future. My teachers now say the same thing. A person can be righteous, but you can't help other people unless you've been through some pain. You can be beautiful by yourself, but what gives you the ability to help others heal is having tremendous pain and then witnessing God heal you.
This is one of the things me and my wife have in common. When you sit with a person who's in crisis, it's like, You can make it through this. You don't have to tell them your whole story, but they can feel it. It's a tremendous gift. Somebody told me that in grade school. They said, "You're gonna speak to big groups of people and help them heal. This is a gift from God. If God wanted you to be regular, he would have made you regular. He made you look different because you have a big job and if you're gonna have a big job, you gotta build the muscles to do that job."
I met Saul Williams not long after I put that album out and he was all about this song. He said he tried to write a song with that same sample. He was like, "I just couldn't do it. Nothing I was writing felt real enough or painful enough. Now I know why I didn't do it, because it was for you to do." I probably couldn't sleep for three days after that.
"VICTORY (COME FORWARD!)"
Ant: In retrospect, [we made "Victory"] because we were nervous about ending on such a sensitive song. Now, I would not hesitate to end on "Picket Fence." I'm not scared to do that shit at all. I don't care how you feel when it's done. But at the time, I think we felt like we needed to uplift and go forward, end on a strong note. That might have been the only problem with the sequencing of this album. Second-guess all you want. Maybe that's perfect for other people. But when I look at it, I'm like, "We should have left on that other feeling." [Laughs] But I do love the feeling of this joint. I love the beat. It's a flawed song all the way around. It's a flawed beat. But it's still great because of it.
Brother Ali: Ultimately, the album was a triumph for me. I never achieved anything in my life before that album. I never had a W in life until that moment. I put it all out there and at the end, I had this album, where I felt like, I know this is dope. So it felt important to end it on a high note. Even though "Picket Fence" is hopeful...This had to feel [victorious]. Ant told me that a lot of people pay attention to the beginnings of things, but they let the end go. When we started, he said every song has to end dope and the album has to end dope. He said, "Whatever this album is, it has to end intentionally. You gotta end as strong as you start, if not stronger."

Written by Andres Tardio. Follow him on Twitter.